We all like to visit new places and take photos for future memories. Sometimes when taking pictures, people capture items that are not related to the subject, such as a passerby. So in this case, we need a background remover not limited to VanceAI Background Remover though. Before the AI background removal tool was invented, removing the background of an image was a tricky thing. We have listed the 5 best tools to make backgrounds transparent along with their details which are also given below.
But now, thanks to the transparent background maker powered by AI technology, we can use the automatically transparent background maker to remove the unwanted background for free.
Part 1: Make Background Transparent Free with BGremover
Price: Free (3 credits); Paid($9.9/month)
Compatibility: Online
Making background transparent is as easy as a few clicks once you try AI background remover. The full suite of powerful AI tools from Vance AI helps you to create designs and graphics that can win the attention of your audience. Background remover is one of the best and efficient tools to make background transparent.
It's free to use and works in a couple of seconds automatically. Besides, you can also add solid color or image background to your image. Find out more in this video:
1: Click to upload an image to this tool.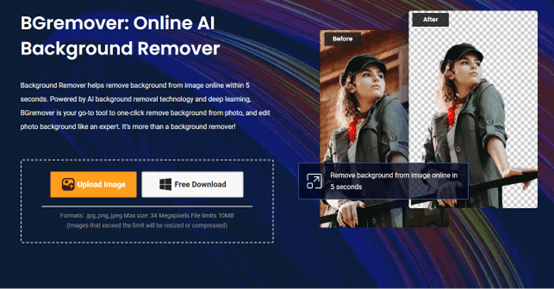 2: AI will make background transparent automatically in seconds and you can further edit the image using the Editor.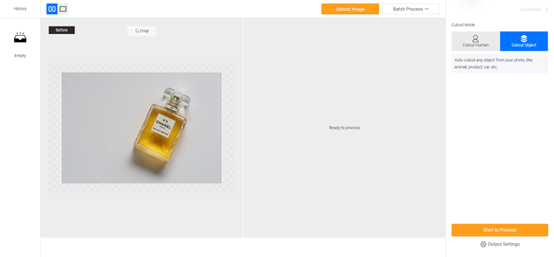 3: Click "Download" button to save your image.

Some Alternative Online Tools to Make Background Transparent
1. Online PNG Tools
Price: Free
Compatibility: Online
This is a handy tool that lets you make background transparent in one click. There is no limit, which means you can upload as many files you want to make their background transparent online easily. However, the automatic results are far from satisfying because it fails to handle the edges based on the test.
Pros:
• Easy
• Fast to use
Cons:
• Unable to handle details automatically
• No option to manually fix the edges
How to Make Background Transparent Online with Online PNG Tools?
1: Go to the PNG Tools website and upload an image
2: Choose "Transparency color" and percentage of color tones
3: Click to "save as" to download the result
2. Lunapic
Price: Free
Compatibility: Online
Lunapic is a free online editing tool that can also be used as a transparent background maker. A great part of Lunapic is that it outputs lossless quality. However, it's not user-friendly because users need to fix the edges and details manually.
Pros:
• Output image with lossless definition
• Free to use
Cons:
• Not easy to use
• Require too much manual work
How to make background transparent online in Lunapic?
1: Go to Edit>Transparent background on Lunapic
2: Upload an image to Lunapic
3: Download the result to your device
3. Remove.bg
Price: Free
Compatibility: Online
This is an AI-powered tool used to make the background transparent in one click. What's great about this online tool is that smart AI can perfectly handle edges and details. This transparent background maker offers both free and paid versions. For free users, you can access 50 preview images with a smaller size than the original ones.
Pros:
• Easy
• free trial
• AI automatically used
Cons:
• Fail to recognize objects in images when foreground and background are extremely similar
How to Make Background Transparent Free in Remove.bg?
1: Click "Upload Image" to upload a file
2: Remove.bg will make the image background transparent in seconds
3: Click "Download" to save the result
4. Kapwing
Price: Free
Compatibility: Online
Kapwing is a handy tool that allows you to make background transparent online effortlessly. It's This tool works best when the foreground and background share a strong contrast. For those who lack experience in how to make transparent background, this online tool is highly recommended.
Pros:
• Easy
• Fast
Cons:
• Show watermark if you do not sign in
How to Make Background Transparent Online in Kapwing?
1: Upload an image to this transparent background maker
2: Click "Magic Wand" and "Remove Pixels"
3: Try "Erase" to remove unwanted background
5. Clipping Magic
Price: $7.99/month/100 credits
Compatibility: Online
Clipping Magic is an AI-powered transparent background maker using which you can get rid of the background in one click. Based on AI technology, the automatic result from this tool is quite amazing. Simply clicking "Auto-clip" will allow you to make background transparent online. Unlike remove.bg offering free trial, Clipping Magic requires you to upgrade before you can download the result.
Pros:
• Simple to use
• Edges are cleanly cut out as you can see from this sample image
Cons:
• No free trial
How to make background transparent online in Clipping Magic?
1: Drag an image to Clipping Magic
2: Get an image with transparent background with AI
3: Subscribe to a plan to download the result
How to make JPG background transparent?
When you want to remove background from image with online tools such as Lunapic and BGremover can be useful. If you already worked with the tools in this list and still have a jpg background, remember to save the image as PNG format.
How to enhance the quality of JPG after its background being transparent?
When the background of your JPG becomes transparent, have you still been troubled by its low quality. If so, perhaps it's time for you to use VanceAI Image Enhancer to enhance full details of your picture with just one click. What you need to do is do the following steps. First of all, you need to go to the homepage of the product to enhance image quality.
Then you need to press the button Upload Image to upload the target you want to enhance. After that, you should hit Start to Process and wait for several seconds. If you are content with the result, you can download it.