Public speaking is a skill that can open doors to countless opportunities in both your personal and professional life. Whether you're delivering a presentation at work, giving a speech at a social event, or addressing a room full of strangers, effective communication is key. While your words certainly matter, your body language can be just as influential, if not more so. In this article, we'll explore the nuances of body language in public speaking, providing you with practical tips to help you become a more confident and persuasive speaker.
The Power of Nonverbal Communication
Before we dive into specific techniques, it's crucial to understand the significance of nonverbal communication. The research of Minnesota State University suggests that up to 93% of our communication is nonverbal. It means that the way you move, gesture, and express yourself can have a profound impact on how your message is received.
Imagine a scenario where a speaker is discussing an exciting opportunity, but their voice is monotonous, their shoulders slumped, and they avoid eye contact. 
Now compare that to another speaker who exudes enthusiasm, maintains eye contact, and uses expressive gestures. 
Who would you be more likely to trust and engage with? The answer is clear, and it underscores the importance of mastering your body language in public speaking.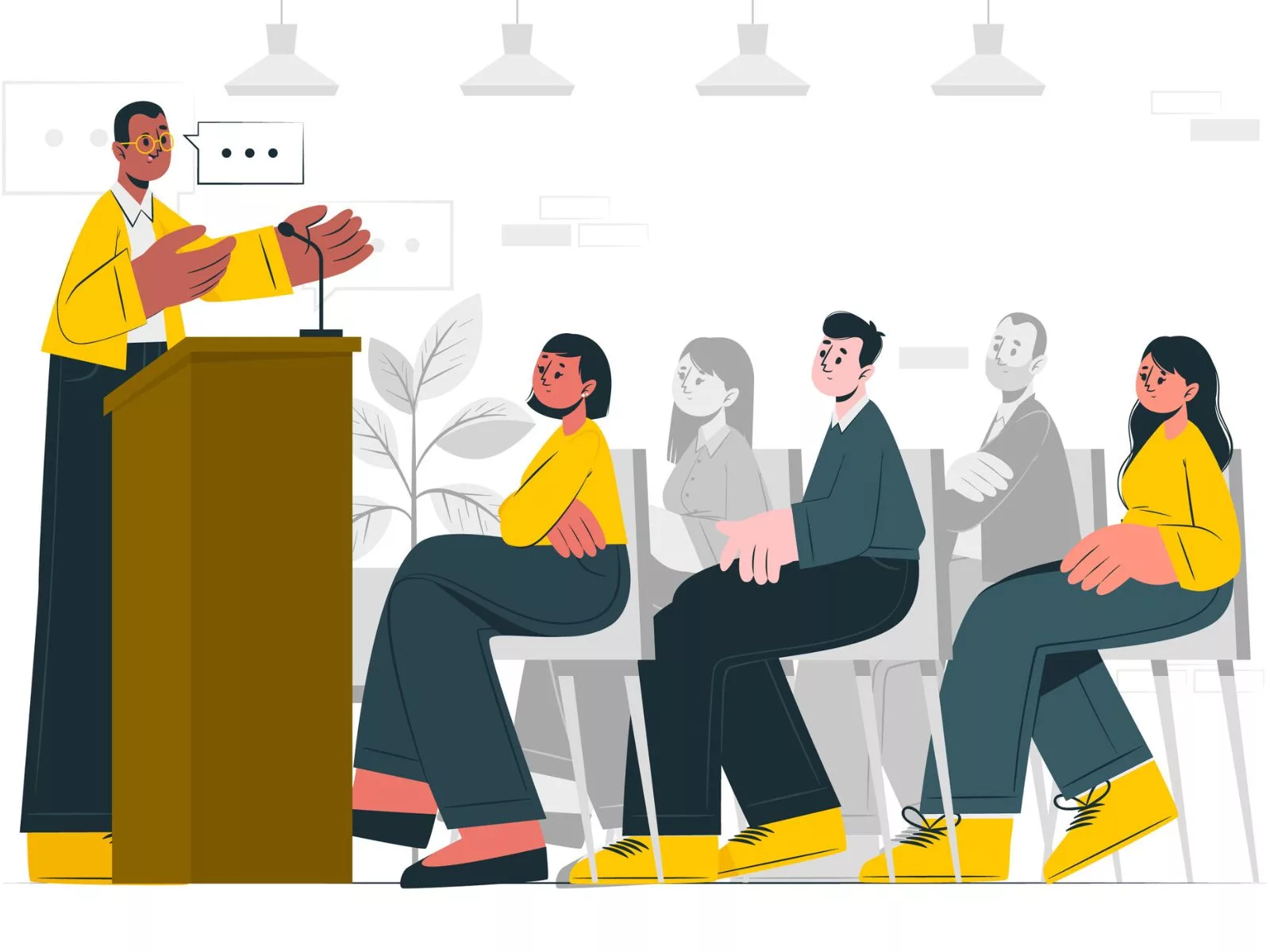 The Essentials of Confident Body Language
Confident body language is the secret sauce that can transform an ordinary public speaker into an extraordinary one. It's the nonverbal communication that conveys to your audience that you are not just speaking with words but with conviction and authority. 
The essentials of confident body language help you to become a more captivating and persuasive speaker. So, let's have a look into it.
1. Posture
Your posture is the foundation of confident body language. Stand tall, with your shoulders back and chest open. This not only exudes confidence but also allows for deeper breathing, reducing nervousness. 
A strong, upright posture not only makes you look more self-assured but also helps you feel it. It conveys to your audience that you're in control, ready to engage, and confident in your message. 
So, before you step onto that stage, straighten your spine, and let your posture set the tone for a confident and impactful presentation.
2. Eye Contact
Establishing and maintaining eye contact with your audience is crucial. It not only shows confidence but also creates a sense of connection and engagement. Make sure to scan the room and connect with different individuals throughout your speech.
Maintaining strong eye contact is a cornerstone of confident body language in public speaking. When you look directly into your audience's eyes, you establish trust and foster a deeper connection. It signifies your confidence and authenticity. 
Distribute your gaze evenly, connecting with individuals across the room to ensure everyone feels involved. Brief pauses on individuals convey attentiveness while scanning the entire audience maintains inclusivity. Be mindful of cultural differences in eye contact norms, but, in general, effective eye contact amplifies your presence and ensures your message is heard loud and clear.
3. Facial Expressions
Facial expressions are the window to your emotions and play a pivotal role in confident body language. They convey authenticity and help your audience connect with your message on a deeper level. 
A genuine smile can make you appear approachable and enthusiastic, while subtle changes in your eyebrows and mouth can convey empathy, surprise, or seriousness. Your face should be a reflection of the emotions and tone of your speech. Practice expressing emotions authentically to enhance your ability to engage and persuade your audience effectively. Remember, your facial expressions can speak volumes even before you utter a word.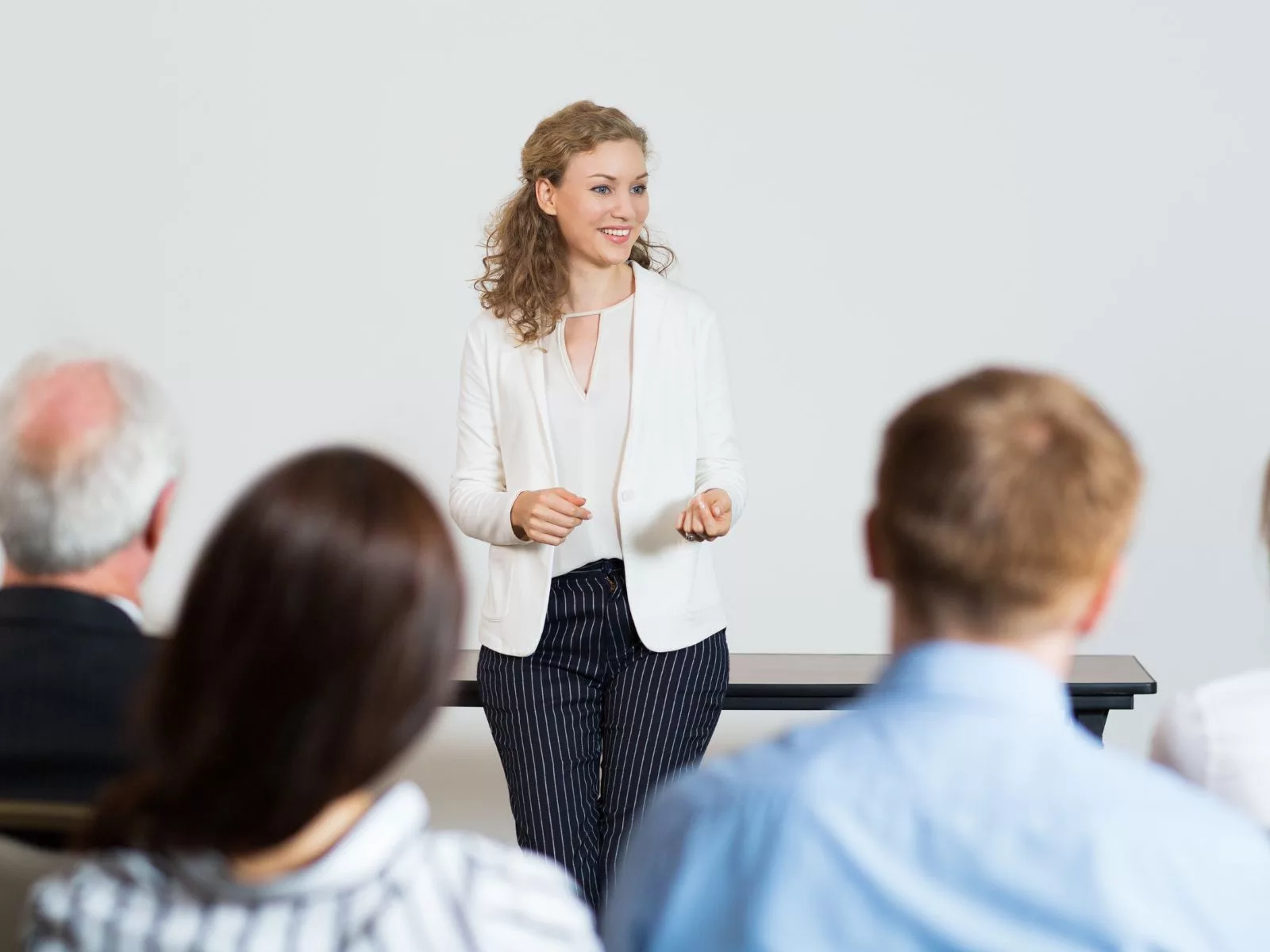 4. Hand Gestures
Hand gestures are a dynamic tool in confident body language. They can emphasize key points, clarify complex ideas, and keep your audience engaged. 
When using gestures, ensure they are purposeful and relevant to your speech. Open palms can convey openness and honesty, while a closed fist may signify determination. Pointing can draw attention, while expansive movements can show enthusiasm. 
However, avoid excessive or distracting gestures. Your hands should complement your words, guiding your audience on a visual journey that enhances their understanding and connection with your message. Practice moderation and intentionality to master this essential aspect of confident body language.
5. Movement
Movement is a vital element of confident body language in public speaking. It's about purposeful, fluid motion that enhances your message. Instead of staying glued to one spot, use your stage space thoughtfully. 
Move with intention to engage your audience and emphasize key points. However, avoid aimless pacing or nervous fidgeting. Plan your movements to coincide with the flow of your speech, and ensure they contribute to the dynamic energy of your presentation. Effective movement not only commands attention but also conveys your confidence and competence as a speaker. So, make every step count, and let your body language speak volumes.
Managing Nervousness
It's perfectly normal to feel nervous before speaking in public. However, managing your nervousness is essential to maintaining confident body language.
1. Breathing
Deep, diaphragmatic breathing can help calm your nerves and regulate your body's stress response. Before taking the stage, take a few moments to breathe deeply and slowly. This will relax your muscles and also reduce tension before you speak in public.
2. Practice
Practice makes a person perfect. Well! the more you practice, it would give you more confidence. Rehearse in front of a mirror or with a trusted friend to get feedback on your body language. Familiarity with your material will boost your confidence and reduce anxiety.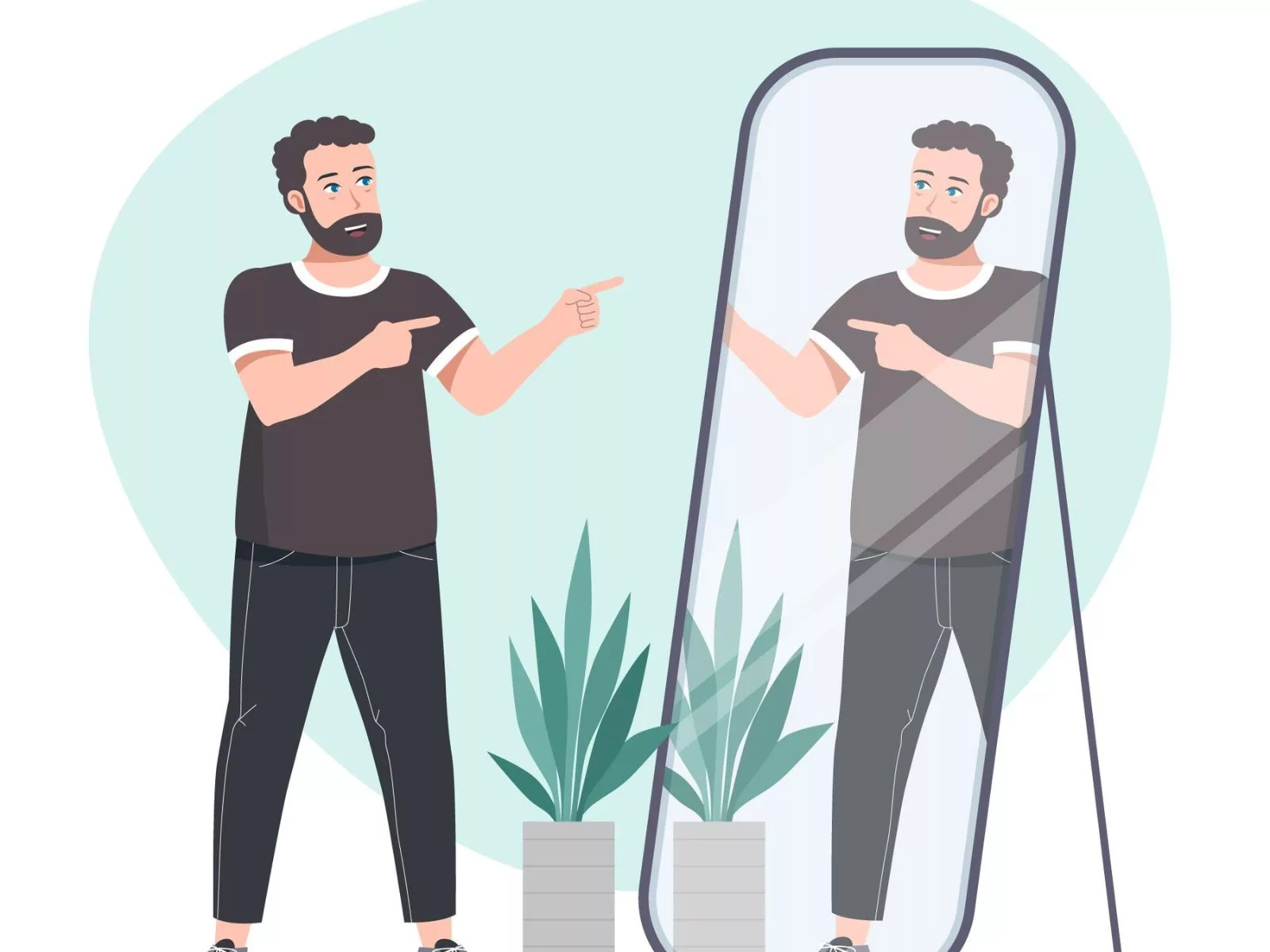 3. Visualization
Visualize yourself delivering your speech with confidence will never hurt. This mental rehearsal can be a powerful tool for boosting your self-assurance.
4. Warm-Up Exercises
Engage in some physical warm-up exercises before your speech. Stretching and moving your body can help release tension and prepare you for a confident performance.
Tailoring Body Language to Your Message
Your body language should be aligned with the content and tone of your speech. Different situations may require varying degrees of formality or expressiveness. 
In formal settings, such as a business presentation, maintain a more controlled and professional demeanor. In informal settings, like a motivational talk, you can be more expressive and casual.
When addressing sensitive or emotional topics, express empathy through your body language. Use gentle gestures and a compassionate tone to convey your understanding.
If your goal is to inspire and motivate, let your body language reflect your enthusiasm. Use dynamic movements, energetic facial expressions, and a powerful stance to convey your passion for your message.
The Pitfalls to Avoid
While mastering body language in public speaking is essential, it's equally crucial to steer clear of common pitfalls.
1. Fidgeting
Fidgeting is the telltale sign of nervousness that can sabotage your body language in public speaking. It includes restless movements like tapping fingers, shifting weight, or playing with objects. 
While it might offer temporary relief from anxiety, it distracts your audience and undermines your credibility. Remember, confident body language begins with control over these small yet significant distractions.
2. Overuse of Gestures
While gestures are a powerful tool in public speaking, overusing them can detract from your message. Excessive or repetitive gestures can appear distracting and undermine your credibility. It's essential to strike a balance. 
Use gestures purposefully and naturally to emphasize key points, clarify ideas, or add visual interest to your speech. Practice moderation to ensure your body language remains an asset, not a distraction.
3. Avoiding Eye Contact
While confident speakers use eye contact to establish trust and engagement, avoiding eye contact can send the wrong message. It may suggest nervousness, lack of confidence, or even insincerity. 
When you don't make eye contact with your audience, you miss the opportunity to connect on a personal level and build rapport. Remember, eye contact is a powerful tool; don't let its absence undermine your message or credibility as a speaker.
4. Clenched Body Language
Clenched body language, often characterized by tightly crossed arms and tense facial expressions, is a nonverbal signal of discomfort, defensiveness, or resistance. 
When a speaker exhibits clenched body language, it creates a barrier between them and their audience, hindering effective communication. It suggests a lack of openness and willingness to engage. To project confidence and approachability, it's essential to avoid these closed-off gestures. 
The Bottom Line
In the world of public speaking, your body language is a powerful tool that can elevate your message and captivate your audience. By mastering the art of confident body language, you can become a more persuasive and impactful speaker. 
Remember to practice, tailor your body language to your message, and manage your nerves to achieve the best possible results. With dedication and a commitment to improvement, you'll find that your public speaking skills can take you to new heights in both your personal and professional life. So, step onto that stage with confidence, and let your body language do the talking.