Kitty O'Neil is a famous American stunt woman who dominated Hollywood industry with her extraordinary skills in stunt. She has to face a lot of challenges from her childhood but such was her prowess that on her 77th birthday Google honored her Posthumously with a Google Doodle.
Let's know more about Kitty's professional career, personal life, net worth and much more in the following content.
| | |
| --- | --- |
| Full Name | Kitty Linn O'Neil |
| Famous As | Stuntwoman |
| Date of Birth | 24th March 1946 |
| Place of Birth | Corpus Christi, Texas, USA |
| Age | 72 Years When She was Died |
| Zodiac | Aries |
| Nationality | American |
Who is Kitty O'Neil?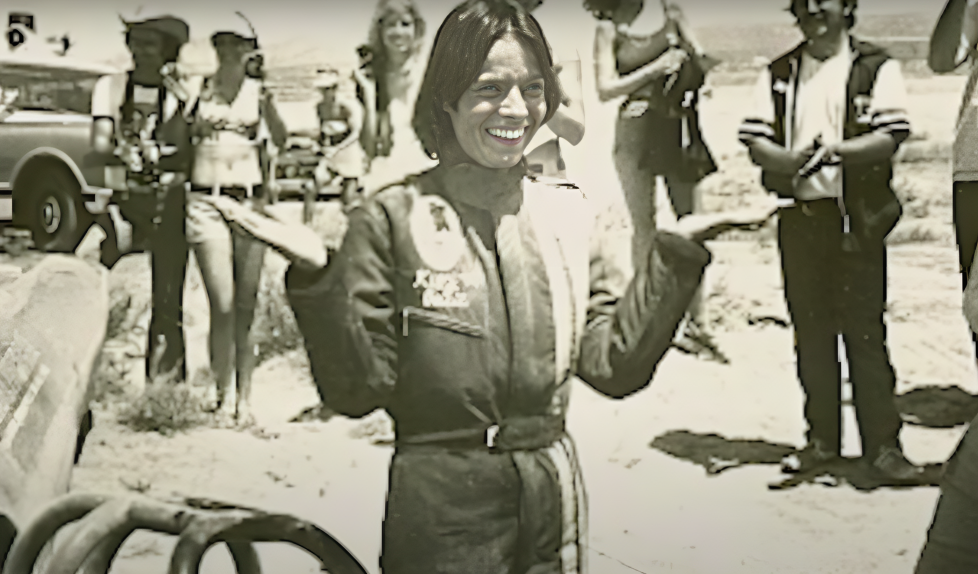 Kitty Linn O'Neil is an American woman with diverse talents. She is famous as being an actress, stunt woman, race car driver, and a competitive diver. From her childhood she had to face a lot of challenges because of her ill health. In childhood a certain illness left her deaf and handicapped. Later she developed more health issues and as a result her diving career came to an end abruptly.
In Spite of all challenges Kitty's talent in athletics was seen from her childhood. Winning against all odds she succeeded in car racing and had become a successful stunt woman in Hollywood.
Family Background
Kitty O'Neil was born on 24th March, 1946. Her father was an officer in the American Army Air Force. But unfortunately in childhood kitty lost her father in an aircraft accident.
Kitty's mother, Patsy Compton O'Neil, was a stubborn lady. She didn't give up her daughter's education even when people lost her hearing. She worked as a speech therapist and taught her lip reading. Even later she initiated to set up a school for the blind students.
Obstacles in Early Life
From her childhood Kitty had to face a lot of hindrances physically. However, those obstacles weren't able to prevent her from achieving the goal. A childhood disease rendered her deaf and crippled. Later, she had severe health problems, and her diving career ended prematurely. After that she concentrated more on stunt and took it as her profession.
Career
As a teenager Kitty started her career as a driver. She took part in a competition in 10-meter platform dive and 3-meter springboard dive. Here she won the championships for the amature athletic union. In 1965 Kitty also took part in the 100-meter freestyle and 100-meter backstroke events at the Summer Deaflympics.
At the age of 12 Kitty won a gold medal in swimming. After six months of the competition she again won the junior meet for the AAU Southwest District.
Following that Kitty also started to show her talents in scuba diving, skydiving, water skiing, and hang gliding. But her promise in racing and stunt work gave her a chance to debut in the movies.
In 1970, Kitty took part in both land and sea racing. She also was a major competitor in the Mint 400 and Baja 500. As a motorbike racer she walked side by side with stunt men like Hal Needham, Ron Hambleton, and Dar Robinson.
In 1976, she was honored with the title the "fastest woman alive". In the same year she joined a famous stunt company, Stunts Unlimited as the first female employee. Her career even included contracts like "Smokey and the Bandit II," "The Blues Brothers," and "Airport '77," among others. In 1978 she won the Mattel action figure.
Furthermore, when Kitty working as a stunt double in an episode of the Wonder Woman Series, she set a women's high fall record of 127 feet. Her story has influenced many others. Her biopic, 'Silent Victory: The Kitty O'Neil Story', was released in 1979.
Kitty, defeating all her challenges, had succeeded to appear as a stunt double in numerous films including "The Blues Brothers," "The Bionic Woman," and "Wonder Woman."
Who is The Husband of Kitty O'Neil?
In 1970's Kitty was married to a bank executive, Ronald "Duffy" Hambleton but later due to some reason the couple divorced. After that she again remarried but that marriage was also not successful. Following that, in her lifetime, Kitty was engaged with several others, but those are not disclosed publicly. What is revealed is that she had two children from her first marriage with Ronald "Duffy" Hambleton.
How Did Kitty Die?
Throughout her life Kitty had remained a successful woman in a socially male dominated field but unfortunately on 2nd November, 2018 Kitty breathed her last in Eureka, South Dakota at the age of 72. As it is revealed that she died because of respiratory failure in pneumonia. Before that she had survived two rounds of cancer in her 20s.
Kitty was under treatment for her illness but finally she had to surrender to death. She had left her legacy behind in Hollywood with her remarkable achievement as a stuntwoman, an actress, and a racer.
Legacy of Kitty O'Neil
Kitty was affected in her personal life again and again. Previously in childhood it was mainly because of her ill health. Later her marital life was again proved to be a failure.
However, Kitty's extraordinary talent, indomitable spirit, and hard work have made her an inspirational figure in stunts and racing. She has set a high standard for others who want to make a debut in the field.
Physical Stats
Despite personal challenges in her marital life, Kitty's indomitable spirit and dedication to her craft continue to inspire those who aspire to follow in her footsteps. She was a trailblazer in a socially male-dominated field, setting a high standard for others in the industry. Kitty was a comparatively short heighted woman. Details of her physical stats are given below.
| | |
| --- | --- |
| Height in Feet | 5 Feet 3 Inches |
| Height in Meter | 1.58 m |
| Height in Centimeters | 158 cm |
| Weight in Kg | 44 Kg |
| Weight in Pound | 97 lbs |
| Hair Colour | Brown |
| Eye Colour | Brown |
Net Worth
In her career as a stunt woman, racer, and actress, Kitty had estimated 1.2 million dollars of net worth in her lifetime. It is said that she used to get 50k dollars from racing and 20k dollars from stunts.
| | |
| --- | --- |
| Net Worth in Dollars | 1.2 Million Dollars |
| Net Worth in Euro | 1.12 Million Euro |
Google Tribute's a Doodle in Memory of Kitty
On the 77th birth anniversary of Kitty Google honored her with a Google doodle in the memory of this famous American stunt woman. The doodle was designed by Meeya Tjiang, a Washington DC-based deaf guest artist. This illustration describes Kitty's life, with her next to a rocket-powered car.
Kitty O'Neil's life journey came to an end on November 2, 2018, when she succumbed to respiratory failure due to pneumonia at the age of 72. Before her passing, she had already overcome two rounds of cancer in her 20s, showcasing her strength and resilience till the end.
Final Words
Kitty Linn O'Neil's life was a testament to resilience, determination, and extraordinary talent. Despite facing numerous challenges, including childhood illness that left her deaf and physically impaired, she defied the odds and made a name for herself in Hollywood. Kitty excelled in various fields, from competitive diving to racing and stunt work, earning her the title of the "fastest woman alive" in 1976.
Throughout her career, she left her mark in iconic films and television shows, breaking barriers as a female stunt performer. Her high fall record on the Wonder Woman series and her role in movies like "The Blues Brothers" and "Airport '77" solidified her legacy in the industry.
Her legacy lives on not only through her impressive body of work but also through the Google Doodle that honored her on what would have been her 77th birthday, reminding us of the remarkable achievements of this American stuntwoman, actress, and racer. Kitty O'Neil's story serves as an enduring source of inspiration for generations to come.