In today's fast-paced and information-rich world, effective multitasking has become a crucial skill for maximizing productivity. However, attempting to juggle multiple tasks on a single laptop screen can often lead to data loss, reduced concentration, and increased errors. To overcome these limitations, many professionals and multitasking enthusiasts have turned to the Mobile Pixels TRIO laptop screen extender. In this guide today we will share in detail multitasking hacks for a triple monitor laptop setup
This innovative solution provides a triple-monitor setup, offering. a significant boost in screen real estate, which allows users to do more without constantly switching between tabs and applications.
While the benefits of a multi-monitor setup are evident, the real challenge lies in striking a balance between multitasking and productivity. Various studies have shown that excessive task-switching can actually diminish overall efficiency, as our brains are wired to focus on one thought process at a time.
From choosing the right software and mastering shortcuts to managing cables and optimizing lighting conditions. These tips will help individuals make the most of their extended workspace without compromising their focus and flow state.
Do you do a lot of multitasking?
If so, then you know all the limitations of trying to juggle multiple tasks on one screen.
To begin with, you need an information-rich environment — a condition that's hard to achieve with a single-screen setup. As you go back and forth between tabs, screens, software, and everything in between, you risk data loss which breaks your concentration and increases your tendency to make mistakes.
That's why you need the Mobile Pixels TRIO laptop screen extender.
How Does a Multi-Monitor Setup Impact Multitasking and Productivity?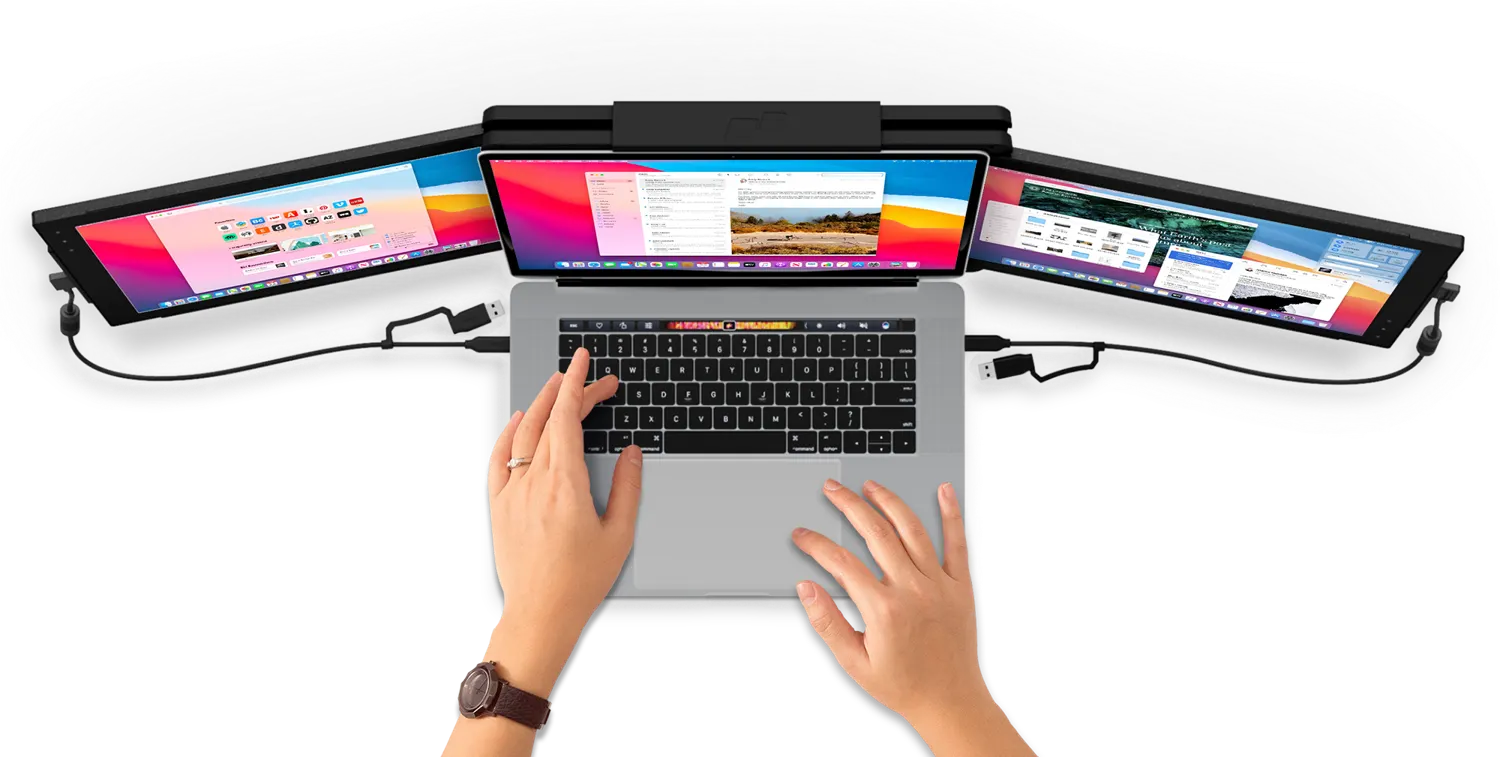 If we're being honest, it depends on how you use it.
According to a 15-year Jon Peddie Research survey, you stand to gain a 42% boost in productivity on average by using multiple displays. The premise behind this finding lies in the extra screen real estate that a multi-monitor setup provides, which allows you to do more by eliminating the need to continuously switch between tabs.
But should you use it for multitasking? That's the real question.
Multiple studies and research about multitasking have found that it can actually diminish your productivity. This is because our brains are wired to follow one thought process at a time and have limits in processing information.
According to psychologist David Meyer, task-switching can take up to 40% of a person's productive time due to mental blocks. This could make it harder to get into a flow state which allows you to maintain focus on one task without getting distracted.
What's the Verdict? Should You Multitask?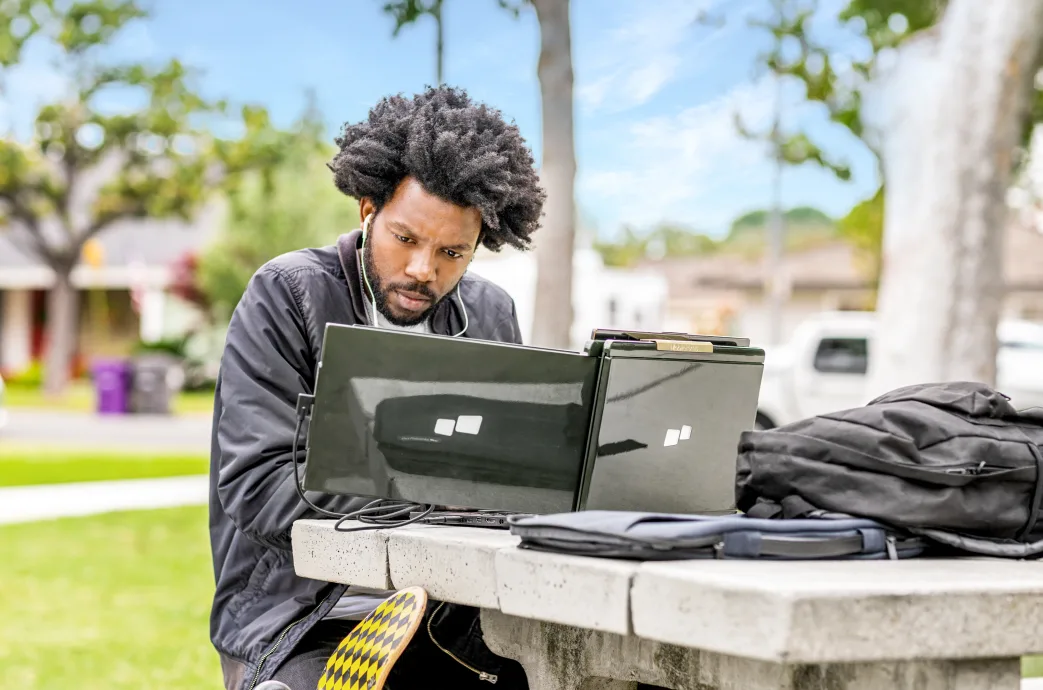 A laptop screen extender allows you to multitask without hampering productivity. So, if you want to get more work done in less time, here are some expert- and research-backed hacks for multitasking on a triple-monitor laptop:
Choose the Right Software
Not every software will be compatible with your triple monitor setup. Accept that as part and parcel of the PC world, and make sure that any program or tool you select meets your needs.
Tweak Your Taskbar
There's a whole world of customizable possibilities with multi-monitor setups! For instance, if you don't want to see your taskbar on all three displays, you can easily auto-hide them from "Taskbar behaviors" while keeping them enabled on your primary screen. This way, you get quick, one-click access to all your frequently-used apps and more screen space on the spares.
Cable Management FTW
Cluttered spaces can have a negative impact on our stress and anxiety levels. It can also make us less efficient and more frustrated which could deplete our mental resources and affect productivity. That's why it's important to create an uncluttered environment with cable management.
Choose the Right Brightness
Lighting can affect your productivity.
According to studies, working under blue-enriched 17,000K light bulbs could have great brain power benefits. It can support mental acuity, vitality, and attention. Additionally, it could also lower melatonin which can keep daytime sleepiness at bay and reduce fatigue, giving your productivity a significant boost.
In a good laptop screen extender, this will come inbuilt. The monitor-upgraded laptop will be kinder to your eyes, with blue-light filters that reduce glare and settings that allow you to adjust the brightness of the screens to your preference.
Extend Your Screen
Multitasking means "the performance of more than one task at the same time." So, instead of making your screen extenders an extension of your laptop, consider enabling extended desktop mode. It will allow you to have different windows and tabs open on each screen — you can even move applications between them!
This is an excellent way to increase your working space without creating overlap, which can help you comfortably work on projects side by side for A1 multitasking.
Use Shortcuts
Moving your cursor from one screen to the next can be arduous, which can take the fun out of your working and/or gaming experience. Hence, you should consider investing in a keyboard as well as learning shortcuts and hotkeys to get work done faster.
Get Tech-savvy With Mobile Pixels
If you want to be an efficient multi-tasker, we have several portable and desktop monitors that can help. We carry various dual and triple-screen monitors to help you customize your workspace and optimize it for multitasking. Regardless of the size of your laptop, we offer easy-to-install plug-and-play solutions that entail minimal setup. You can visit the Mobile Pixels website to find the best one for you.
Conclusion
In the fast-paced world of modern productivity, multitasking has become a necessity. Embracing a triple-monitor laptop setup using the Mobile Pixels TRIO laptop screen extender can significantly enhance the ability to handle multiple tasks simultaneously. By expanding screen real estate and enabling extended desktop mode, users can seamlessly move between applications and windows, facilitating an efficient and distraction-free workflow.
However, it is essential to strike a balance between multitasking and productivity. Task-switching can drain valuable mental resources, impeding focus and concentration. To mitigate these challenges, implementing the expert-backed hacks discussed in this article is crucial.
By customizing the taskbar, managing cables, optimizing lighting, and learning time-saving shortcuts. Users can harness the full potential of their triple-monitor laptop setup.
The Mobile Pixels website offers a range of portable and desktop monitors. That includes dual and triple-screen options, designed to optimize workspace and facilitate multitasking. With these easy-to-install plug-and-play solutions, professionals can create an information-rich environment and boost productivity while maintaining their flow state. Embracing these multitasking hacks will undoubtedly empower individuals to achieve more in less time, making their workdays both efficient and rewarding.