Psychic readings and tarot card readings are widely known, but another powerful tool for gaining insight and perspective on life's questions is the ancient practice of rune reading. With their symbolic meanings and origins in Nordic and Germanic traditions, Runes have been used for divination and magical purposes for centuries. By engaging with the subconscious mind, rune readings offer a unique way to explore challenging situations and find new solutions. This article will delve into the nature of runes, how they work, different reading layouts, and understanding the hidden meanings of runes in Psychic world.
Chances are you've heard of psychic readings and tarot card readings due to their immense popularity. What you might not realize is there is another type of reading that many people find helpful on their spiritual journeys. A rune reading can help you look at a situation in your life from a new perspective.
What Is a Rune?
Runes help the reader gain insight into questions about life situations. They are most commonly made of stone and have various forms of runic alphabets on them. The most common one is Elder Furthark. In addition to being a letter of the alphabet, each rune also has a symbolic meaning. Some examples include "F," "A," and "K," which mean wealth, ancestral god, and beacon, respectively. Runes have been used by Nordic and Germanic tribes for divination and magical purposes for centuries. In addition to stones, you may find them in weapons, jewelry, or other objects.
How Do Runes Work?
Runes do not tell fortunes. Instead, you ask a question or think about an issue that's on your mind. The belief is that you can focus your conscious and unconscious mind when casting the runes. They'll provide you with information based on what your subconscious chooses. Remember to focus and not expect definitive answers. Instead, search for causes, effects, and potential outcomes.
Runes work by tapping into the power of your conscious and unconscious mind. Unlike fortune-telling, where a predetermined future is predicted, rune readings allow you to gain insights and perspectives on the questions or issues that occupy your thoughts.
When you engage with runes, you begin by formulating a specific question or contemplating a particular situation. This process helps you focus your attention and direct your conscious and subconscious mind toward the matter at hand. By doing so, you create a receptive state that allows the runes to provide information and guidance based on what your subconscious mind chooses.
The symbols and meanings associated with each rune serve as a language of the subconscious. As you cast the runes, either by selecting them from a bag or spreading them out on a surface, your subconscious influences the choices made.
Ways To Read Runes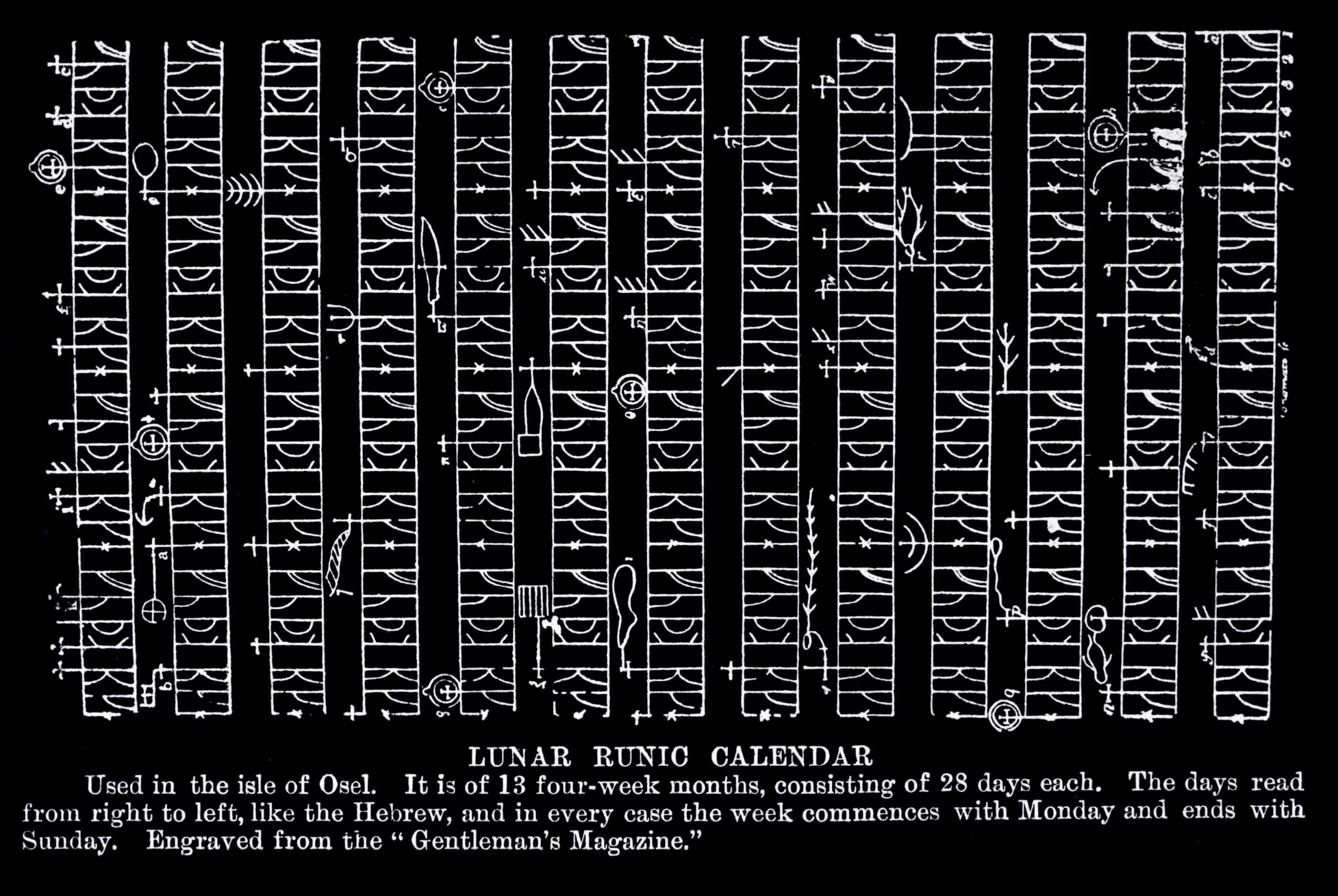 Rune layouts provide a structured framework for interpreting the meanings and relationships between the runes drawn during a reading. Here, we will delve further into the three most common rune layouts: the three-rune layout, the five-rune layout, and the nine-rune cast.
Three-Rune Layout
The three-rune layout is often recommended for beginners, as it offers a concise yet insightful perspective on a specific question or situation. When casting the three runes, they are read from right to left.
The first rune represents the overview of the situation, offering a general understanding or insight into the matter at hand.
The second rune signifies the challenge or obstacle that you may encounter related to the question or situation.
The third rune suggests a possible course of action or solution to address the challenge presented by the second rune.
This layout provides a clear and straightforward framework to explore the dynamics of your question, providing you with valuable guidance and potential approaches to consider.
Five-Rune Layout
The five-rune layout offers a more detailed perspective, encompassing a broader context of your inquiry. The layout forms a cross-like pattern, starting with the first rune in the middle and then expanding clockwise.
The first rune, placed in the center, represents the present moment or the core aspect of your question.
The second rune, positioned horizontally to the left of the first rune. It signifies the past and sheds light on the factors that have led to the current situation.
The third rune, placed horizontally to the right of the first rune. It represents the future, offering insights into the potential outcomes and developments that may arise.
The fourth rune, situated vertically below the first rune. It points to elements or influences that are contributing to the problem or challenge.
The fifth rune, positioned above the first rune. It represents the help or support you may receive in relation to your question or issue.
The layout provides a comprehensive understanding of your situation by incorporating the past, present, future, external influences, and potential assistance available to you.
Nine-Rune Cast
The nine-rune cast is particularly beneficial when you are seeking guidance on your spiritual path or exploring deeper aspects of your life journey. To perform this layout, you randomly select nine runes and spread them across a cloth or surface.
Runes closest to the center represent your current situation or the primary focus of your inquiry..
Runes that are close or touching each other often indicate complementary influences or factors that interact with one another.
Any runes that have landed face down hold the potential to represent outside influences that may affect your path.
This layout offers a broader perspective, allowing you to explore various aspects of your spiritual journey and gain insights into the energies and forces at play.
By utilizing these different rune layouts, you can enhance your understanding of the messages conveyed by the runes. To gain valuable insights into your questions or situations, ultimately empowering you to make informed decisions and navigate through life's challenges.
How Rune Reading Can Help You Through Challenging Situations
Runes psychic readings can help you tap into your subconscious to look at issues in your life from other perspectives and perhaps find solutions you hadn't thought of before. As you go through your reading, allow yourself to tap into your intuition.
Documenting the thoughts, words, or images that come to mind can help you have a clearer look. At what the runes were trying to tell you when you're thinking about it later. Your reader can tell you about the meanings of individual runes and how they may relate to your situation.
After a rune reading, you may leave feeling less anxious about any issues in your life and ready to implement new solutions.
When you're searching for "psychics near me," be sure to consider a rune reading. It just might allow you to top into the subconscious decisions you know you need to make.
Conclusion
In the vast realm of psychic readings, rune reading stands as a profound and enlightening practice. With their symbolic power and connection to ancient traditions. Runes provide a gateway to the subconscious mind and offer fresh perspectives on life's challenges.
By engaging in a rune reading, you open yourself to the wisdom of your own intuition and gain valuable insights into the paths you can take.
Whether you're seeking clarity, guidance, or a deeper understanding of your spiritual journey, rune readings can be a transformative tool. Consider exploring the hidden meanings of runes and discover the untapped potential within yourself.