Story of Things, a forthcoming Tamil television series, investigates contrasting perspectives on paranormal activity.
If you believe that the objects you use every day have no life, reconsider! With its five unique tales about various household items, the Story of Things series will send chills down your spine.
On January 6, 2023, The Story of Things OTT Tamil series was made available on the SonyLiv app and website. The series is a collection of 5 tales about individuals who encounter paranormal activity as a result of chance things in their environment. For additional information, continue reading.
What Are The 5 Perspectives In The OTT Tamil Series Story Of Things?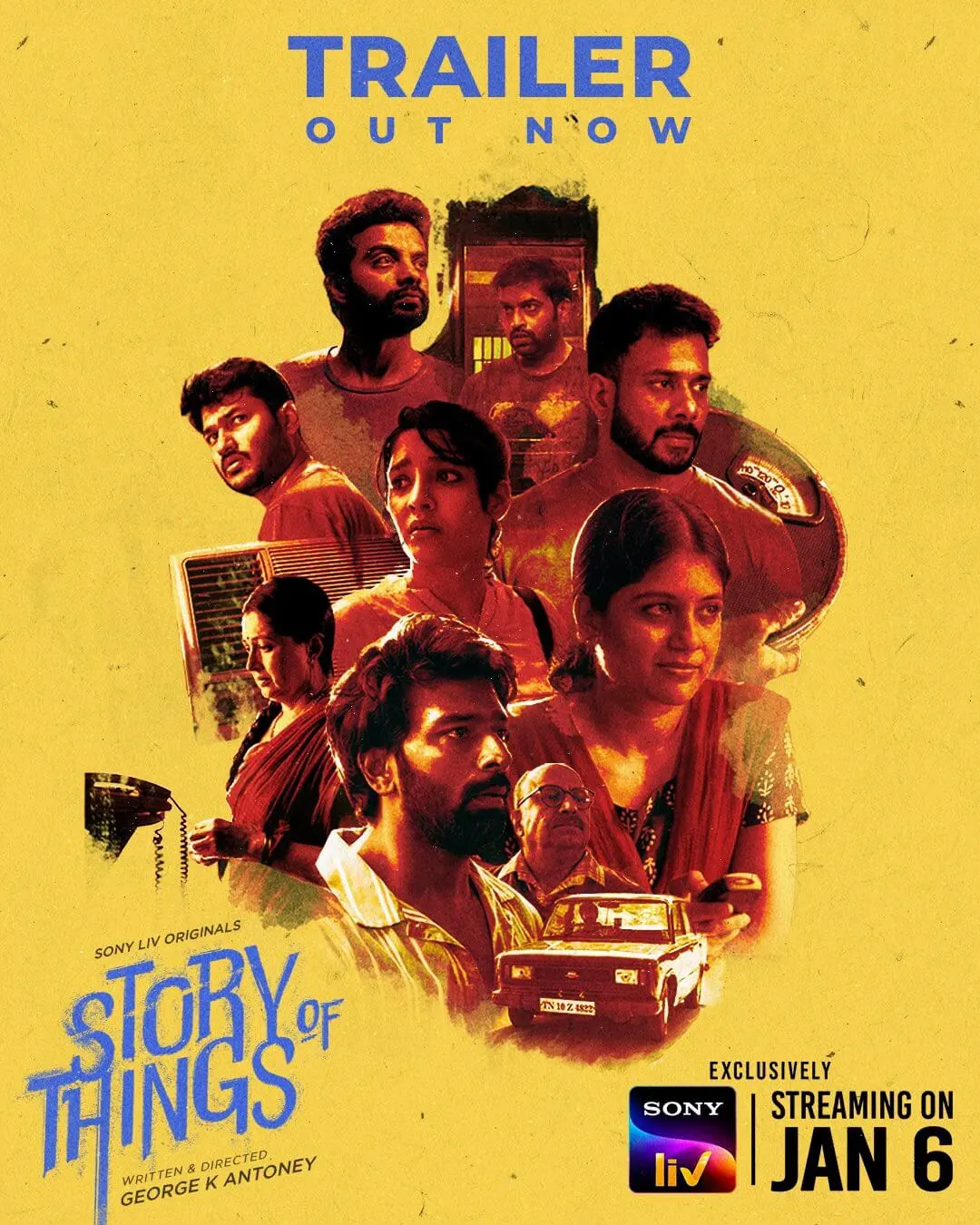 Human emotions like greed, fear, rage, loneliness, guilt, and love are central to the Story of Things. It demonstrates how these feelings affect us daily and obfuscates the boundary between the natural world and the paranormal.
Vinoth Kishan, Anshita Anand, Ritika Singh, Roju, and Gautami play critical roles in the new OTT Tamil series. It was a hit series on the SonyLiv platform and was created by George K Antoney. The list of each episode and its underlying meaning can be found below.
Episode- 1 Weighing Machine
Ram Bharat, who wishes to succeed in the film business, is the subject of the first episode. One day he obtains a scale, and he immediately starts using it. Only to realize that as he sinks further into the avarice of being a movie star, his life is getting increasingly gloomy.
Episode- 2 Cellular
The mother and daughter are the main characters of this episode of the Story Of Things OTT Tamil series starring Aditi Balan and Gautami. When Vannamayil tries to leave hamlet against the advice of her mother, things turn sour. Her mother permits this on one condition. She calls her every day to talk. The mother suddenly dies, making Vannamayil feel terrible. Watch the series on SonyLiv to learn what happens next.
Episode- 3 Compressor
Young filmmaker Raghu and his live-in lover Shruthi discover a large sum of cash that has dropped out of a producer's pockets. With the money they've uncovered, they decide to purchase an air conditioner. The new equipment alters their lives, but the change makes them fearful. Studded with charismatic models like Raebanns and Utahjaz, this episode is a tale in itself.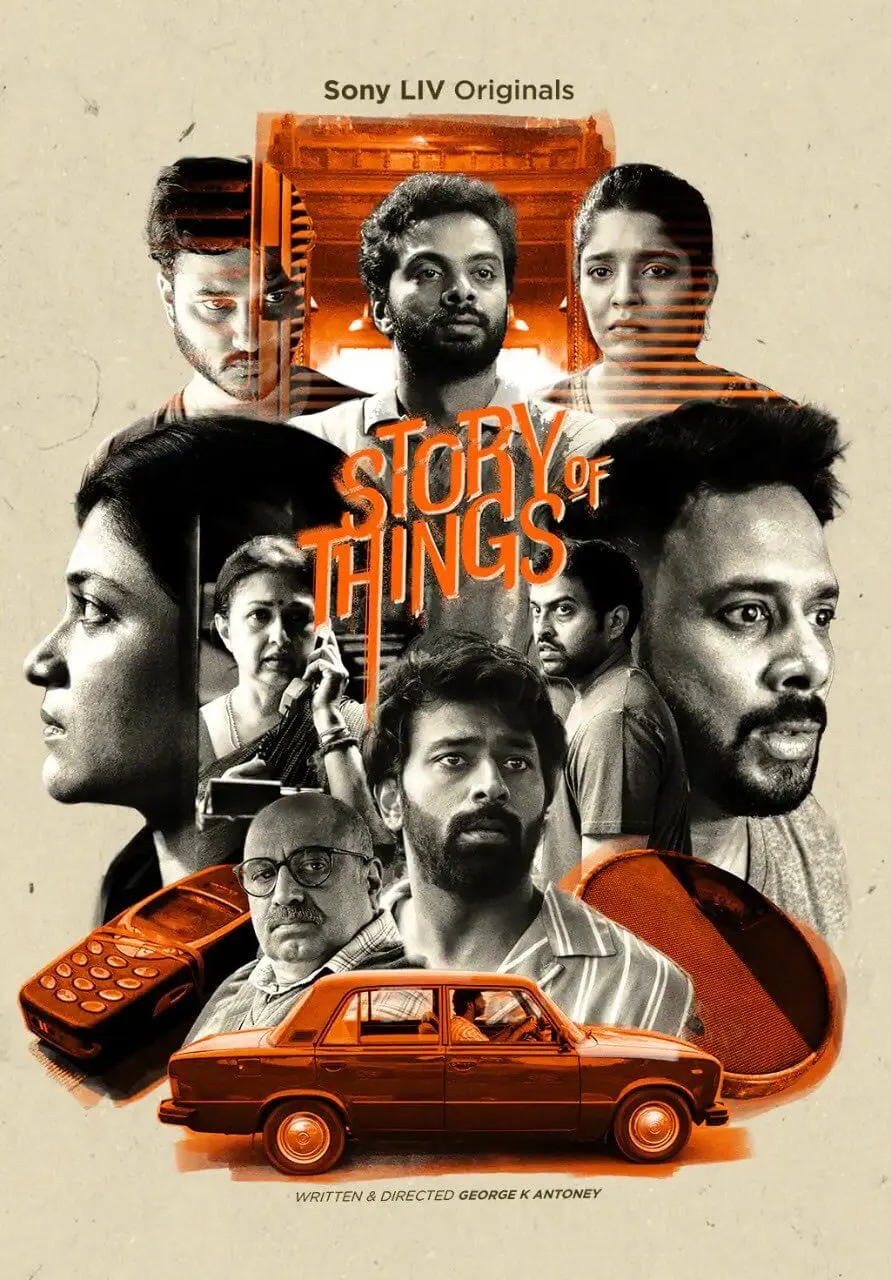 Episode- 4 Car
Britto's father was highly harsh to him; hence he had a difficult childhood. Because the father practiced locking Britto in their old automobile, he developed a dread of motor vehicles. He was carried away by his rage and forced to return home to confront his father. Britto finds an old automobile one day and starts working as a stylist.
Episode 5- Mirror
The protagonist of this tale, Sethu, is going through a breakup and is feeling lonely and melancholy. He is charged with drunkenness and expelled from the college. Then he relocates into an independent bungalow's attic that has an old mirror in it. Sethu appears insane as the mirror plays back his worst nightmares.
On the Sony Liv website and app, you can watch every episode of the new mind-bending show, Story of Things, in Tamil. George K. Antoney gave commonplace items from our daily lives their personalities. Story of Things, therefore, hits all the right notes in the horror-thriller genre.
Beyond the carnate world, the supernatural has everything interesting. And we've seen horror films where inanimate objects serve as conduits for the otherworldly, much like the palpable human body.
One of the few books that leave you wanting more is Story of Things. The idea itself accomplishes half the work, and it opens up a world of opportunities.