In football history, Cristiano Ronaldo and Lionel Messi are two of the biggest names. Even if they aren't the greatest, they are certainly among the best. Football has gone to another level with these two. In their prime, they smashed every record in sight.
It doesn't matter whether you talk about an individual record or a team record, both have achieved a lot. Ronaldo plays in the Premier League in England while Messi plays for PSG in France. As long as they remain consistent and determined, they will continue to provide great numbers.
Let's Start by shedding some light on their World Cup performance in Qatar 2022. Both teams had almost equal records before the 2022 World Cup in Qatar. Despite being named World Cup player of the tournament in 2014. Leo's performance in the 2018 World Cup was below expectations. 
CR7, on the other hand, performed average during the 2014 World Cup. He managed to score four goals during the 2018 world cup, which was his best. A hat trick was scored against Spain in a match that ended in a draw.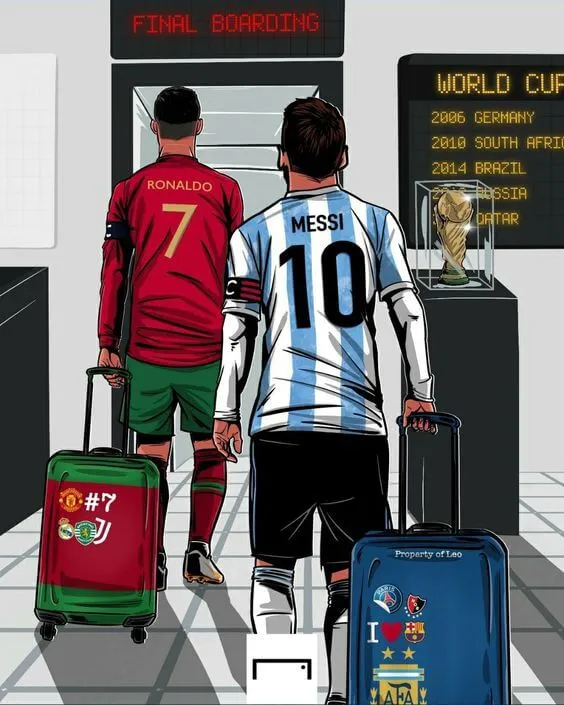 In 2022, Messi silenced his critics with an immersive performance. His entire tournament was marked by record-breaking performances. Not only did he win the player of the tournament, but he also provided the most assists in the tournament.
In doing so, he ended the debate that said he didn't deserve to be the GOAT without winning the World Cup. During the final, he scored a brace to become the third most prolific scorer in World Cup history. 
Appearances of the Supernova's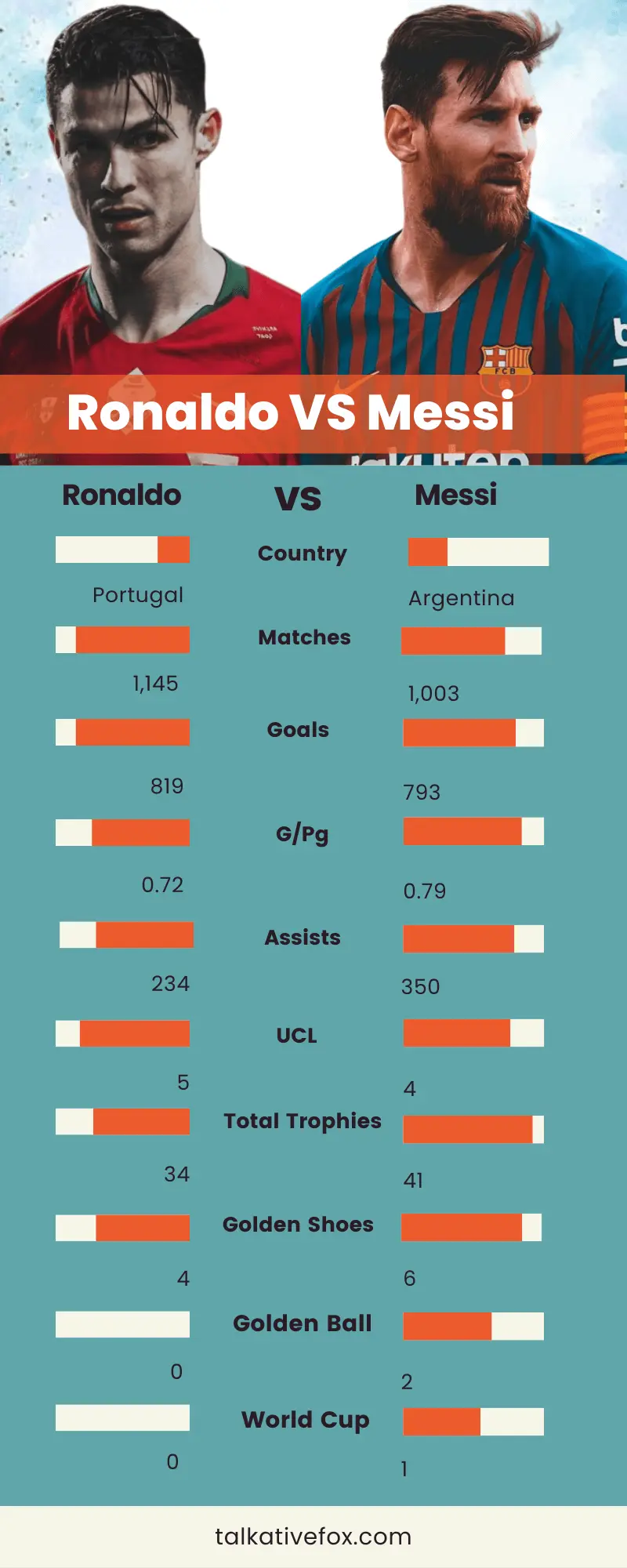 As far as appearances are concerned, they differ greatly. Messi played his entire career for Barcelona, the club he grew up playing for. Having played for 17 years in Spain (Barcelona) is fantastic. There were reports that Messi wasn't ready to leave his lifelong club but had to do so regarding financial concerns. 
During his time in Madrid, Ronaldo also had some conflicts with the managers. In Italy, he played in Serie A after winning the UEFA Champions League for three consecutive years.
Goals – Clash of the Titans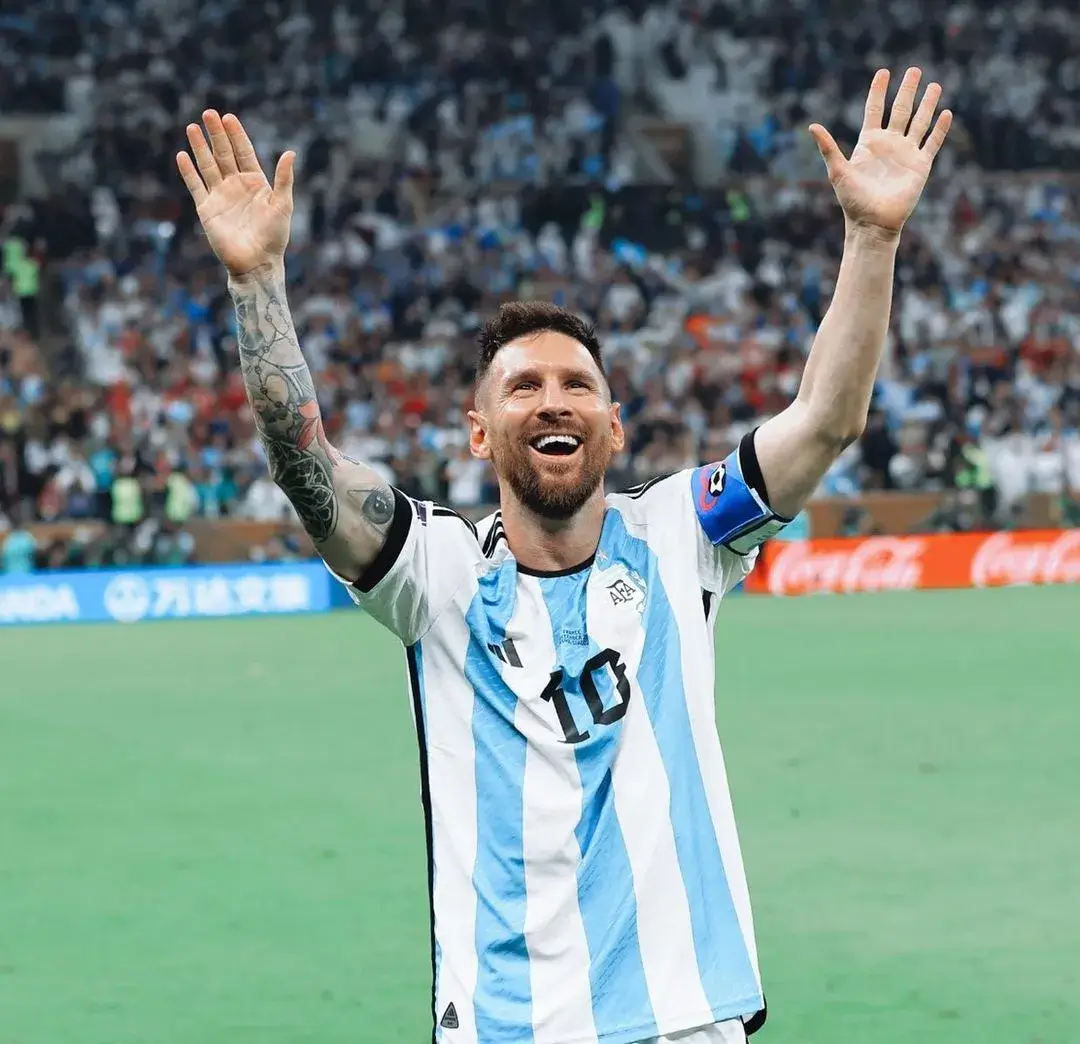 As far as goals are concerned, these two greats have come up with imaginary numbers. Between 2008 and 2019, they achieved everything that football has to offer except the FIFA World Cup.
In 853 appearances across all competitions, Messi has scored 701 club goals. 
Messi's best year as a Barcelona player was in 2012 when he scored 73 goals. Overall, he scored 91 goals in that calendar year.
By doing this he broke Gerd Muller's record of 86 goals in a Calendar year. It is highly unlikely that this record by Messi is going to break anytime soon. He has also scored 40+ goals consecutively for almost more than 10 seasons.
Due to the club's failure in big tournaments (mainly because of poor defense). Messi's performance in 2019 is underrated. In 58 appearances for club and country, he scored 50 goals. He became the only player to score more than 25 goals and provide 15+ assists in a particular season. 
In 160 games, he scored 90 goals for his country. In comparison with his club record, these numbers seem a little low. Due to the defensive nature of South American football, the goal-scoring ratio is less than the European Leagues.
Ronaldo's Goal-Scoring Record
Lionel Messi has been given a tough fight by Cristiano Ronaldo. CR7 established himself as an elite goal scorer between 2008 and 2018. The 42 goals he scored in 49 games in 2008 accelerated his goals scoring record. 
In spite of this, he went on to win the Ballon d'Or again in 2013. Even so, he still had an insane goal-scoring record during this period. His best year was 2013 when he scored 61 goals for his club. During that calendar year, he scored 73 goals.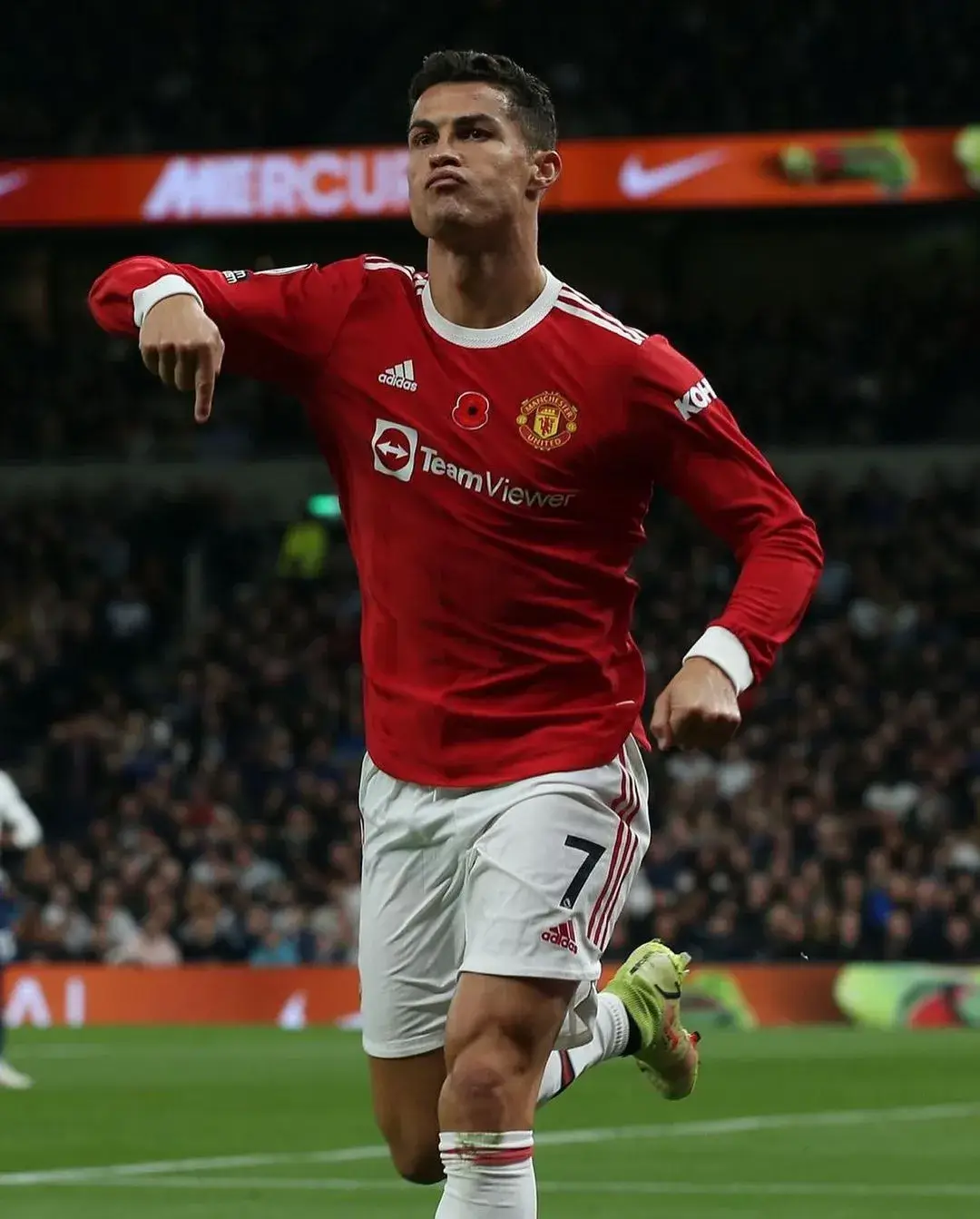 In addition, he has scored 60+ goals for six consecutive years. The Real Madrid team won four UEFA Champions Leagues in five years from 2014 to 2018. Real Madrid's massive success could not have happened without Cristiano Ronaldo. It wasn't long before people started calling him Mr. Champions League because of his great performance in the Champions League. 
In one champions league season, Ronnie scored 17 goals, which set a record. With 949 appearances under his belt, he has scored 701 cub goals.
| | | |
| --- | --- | --- |
| Cristiano Ronaldo | World Cup Stats | Lionel Messi |
| 08 | Goals | 13 |
| 0.38 | Goals to game ratio | 0.50 |
| 22 | Appearances | 26 |
| 02 | Assist | 08 |
Over the course of his career, Ronaldo has scored 819 goals in 1144 matches across all competitions. Meanwhile, Messi has scored 796 goals in 1023 matches in his career. 
Compared to Ronaldo, Leo is two years younger and has played fewer games. He has a good chance of breaking Ronaldo's record for most goals. 
Trophies – Where Nothing Seems Impossible
Cristiano Ronaldo and Lionel Messi both have insane trophy collections. Several of Messi's trophies are related to Barcelona, his former club.
Three European leagues trophies makes his collection unique. The list includes, Premier league, the Serie A, and the La Liga title.
Messi, on the other hand, has won La Liga and League1. In total, Messi has won four UEFA Champions League titles and ten La Liga championships. Conversely, Ronaldo has won 4 La Liga titles and 5 Champions Leagues.
Among Ronaldo's international trophies, he won the 2016 Euro championship. For Ronaldo, it was the first major international trophy he had won in his career. Toward the end of 2019, he managed to win the nations league. Lionel Messi, on the other hand, won his first major international trophy at Copa America in 2021. 
Argentina then defeated Italy 3-0 in the Finallisima in 2022 (euro champions vs. Copa America champions). The 2014 FIFA World Cup saw Argentina finish as runner-up. The Player of the Tournament award went to Messi as an individual achievement.  You can see the details of the individual achievements.
| | | |
| --- | --- | --- |
| Cristiano Ronaldo | Tournaments | Lionel Messi |
| 0 | World Cup Golden Ball | 2 |
| 4 | UEFA Player of the Year | 3 |
| 14 | FIFA Pro World XI | 14 |
| 4 | Player of the League | 6 |
| 0 | FIFA World Cup | 1 |
| 5 | Ballon d'Or | 7 |
| 2 | FIFA Men's Player of the year | 1 |
| 4 | European Golden Shoe | 6 |
You can see the details of the team's achievements. 
| | | |
| --- | --- | --- |
| Cristiano Ronaldo | Tournaments | Lionel Messi |
| 0 | World Cup | 1 |
| 1 | European Championship | 1 |
| 1 | Nations League | 1 |
| 0 | Olympics | 1 |
| 7 | League titles | 11 |
| 5 | Champions League | 4 |
| 4 | Club World Cup | 3 |
| 4 | National Cups* | 7 |
| 22 | Total | 29 |
There are 41 trophies in Messi's collection, including ten La Liga titles, four Champions League titles, and seven Copa del Rey titles. In comparison, Ronaldo holds 34 trophies, including five champions league trophies.
Records – That are Meant to be Broken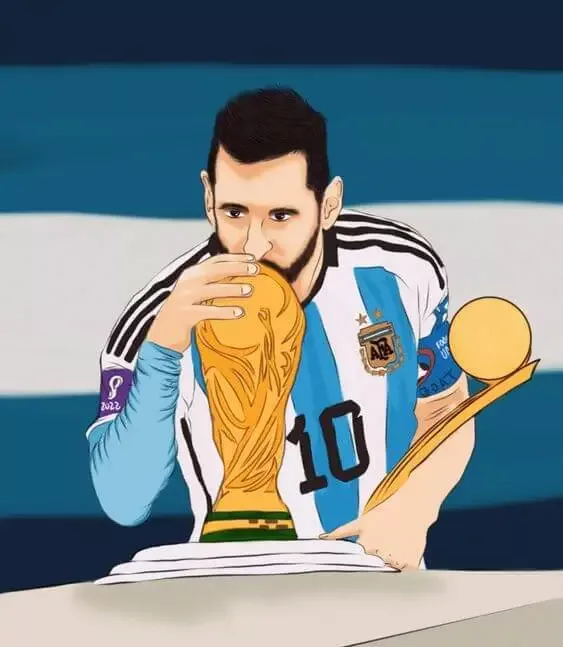 It is extremely difficult for upcoming players to match Cristino and Lionel Messi's standards. It doesn't matter whether you talk about their individual or team accomplishments, they dominated for two decades. As the only player to win the Ballon d'Or in 2018, Luka Modric broke Messi's or Ronaldo's streak of winning this award every year.
Goal-scoring accounts for most of Ronaldo's records. Messi, however, holds the record for most assists in football history.
Moreover, Messi has outstanding playmaking records as well. Messi has a better record than Ronaldo when it comes to records. Messi, for instance, has won more league titles than Ronaldo. When it comes to the UCL, Ronaldo has a slight advantage over Messi. Mr. champions league won the UCL five times, whereas Lionel Messi managed to win it four times.
When it comes to personal accomplishments, Messi clearly has an edge over Ronaldo. There is a possibility that you will disagree with me on this point. Please allow me to clarify. As Messi had no major international trophy before 2021, the tables were tilted towards CR7.
The Year 2021 Brought Change for Leo Messi
A sudden change occurred for Lionel Messi in 2021. He won the 2021 Copa America as the tournament's best player. Throughout the tournament, not only was his performance perfect, but it was also charismatic. In winning this trophy, he became the first person from his country to win a major international prize.
After beating Italy 3-0 at Wembley Stadium, he won the finalissima. South American teams were not considered as good as Europeans by many people, however.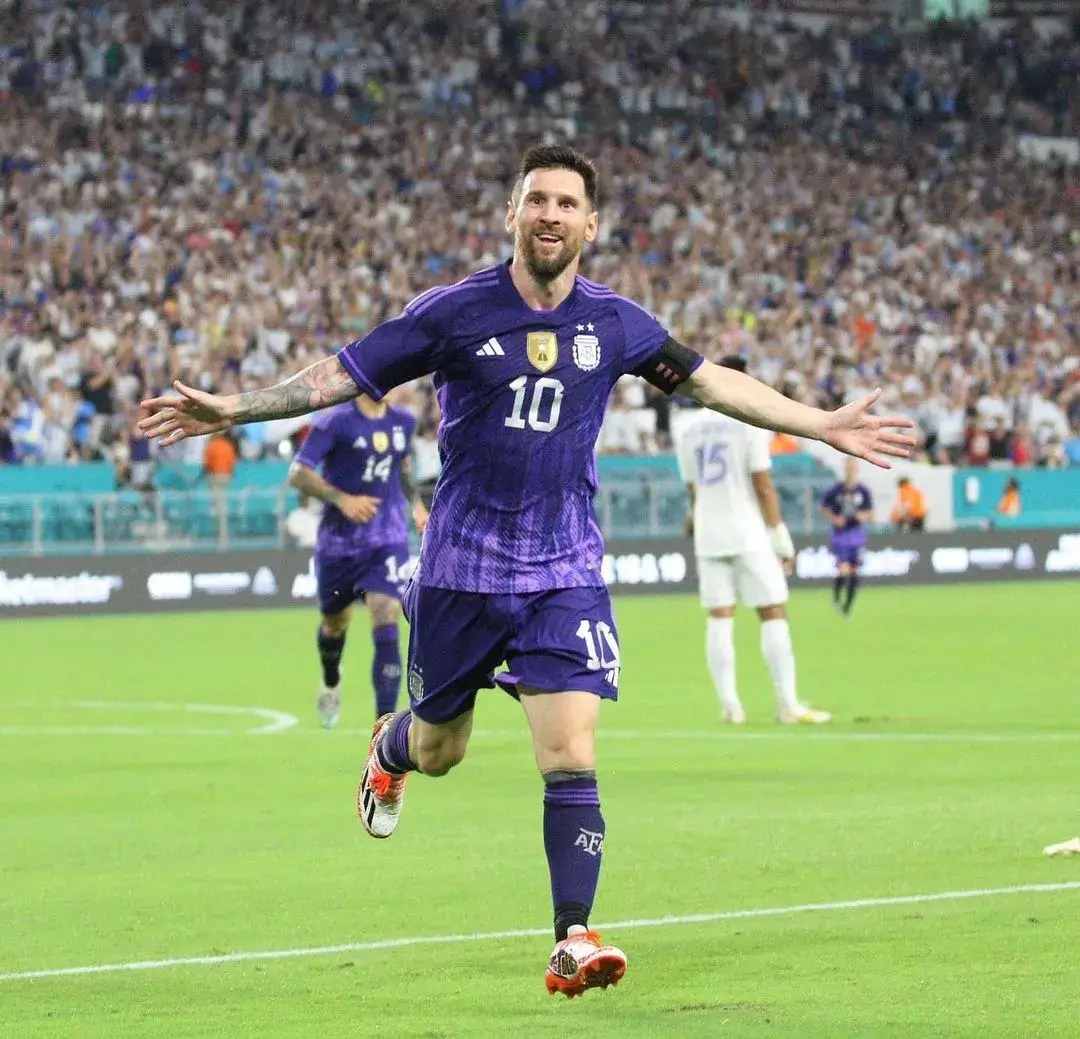 Meanwhile, Ronaldo was producing great numbers for Manchester United and Portugal. It was during this period that he became the most prolific goal scorer in international matches. Previously, Ali Dai held the record.
Let's talk about the most prestigious individual football award, the Ballon d'Or. The prestigious award has been won seven times by Messi. It is the most ever by a player in the history of the sport. The award has been won five times by Ronnie (CR7). Overall, Ronnie is in 2nd place for winning the Ballon d'Or.
Compared to Messi, Cristiano has four players of the league awards. There can be different views on that. There may be some who prefer Ronnie since he won these in different leagues. It's subjective, anyway.
It is the Portuguese star who outperforms Messi by winning two FIFA Men's Player of the Year awards.
Take a look at their performance based on European golden shoes. CR7 has won it four times in his career, while Leo has won it six times.
Final Thought – The Greatest Rivalry of All Time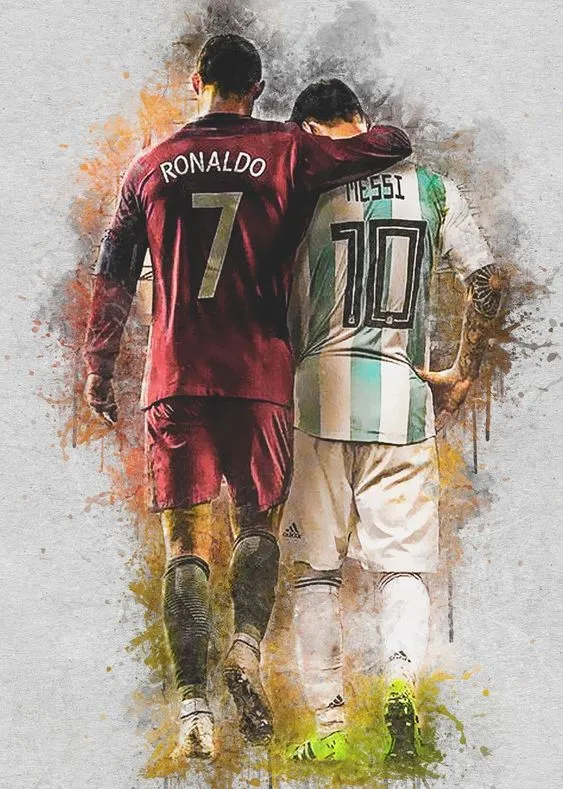 Footballers can only dream of a career like CR7 or Leo. Over the past two decades, they have dominated the world of football. It is the first time in football history that we have seen such a rivalry. As Andrew Tate once said that " I Love to have Rivalry in Sports, as I grow strong that way."
There was nothing like those el classics when these two guys were playing in Spain (La Liga). Comparing these two and choosing one seems impossible to me. Both players have their own style of play. While Ronaldo plays inside the box, Messi plays more as a playmaker.
There will be no end to this debate. There will always be comparisons between these two greats as long as people watch football. Based on your preferences, you can decide, who is better – Messi or Ronaldo?