Welcome to global citizens and explorers of the cultural landscapes! If you've stumbled across this page, you want to improve your communication skills with other cultures. Perhaps you're looking to seamlessly navigate various social environments as the chameleon blends in with its surroundings. Now, buckle up and prepare to embark on an exciting adventure through the vibrant world of cultural communication. 
Learn the art of cultural communication and how to interact seamlessly with people from all over the world. This comprehensive guide will provide strategies and techniques to enhance cross-cultural communication skills while promoting understanding and respect for each other.
Cultural communication, the complex process of effectively transferring ideas to people from diverse backgrounds, is essential in today's ever-changing world. It's like the Swiss Army Knife in your global interaction toolkit – flexible and indispensable in every situation.
Mapping the Terrain: Understanding Cultural Differences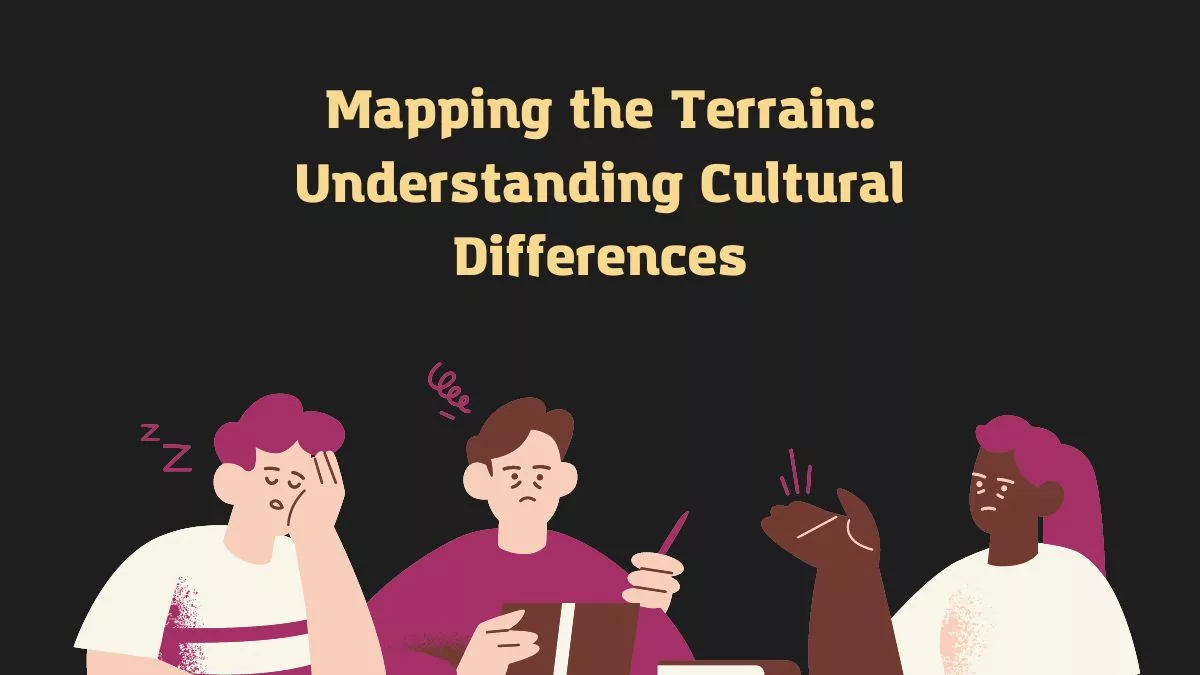 When you venture into the realm of communication across cultures, it's essential to understand the terrain you're confronted with. Cultural distinctions are unnoticed icebergs in the ocean of communication and works like communication barriers. They could be hidden under the surface or be away from view, but their impact is enormous and can influence your communication journey.
Value Systems

 Each culture is defined by its own set of values that determine the views and responses of its people. From individualistic cultures that value independence and autonomy to collectivist societies that emphasize the harmony of groups and cooperation, Knowing the distinct values systems is the first step to mastering the art of communication across cultures.

Non-verbal communication

: non-verbal cues play a vital role in how we communicate. How we communicate through facial expressions, body language gestures, gestures, and even the distance maintained in interactions can convey a lot and often more than words. The exciting thing is that how these cues are perceived can differ significantly across different cultures. Understanding this subtle art of non-verbal communication will dramatically improve your ability to communicate with people from different cultures.

Social Norms

 They are the implicit, unspoken rules of society. They provide guidelines for individuals on how to conduct themselves, how to behave, what to say, and the appropriate time to speak it. Every culture has cultural norms, and even though they may not be explicit, not knowing about them could result in embarrassing mistakes.
Understanding these aspects will give you the basics for navigating the various cultural landscapes you'll see.
Crossing Bridges: Techniques for Effective Cultural Communication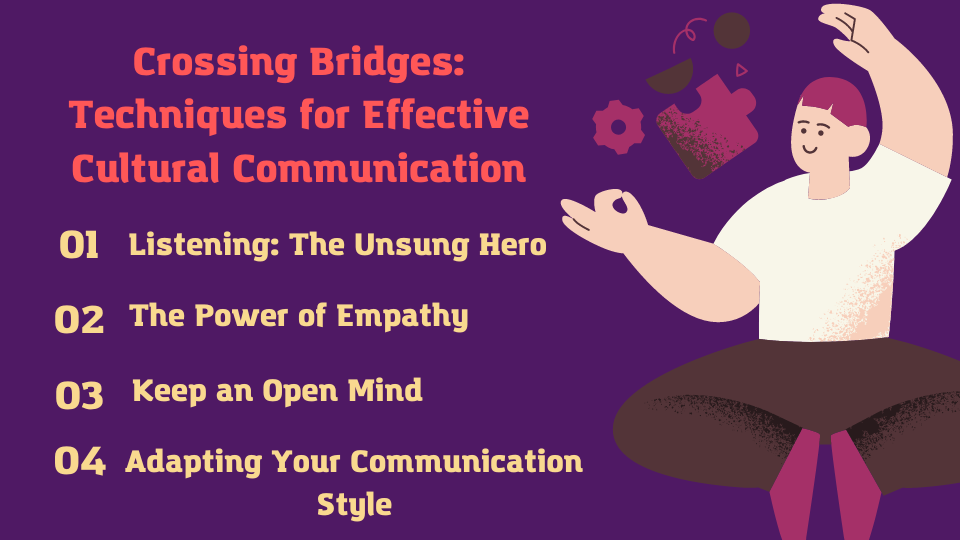 Now that you understand the terrain, it's time to get yourself the right tools to create meaningful connections between cultures.
1. Listening: The Unsung Hero
Listening effectively is the basis of successful communication, whether cultural or otherwise. We're not talking just about the words being spoken. Effective listening goes beyond that and requires a deliberate effort to learn about the person's inner thoughts, feelings, and motives.
In a multicultural environment, effective listening can help to bridge the gap between various values, norms, and practices. It's about recognizing the diversity of perspectives and pursuing an understanding shared by all.
2. The Power of Empathy
If listening with a sense of purpose is the keystone, empathy is the glue that holds your cultural communication structure. Empathy is the ability to feel the thoughts, emotions, feelings, and experiences of other people.
When it comes to communication across cultures, empathy allows you to be aware of the diversity and richness of human interactions. It's about leaving your comfort zone, putting aside your preconceived notions, and completely immersing yourself in the world of another.
3. Keep an Open Mind
Assumptions, according to some, are the source of all mistakes. They're also one of the biggest obstacles to mastering the art of communication. Being open-minded lets you view every interaction as a chance to grow and learn rather than an echo chamber to express your ideas and views.
An open-minded approach to communication across cultures is like having a parachute. It slows the descent into unfamiliar terrain, allowing land to be more smoothly and safely.
4. Adapting Your Communication Style
Adjusting your communication style to your conversation partner is another way to bridge cultural differences. This could mean following their body language, synchronizing their conversational pace, or even changing your voice.
These small changes, although small, can help in fostering a sense of familiarity and comfort in intercultural interactions.
FAQs
Why is communication between cultures important?
Cultural Communication is an essential element of the global community. It promotes respect for each other and understanding, helps to reduce conflicts, and promotes collaboration. Effective communication is the key to establishing successful relationships in our multicultural, interconnected world.
What can one do to enhance their skills in communicating with other cultures?
Improving your communication skills in a multicultural context is a continuous process of learning and practicing. Be curious, keep an open mind, and do not be afraid to step outside of your comfort zone. Active listening, open-mindedness, empathy, and flexibility are your mainstays on this journey.
Cultural differences can result in better communication.
Absolutely! Cultural differences can often confuse. This is particularly relevant when cultural nuances or contexts must be understood or regarded. However, with an understanding of these distinctions and effective strategies for communicating with people from different cultures to avoid misunderstandings, these issues can be reduced.
The Last Word
As we conclude our journey into the field of cultural communication, we're hoping you've gained tips and tricks helpful in guiding your journey. But be aware that this isn't just the destination you get to. It's a journey you begin.
Keep learning, keep practicing, and most importantly, continue to embrace the world's diverse diversity. Cultural Communication is more than just a skill; it's a blessing demonstrating understanding and acceptance of diversity. So, go out with your newly-honed abilities. You are in the world's best hands, and there are gems of wisdom in each conversation.