Break out your menorah because it's almost time for those eight special nights. Every December, Jewish people worldwide recognize the Hanukkah holiday, also known as the Festival of Lights. And while it's a time to come together to exchange presents, spend quality time with loved ones, and devour traditional Jewish foods (latkes, brisket, and jelly doughnuts, oh my!), the holiday holds a more profound significance.
Hanukkah commemorates how the Maccabees, a small ragtag group of faith-adhering soldiers, defeated the large and well-equipped army of Syrian Greeks. Lighting the candles follows a left-to-right sequence, starting with the newest candle that symbolizes the first day. During the lighting ceremony, individuals recite three blessings, one of which is the "Shehecheyanu" blessing, which expresses gratitude for reaching this season.
Good always triumphs over evil, and a little bit of light dispels much darkness," he adds, offering a poignant takeaway that's all the more resonant in recent years. No matter how much you think you know about Hanukkah, keep reading to learn more about the history and meaning behind the winter holiday.
Hanukkah 2023 will be different in from Hanukkah 2022 – Impact of the Israel-Gaza Conflict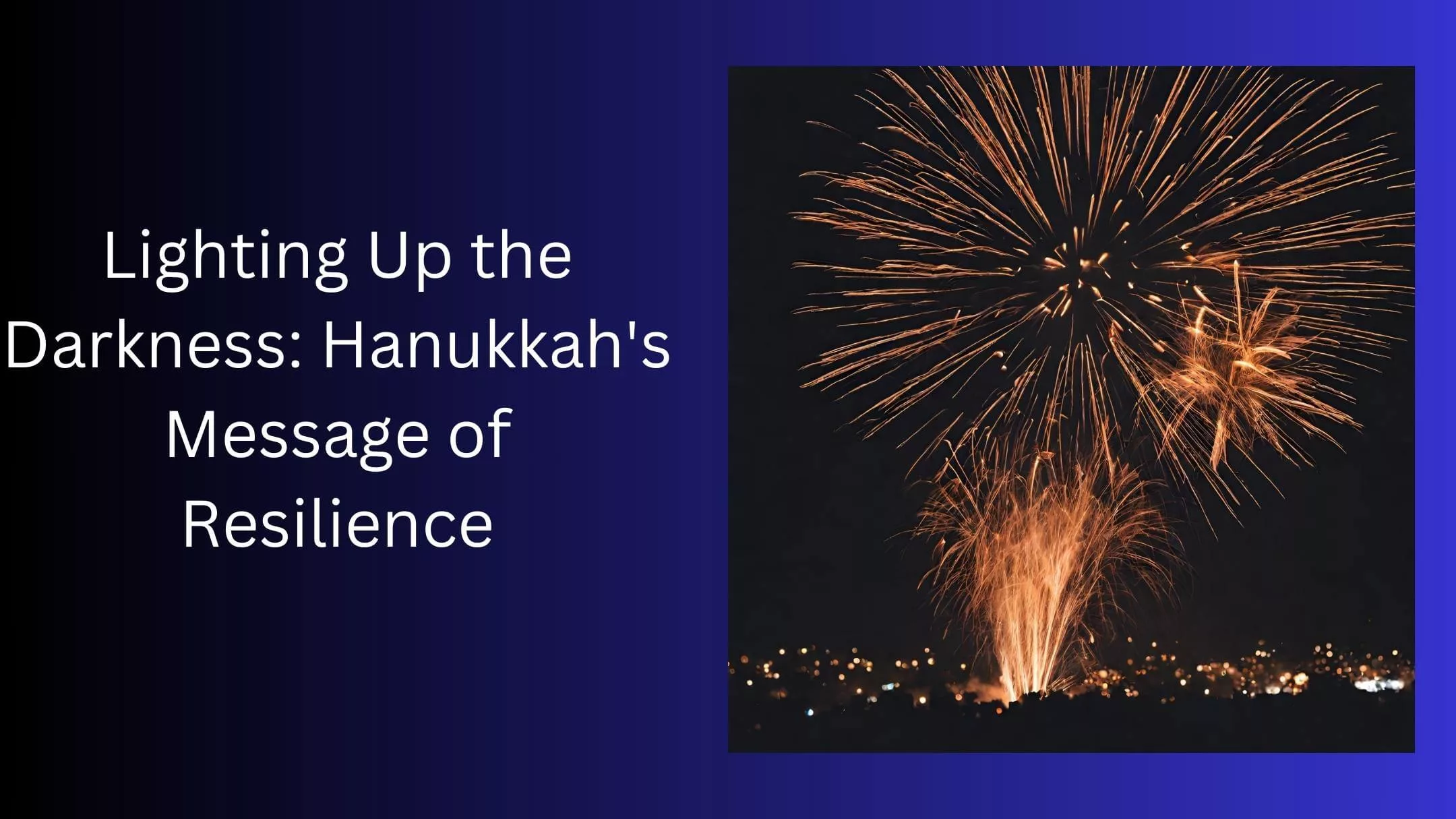 Hanukkah, the Festival of Lights, is a cherished holiday that brings Jewish communities together to celebrate traditions, history, and faith. While the core aspects of Hanukkah remain consistent from year to year. Still, there can be variations influenced by a range of factors, including geopolitical events like the
Israel-Gaza conflict
.
The Israel-Gaza conflict, which has seen periods of heightened tension and violence in recent years, can have a significant impact on the way Hanukkah is observed, particularly for Jewish communities in Israel and around the world.
1. Security Concerns
During periods of conflict, security concerns may lead to changes in public gatherings and events. Synagogues, community centers, and public menorah lightings may implement heightened security measures to ensure the safety of participants. In areas directly affected by conflict, celebrations may be scaled down or postponed due to safety concerns.
2. Humanitarian Efforts
The Israel-Gaza conflict often raises awareness of humanitarian issues in the region. Jewish communities worldwide may engage in charitable activities and fundraisers to support those affected by the conflict, demonstrating the spirit of tikkun olam (repairing the world) during Hanukkah.
3. Unity and Solidarity
The conflict can also serve as a backdrop for messages of unity and solidarity within Jewish communities. Hanukkah's themes of perseverance and the triumph of light over darkness may take on added significance in times of turmoil.
4. Prayer and Reflection
In times of conflict, Hanukkah can become an opportunity for prayer and reflection. Many Jews may incorporate special prayers for peace and an end to violence into their Hanukkah observance.
Cultural and Regional Differences
Hanukkah traditions can vary based on cultural and regional influences. While the core rituals, such as lighting the menorah and enjoying traditional foods, remain consistent, the way these traditions are carried out may differ.
1. Cultural Traditions
Jewish communities from diverse backgrounds often infuse their own cultural traditions and flavors into Hanukkah celebrations. For example, Sephardic Jews may have unique recipes and customs that differ from Ashkenazi Jews.
2. Regional Variations
In Israel, for instance, Hanukkah often features public menorah lightings, special events, and a festive atmosphere that may differ from the celebrations in other countries.
3. Community Activities:
Hanukkah celebrations are community-driven, and each community may have its own unique events and activities. These can range from charity drives to cultural performances, and they may evolve from year to year.
While Hanukkah's core meaning and traditions remain constant, external factors such as the Israel-Gaza conflict and cultural/regional influences can shape the way the holiday is observed and celebrated.
In times of conflict, Hanukkah can serve as a poignant reminder of the enduring Jewish spirit and the hope for peace and light in the face of adversity.
Do Hanukkah(Chanukah) Dates Change Every Year?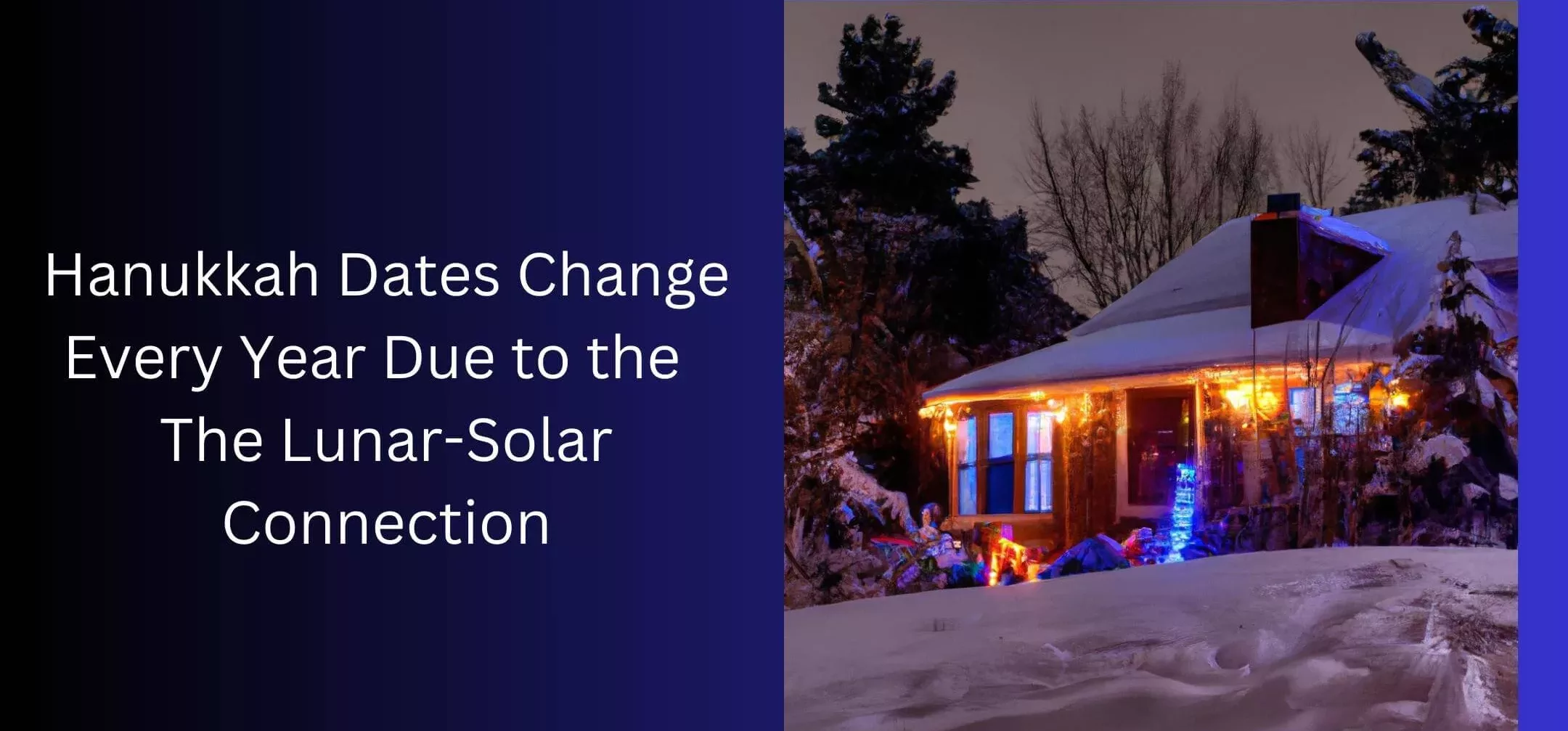 Indeed, the dates of Hanukkah change every year. This intriguing phenomenon arises from the Jewish calendar's unique blend of solar and lunar elements.
The shifting dates are a result of reconciling the Jewish calendar, which combines both solar and lunar aspects, with the solar calendar used by the Christian and secular world. However, the Hebrew date for Hanukkah remains constant as the 25th of the month of Kislev.
To put it simply, the Jewish calendar, guided by lunar cycles, comprises 354 days, while the Gregorian calendar follows a solar year of 365 days. This disparity leads to the annual variation in Hanukkah's dates.
Date Chart from Hanukkah 2022 to Hanukkah 2050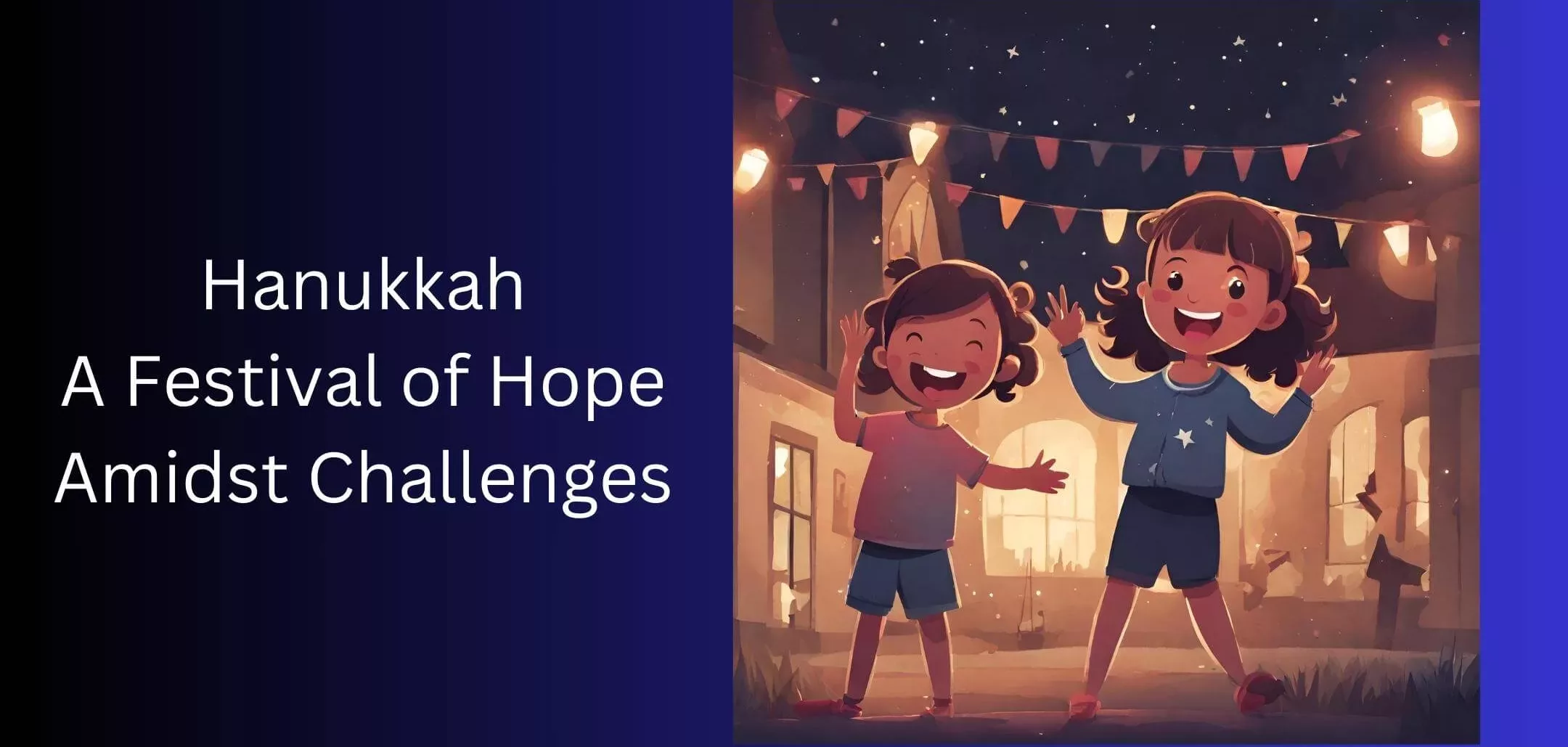 The following table presents a comprehensive overview of Hanukkah 2022 dates to 2050, along with the years and days remaining from Hanukkah 2022. This table allows us to track the progression of Hanukkah through the years, offering insights into how the holiday's timing evolves over time.
| Year | Hanukkah Begins | Hanukkah Ends | Years & Days Remaining |
| --- | --- | --- | --- |
| 2022 | Sun, Dec 18, 2022 | Mon, Dec 26, 2022 | Gone Last Year |
| 2023 | Thu, Dec 7, 2023 | Fri, Dec 15, 2023 | 0 Y, 0 days |
| 2024 | Wed, Dec 25, 2024 | Thu, Jan 2, 2025 | 1Y, 21 days |
| 2025 | Sun, Dec 14, 2025 | Mon, Dec 22, 2025 | 2Y, 66 days |
| 2026 | Fri, Dec 4, 2026 | Sat, Dec 12, 2026 | 3Y, 111 days |
| 2027 | Fri, Dec 24, 2027 | Sat, Jan 1, 2028 | 4Y 156 days |
| 2028 | Tue, Dec 12, 2028 | Wed, Dec 20, 2028 | 5Y, 201 days |
| 2029 | Sat, Dec 1, 2029 | Sun, Dec 9, 2029 | 6Y, 246 days |
| 2030 | Fri, Dec 20, 2030 | Sat, Dec 28, 2030 | 7Y, 291 days |
| 2031 | Tue, Dec 9, 2031 | Wed, Dec 17, 2031 | 8Y, 336 days |
| 2032 | Sat, Nov 27, 2032 | Sun, Dec 5, 2032 | 9Y, 381 days |
| 2033 | Fri, Dec 16, 2033 | Sat, Dec 24, 2033 | 10Y, 426 days |
| 2034 | Wed, Dec 6, 2034 | Thu, Dec 14, 2034 | 11Y, 471 days |
| 2035 | Tue, Dec 25, 2035 | Wed, Jan 2, 2036 | 12Y, 516 days |
| 2036 | Sat, Dec 13, 2036 | Sun, Dec 21, 2036 | 13 years, 561 days |
| 2037 | Wed, Dec 2, 2037 | Thu, Dec 10, 2037 | 14Y, 606 days |
| 2038 | Tue, Dec 21, 2038 | Wed, Dec 29, 2038 | 15Y, 651 days |
| 2039 | Sun, Dec 11, 2039 | Mon, Dec 19, 2039 | 16Y, 696 days |
| 2040 | Thu, Nov 29, 2040 | Fri, Dec 7, 2040 | 17Y, 741 days |
| 2041 | Tue, Dec 17, 2041 | Wed, Dec 25, 2041 | 18Y, 786 days |
| 2042 | Sun, Dec 7, 2042 | Mon, Dec 15, 2042 | 19Y, 831 days |
| 2043 | Sat, Dec 26, 2043 | Sun, Jan 3, 2044 | 20 years, 876 days |
| 2044 | Wed, Dec 14, 2044 | Thu, Dec 22, 2044 | 21Y, 921 days |
| 2045 | Sun, Dec 3, 2045 | Mon, Dec 11, 2045 | 22Y, 966 days |
| 2046 | Sun, Dec 23, 2046 | Mon, Dec 31, 2046 | 23Y, 1011 days |
| 2047 | Thu, Dec 12, 2047 | Fri, Dec 20, 2047 | 24Y, 1056 days |
| 2048 | Sun, Nov 29, 2048 | Mon, Dec 7, 2048 | 25Y, 1101 days |
| 2049 | Sun, Dec 19, 2049 | Mon, Dec 27, 2049 | 26Y, 1146 days |
| 2050 | Fri, Dec 9, 2050 | Sat, Dec 17, 2050 | 27Y, 1191 days |
The Eight Days of Hanukkah/ Chanukah Nights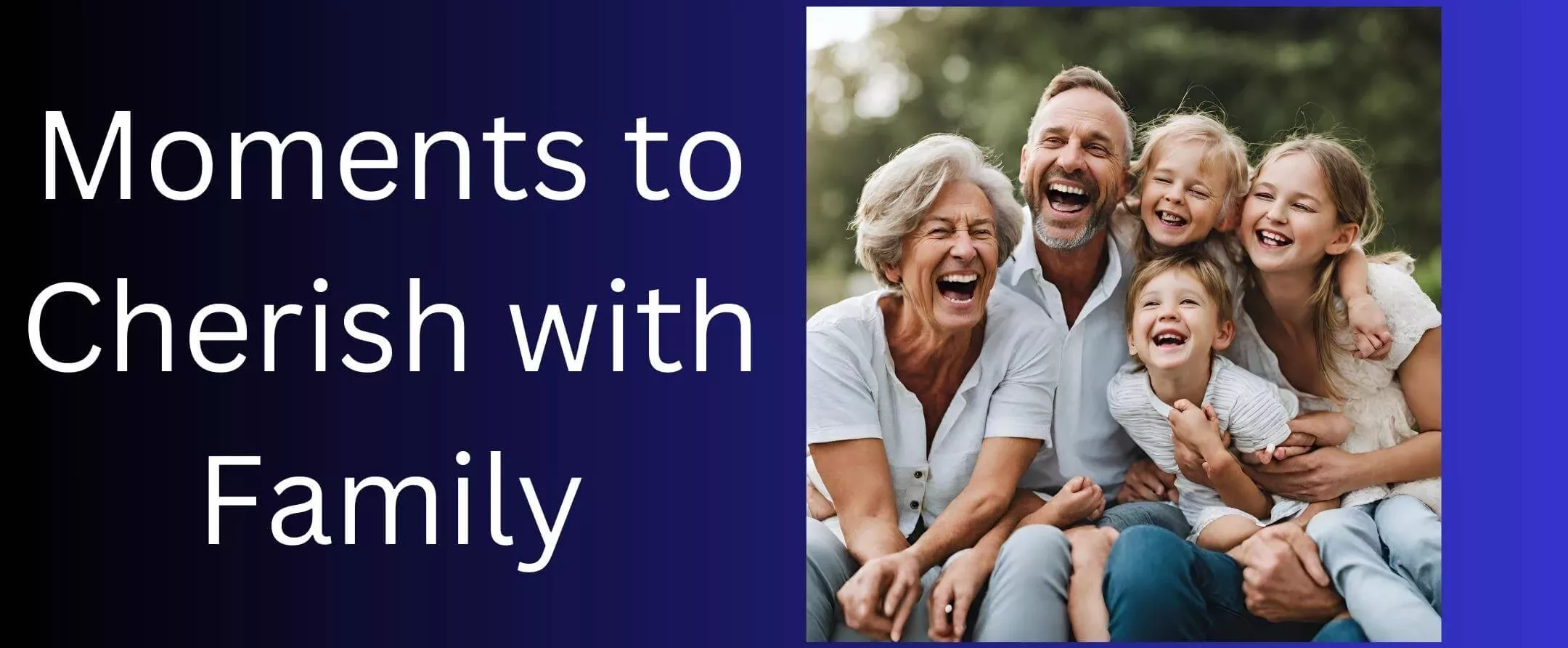 Hanukkah spans eight days and nights. These are the dates you can mark on your calendar for Hanukkah celebrations. Here are some traditional customs and activities to consider on this special evening as their lifestyle.
Day 1 of Hanukkah/ Chanukah
Lighting the Menorah: On the first evening of Hanukkah, Jewish families gather at home after sunset to light the menorah, a special candelabrum with nine branches. The ninth branch, known as the "shamash," plays the role of lighting the other candles. People usually place the menorah prominently, often near a window, so that the light of the candles becomes visible from outside.
Hanukkah Songs: After lighting the candles, families often sing Hanukkah songs and hymns, such as "Ma'oz Tzur" (Rock of Ages) and "Hanerot Halalu" (These Lights).
Traditional Foods: It is customary to enjoy foods fried in oil on Hanukkah, such as latkes (potato pancakes) and sufganiyot (jelly-filled donuts). These foods symbolize the miracle of the oil that lasted for eight days in the Holy Temple.
Days 2-7 of Hanukkah/ Chanukah (Intermediate Days)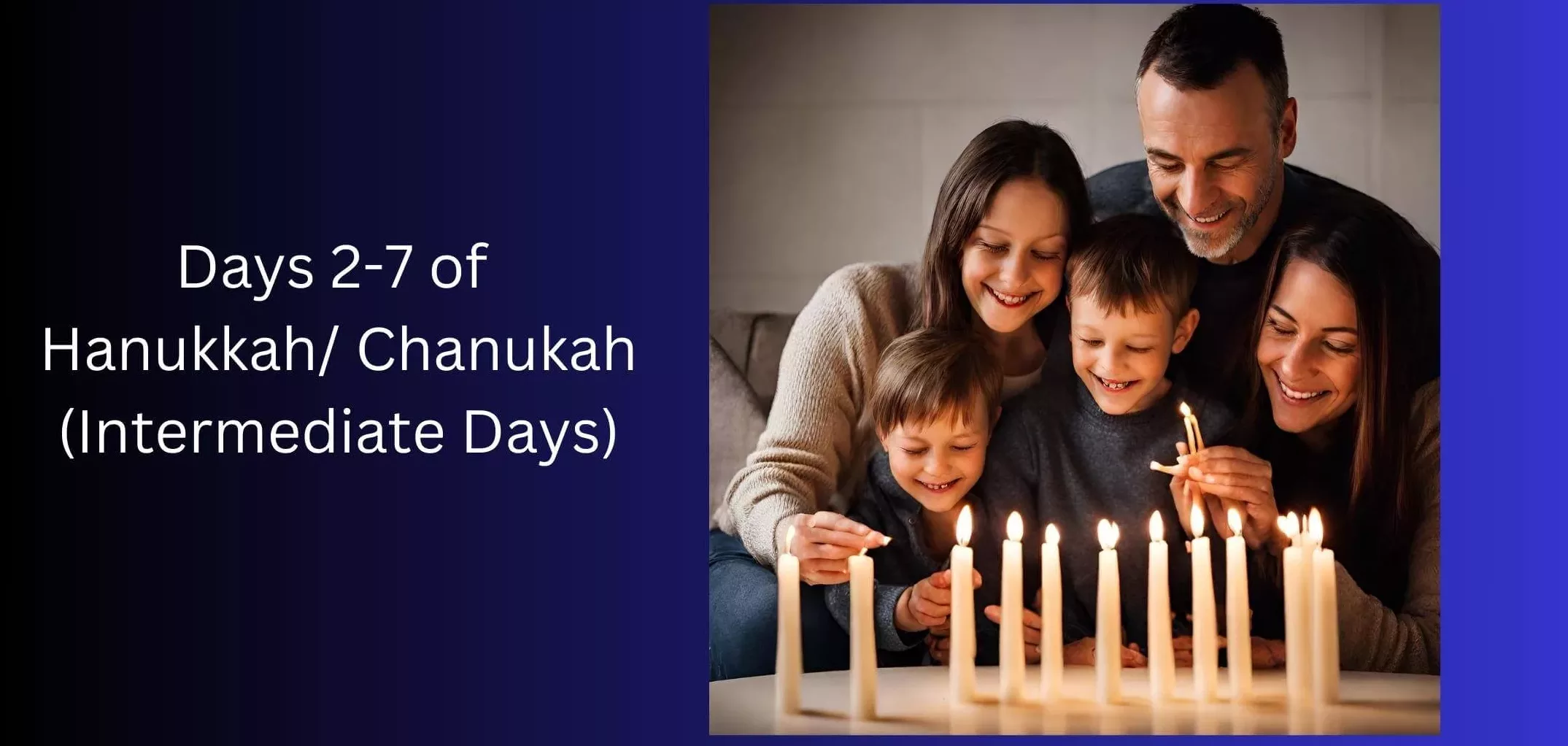 Adding Candles to the Menorah: On each subsequent evening of Hanukkah, you add one additional candle to the menorah from right to left, and you light the candles from left to right. This means that on the second night. You light two candles, and on the third night, you light three candles, and so on.
Reciting Blessings: The same three blessings are recited each night, including the "Shehecheyanu" blessing.
Hanukkah Songs: Families continue to sing Hanukkah songs and enjoy traditional foods.
Dreidel Game: Many families play the dreidel game on these nights, taking turns spinning a four-sided spinning top (dreidel) with Hebrew letters. The letters represent the phrase "Nes Gadol Haya Sham," meaning "A Great Miracle Happened There." Depending on which letter the dreidel lands on, players win or lose tokens (often chocolate coins).
Day 8 of Hanukkah/ Chanukah  (Final Day)
Lighting the Menorah: On the eighth and final night of Hanukkah, all eight candles on the menorah, along with the shamash, are lit. This creates a beautiful display of light. The lighting ceremony follows the same pattern as on previous nights, with blessings recited.
Gift Exchange: While not a traditional part of Hanukkah. Some families choose to exchange small gifts on the eighth night as a way of adding to the festive atmosphere.
Hanukkah Songs: Families sing Hanukkah songs, and this night is especially joyful and celebratory.
Traditional Meal: Many families enjoy a special meal together on the final night of Hanukkah. Thus often featuring traditional dishes like brisket, roasted chicken, or other festive foods.
Game of Dreidel: The dreidel game may continue on this night as well.
Although all eight nights of Hanukkah, families come together to celebrate the holiday's themes of light, freedom, and miracles. It is a time for strengthening family bonds, sharing traditions, and reflecting on the historical events and significance of Hanukkah in Jewish history.
Conclusion
Hanukkah, the Festival of Lights, is a cherished holiday that commemorates the triumph of faith and resilience over oppression. It reminds us that even in the darkest of times, a small amount of light can dispel much darkness. As you prepare to celebrate Hanukkah, may the glow of the menorah bring warmth and hope to your heart. May the story of the Maccabees inspire you to stand strong in the face of adversity.