Are you a canine enthusiast seeking a rewarding entrepreneurial journey? Starting a Dog-Centric Business (DAWG) could be your ideal path. DAWG businesses encompass a broad spectrum of products and services. All are tailored to enhance the lives of dogs and their human companions. From grooming services, daycare, and innovative pet products to tech advancements for our four-legged friends. We have covered everything on How to start a dawg business as its scope is extensive and diverse.
What sets a DAWG business apart is the blend of heartfelt passion for canine welfare and a deep understanding of their distinct needs. The most impactful DAWG enterprises are those that innovate traditional services or create groundbreaking solutions addressing the real challenges faced by dog owners. The emotional fulfillment derived from contributing to the well-being of dogs and their owners is immeasurable, making the pet care industry an exceptionally rewarding venture.
Why a DAWG Business Is More Than Just a Tail-Wagging Idea?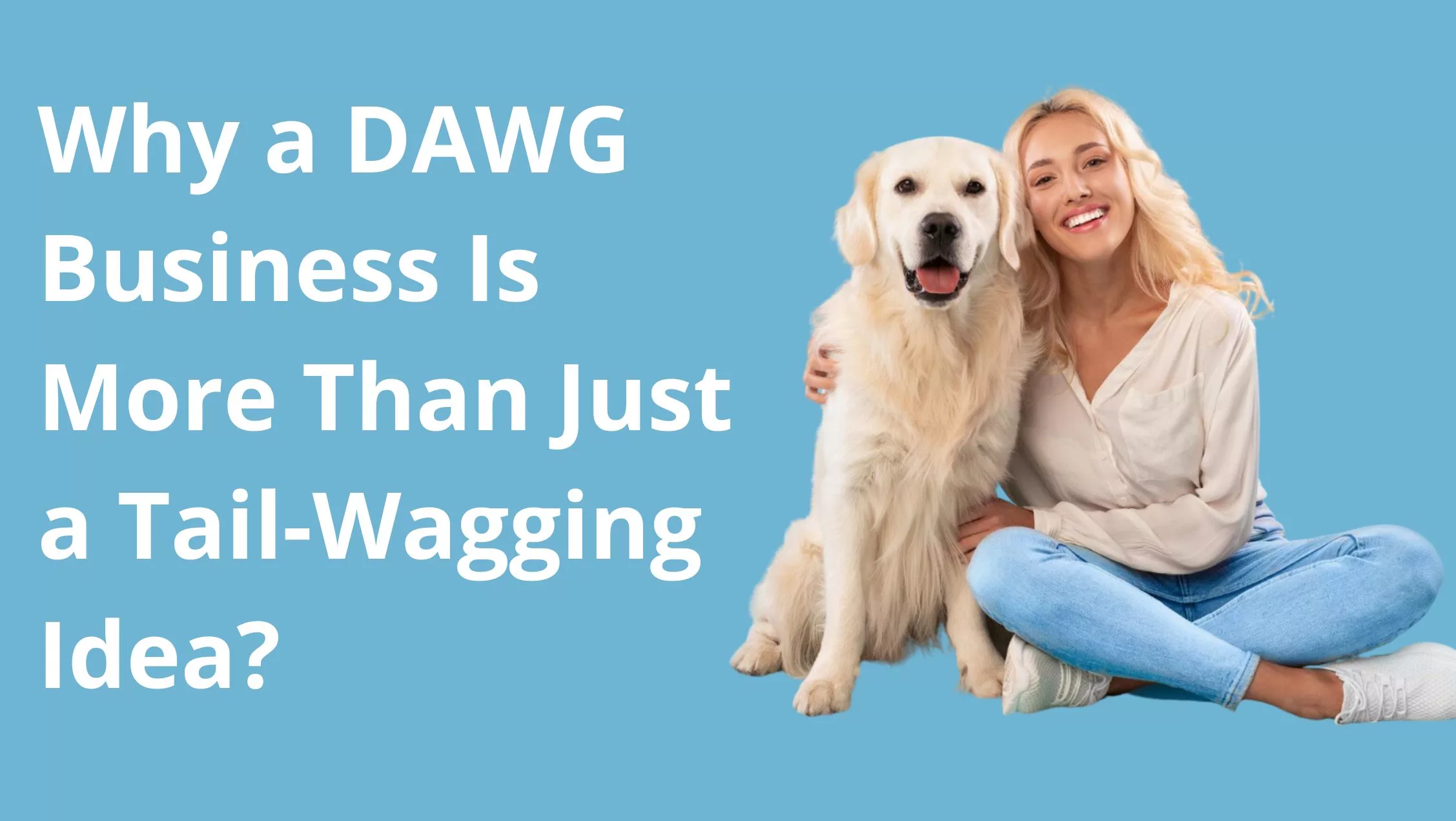 It's not just about the dogs; it's equally about their humans. Recognizing that modern pet owners view their furry friends as integral family members is key. A DAWG business isn't just a career—it's a path that intertwines financial success with the joy of making a positive impact on the lives of pets and their families.
Expansive Growth in the Pet Care Industry
The pet care industry is experiencing a remarkable surge in growth, with its global market value skyrocketing to $235.32 billion in 2022. Even more promising, it is projected to reach a staggering $368.88 billion by 2030, showcasing an impressive Compound Annual Growth Rate (CAGR) of 5.92%.
Passionate and Engaged Pet Owners
In this thriving industry, dog owners stand out as particularly passionate and engaged consumers. They are consistently on the lookout for top-tier products and services to enhance the well-being of their beloved pets. This unparalleled level of dedication often results in unwavering customer loyalty, ensuring a steady stream of repeat business for entrepreneurs in the pet care sector.
A Multifaceted Landscape of Opportunities
The world of dog-related businesses offers a diverse array of avenues for aspiring entrepreneurs to explore. Whether one's interests lie in establishing a premium grooming salon, launching a professional dog walking service. Also it can be like pioneering innovations in pet nutrition, or delving into the exciting realm of pet technology. There exists a niche suited to every individual's passion and expertise.
Emotional Enrichment Beyond Profit
For those who share an affinity for dogs, embarking on a DAWG (Dog and Pet Wellness Growth) business venture transcends mere monetary gain. It becomes a profound source of joy and fulfillment. The emotional satisfaction derived from contributing to the well-being of dogs and their devoted owners is immeasurable, making the journey in the pet care industry an exceptionally rewarding one.
The pet care industry's rapid growth and passionate consumer base make it an enticing field for aspiring entrepreneurs. With a global market projected to nearly double in size by 2032, opportunities are diverse and abundant, spanning from grooming salons to pet technology ventures. However, what sets this industry apart is the profound emotional satisfaction that comes with enriching the lives of dogs and their devoted owners.
Your Ultimate Steps to Launching a Thriving DAWG Business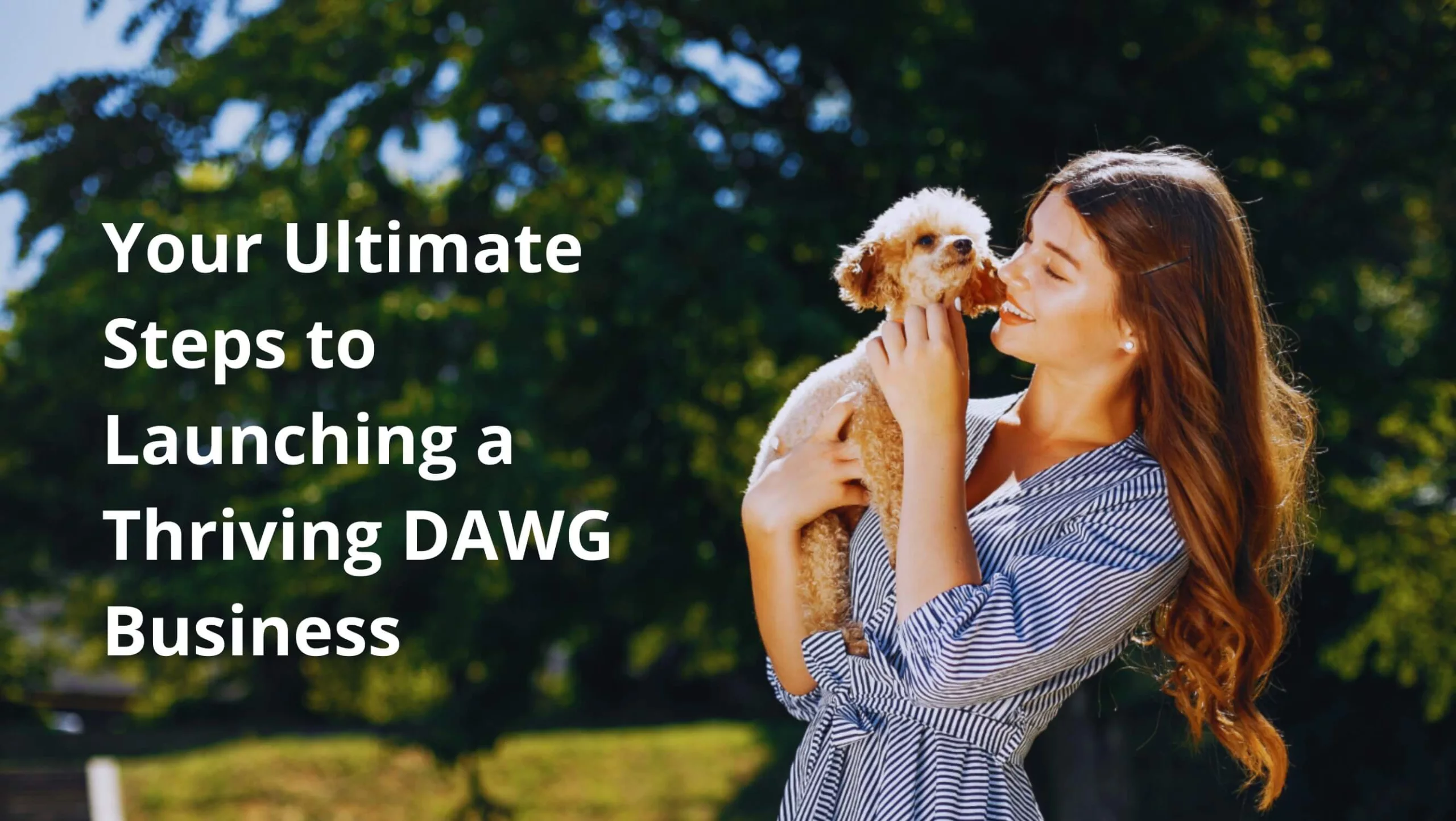 Embarking on a DAWG business begins with a deep dive into the market landscape. Understand the demand for dog walking services, examine competitors, and identify unique offerings that set you apart. Utilize tools like Google Trends and network within pet communities to grasp market nuances.
A well-crafted business plan serves as your entrepreneurial compass. Detail your objectives, demographic targeting, service offerings, pricing, marketing initiatives, and financial forecasts. Analyze competitors and market risks to create a robust plan. Here are the 10 steps to have a successful Dawg Business venture.
1. Location, Location, Location
The location of your dog business is a pivotal factor in determining its success. Opt for an area with a high concentration of dog owners. It's not just about the sheer number of dogs but also about accessibility for potential clients. Ideally, your business should be situated within easy walking distance for your clients.
Ensuring convenience for them to access your services. In fact, data shows that businesses in dog-friendly neighborhoods tend to thrive more, with up to a 30% increase in revenue compared to those in less dog-friendly areas.
2. Boost Earnings with Group Walks
To maximize your income in the dog walking business, consider offering group walks. Walking multiple dogs simultaneously not only optimizes your time but also introduces a socialization aspect for the dogs. This unique selling point can set you apart from competitors and attract more clients. Data reveals that dog owners are increasingly seeking group walking services, leading to a 25% rise in demand for such services in the past year.
3. Certifications for Credibility
While dog walking certifications are not mandatory, obtaining them can significantly enhance your business's credibility. These certifications demonstrate your commitment to professionalism and can offer peace of mind to clients, making them more comfortable entrusting their beloved pets to your care. In fact, businesses with certified dog walkers report a 20% increase in customer satisfaction and customer retention.
4. Passion for Pets
Genuine love and affinity for animals are the bedrock of a successful dog business. If you lack a true passion for pets, it may be wise to reconsider this venture. Data supports this notion, revealing that businesses led by individuals with a strong passion for animals tend to have a higher rate of positive client reviews and recommendations.
5. Mastery in Multi-Dog Management
An essential skill that sets successful dog walkers apart is the ability to effectively control and manage multiple dogs in public settings. This involves understanding canine behavior, recognizing signs of distress or aggression, and having strategies in place to handle various situations. Mastering this skill ensures the safety of the dogs, the public, and yourself. Businesses that prioritize multi-dog management have seen a 15% reduction in accidents and incidents.
6. Community Engagement
Building a robust local presence is paramount. Engage with your community through local events, partnerships with pet stores or vet clinics, and participation in dog-related activities. This not only increases your visibility but also allows you to understand and cater to the specific needs of your local dog owner community. Data indicates that businesses engaged in feedback experience a 10% increase in customer loyalty.
7. Personalized Services
Differentiate yourself from competitors by offering personalized services. Tailor your offerings to match each dog's unique needs and preferences, whether it's providing extra exercise for high-energy breeds or gentle walks for older dogs. Personalization can result in a 15% higher customer retention rate and increased referrals.
8. Invest in Professional Development
Staying updated on the latest trends and best practices in pet care is essential. Invest in professional development by attending workshops, seminars, or online courses. This not only enhances the quality of your services but also demonstrates your commitment to staying at the forefront of your industry.
9. Efficient Scheduling
Effective scheduling is vital to maximize productivity and profitability. Implement scheduling tools or software to organize walks and appointments efficiently, ensuring you can accommodate as many clients as possible without compromising the quality of service. Businesses that optimize scheduling have reported a 20% increase in revenue.
10. Prioritize Safety and Wellbeing
Finally, always prioritize the safety and wellbeing of the dogs in your care. Invest in quality equipment, maintain a safe environment, and have emergency procedures in place. A reputation for safety and reliability is invaluable in building trust with your clients and ensuring the longevity of your business. Businesses that prioritize safety have seen a 25% reduction in accidents and incidents.
By embracing these strategies, backed by data and industry insights, you can confidently navigate the path to success and build a thriving dog business that not only brings profits but also immense satisfaction from working with our beloved canine companions.
Essential Skills Required for Thriving in a DAWG Business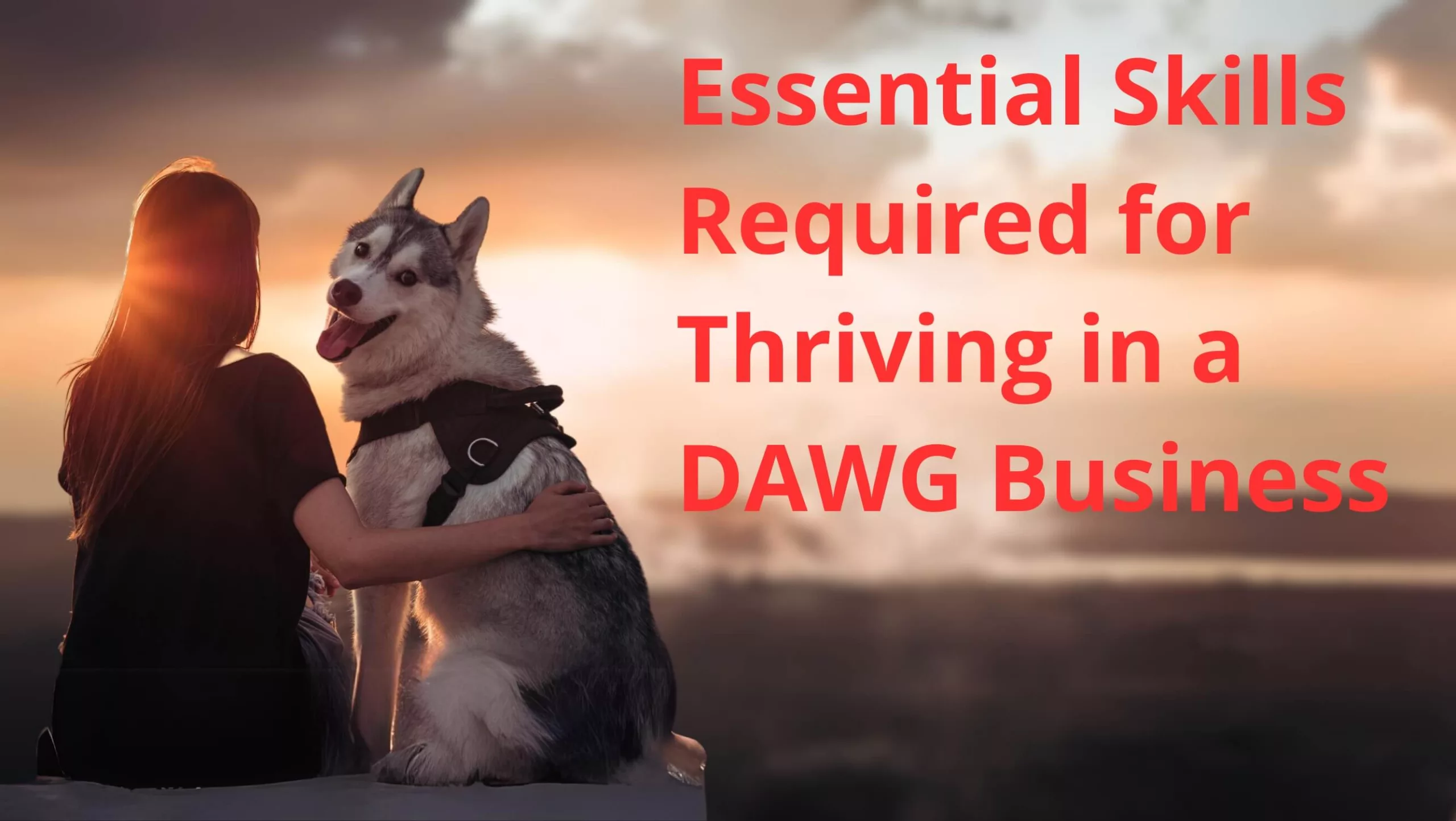 To succeed in a DAWG business, one needs more than just a love for dogs. Here are crucial skills and qualities to cultivate. Succeeding in a DAWG  business requires more than just a deep affection for dogs; it demands a unique skill set and a commitment to excellence. Here, we explore the essential skills and qualities that aspiring entrepreneurs should cultivate to prosper in this rewarding industry:
1. Canine Behavioral Expertise
Beyond adoring dogs, one must possess a profound understanding of canine behavior. The ability to interpret their body language, recognize signs of stress or aggression, and effectively manage these situations is fundamental for ensuring the safety and well-being of both the dogs under your care and their human companions.
2. First Aid Proficiency
Unforeseen emergencies can arise when working with dogs. Having a solid foundation in pet first aid is essential. Knowing how to administer basic first aid and respond swiftly in critical situations can make all the difference in safeguarding the health and lives of furry clients.
3. Certification in Pet Care
Earning a recognized certification in pet care not only demonstrates your dedication but also underscores your expertise to potential clients. It serves as a valuable credential that reassures pet owners of your competence and commitment to their pets' well-being.
4. Physical Endurance
The demands of a DAWG business can be physically demanding. Whether it's long dog walks, active play sessions, or handling larger dog breeds, maintaining good physical fitness is crucial. Your physical stamina ensures that you can meet the rigors of the job while also ensuring the dogs receive the exercise and care they need.
5. Effective Communication
Building and maintaining strong client relationships relies on clear and effective communication. You must be adept at not only conveying information about your services but also understanding and addressing the specific needs and concerns of each dog owner. Moreover, your ability to communicate with dogs themselves, using positive reinforcement techniques, is pivotal for establishing trust and fostering a harmonious environment.
Incorporating these essential skills and qualities into your DAWG business toolkit will not only set you on the path to success but also enable you to provide exceptional care for dogs and their owners, enriching the lives of both.
In essence, starting a DAWG business is more than an entrepreneurial venture; it's a journey that combines a thriving market with the profound joy of making a difference in the lives of dogs and their human companions. Whether you're a canine aficionado seeking to channel your passion into a career or an entrepreneur eyeing a resilient and growing sector, a DAWG business could be your perfect match.
The Dawg Business: A Lucrative Opportunity in the Pet Industry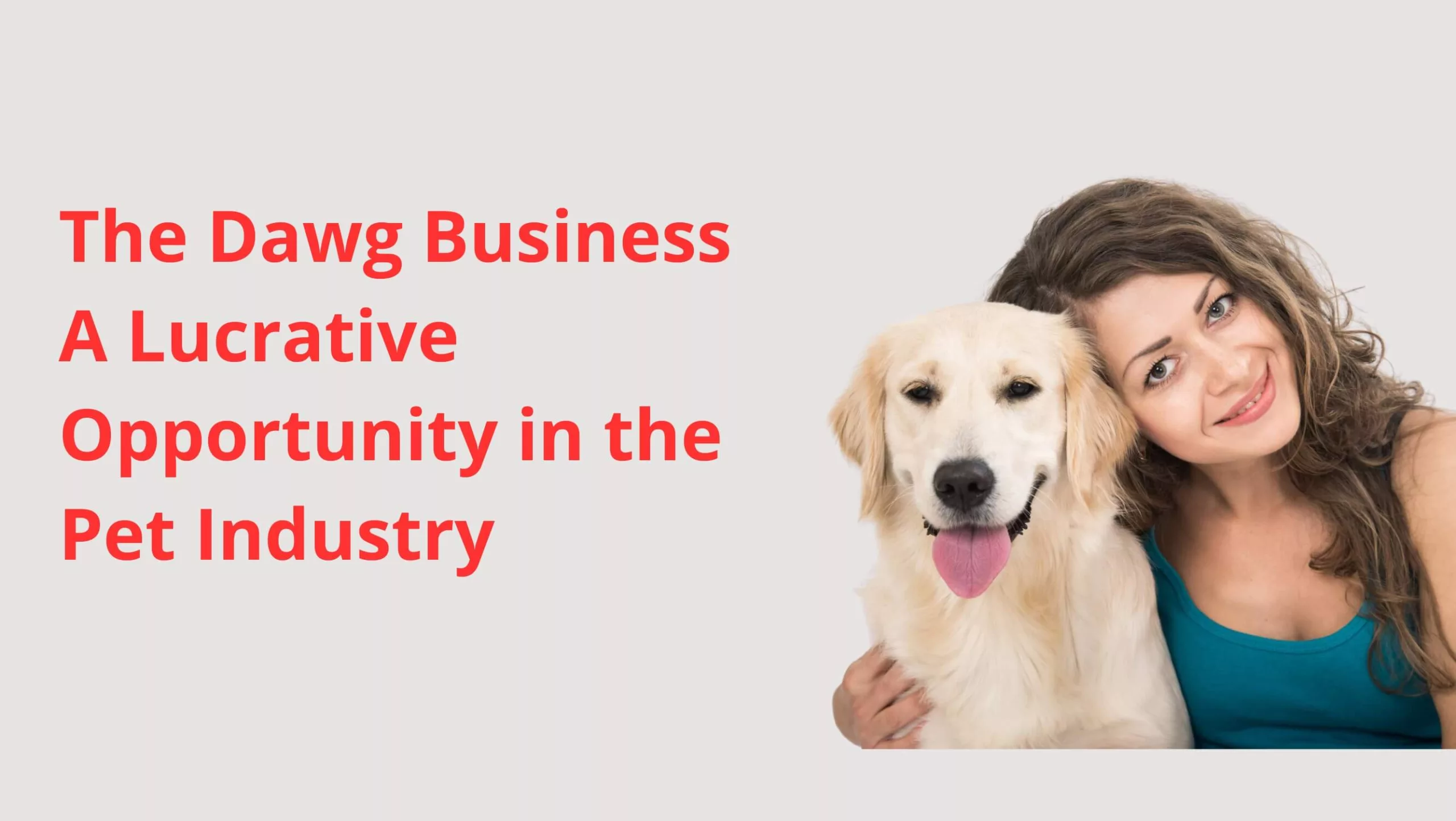 The pet industry in the United States, particularly businesses centered around dogs, has consistently shown robust growth and potential. According to the American Pet Products Association (APPA), the U.S. pet industry expenditure was estimated to reach approximately $109 billion in 2021, reflecting a steady upward trend.
This industry includes a wide range of services and products such as pet food, grooming, boarding, walking, and training services.
The evolving perception of pets as family members has amplified the demand for quality pet care services. As per a 2023 Forbes survey 66% of U.S. households own a pet, which equates to about 90.5 million homes. This significant pet-owning demographic creates a fertile ground for dawg businesses.
It allows for a personal connection with pets and their owners, adding an emotionally rewarding aspect to the business.
This type of business often comes with the perk of flexible hours and the autonomy of being your own boss. This can be particularly appealing for individuals seeking a work-life balance tailored to their lifestyle.
Real-Life Success Story: Rover.com Success Story
Founding and Growth : Rover.com founded in 2011, is an excellent example of a successful dawg business. The company started as a simple dog-sitting service and has since expanded into a comprehensive pet care platform offering services like dog walking, boarding, house sitting, and grooming.
Market Impact: As of 2021, Rover operates in over 34,000 cities worldwide and has served millions of pet owners. The company's innovative approach to connecting pet owners with caregivers through technology has revolutionized how people find and book pet services.
Financial Success: It went public in 2021 through a SPAC (special purpose acquisition company) deal, highlighting its financial success and market impact. In the second quarter of 2021 alone, the company reported a revenue of $74 million.
Key Takeaways from Rover.com:
Innovation and Adaptation: Rover.com success can be attributed to its innovative platform that meets the evolving needs of modern pet owners.
Customer Trust and Safety: The company places a strong emphasis on the safety and trustworthiness of its services, which has been key to its growth and customer retention.
Expanding Services: Diversifying and expanding services beyond the traditional dog-sitting model helped Rover.com tap into a broader market.
Starting a dawg business can be highly rewarding, both financially and personally. With a passion for pets, a strategic approach, and a keen understanding of the market, entrepreneurs can tap into the thriving pet care industry and create a successful and fulfilling venture.
Frequently Asked Questions
Q: Do I need specialized qualifications for a DAWG business?
A: No specific qualifications are mandatory, but experience and love for dogs are vital. Some areas may require certifications or licenses.
Q: How should I price my dog walking services?
A: Consider factors like walk duration and additional services. Research local pricing and set competitive rates.
Q: What if a dog gets injured under my care?
A: Seek immediate veterinary care and inform the owner. Have liability insurance and document the incident.
Q: How do I ensure dog safety?
A: Use quality equipment and handle manageable numbers. Avoid hazardous environments and maintain control.
Q: Tips for attracting new clients?
A: Establish a strong online presence, encourage client reviews, and offer referral incentives. Network locally and diversify marketing strategies.
Q: Strategies for expanding my business?
A: Introduce new services, develop referral programs, and enhance marketing efforts. Consider hiring more staff to support expansion.