We've all been there – stuck in a rut, feeling like the weight of the world's on our shoulders. Sometimes, life just throws a curveball, doesn't it? When that happens, leaning into our faith can make all the difference. If you're searching for a lifeline, here's a collection of 22 Prayers for Healing and Strength. These aren't just words, folks – they're lifelines that have pulled many out of their darkest hours.
Whether it's rising above challenges with wings of freedom or finding solace in the embrace of forgiveness. Navigating life's twists and turns can indeed be a roller coaster. Sometimes, it's smooth sailing, and at other times, it feels like we're hanging on by a thread.
Harnessing the Power of Prayer
1. The Light Ahead
"May the path before me be illuminated with love, clarity, and purpose."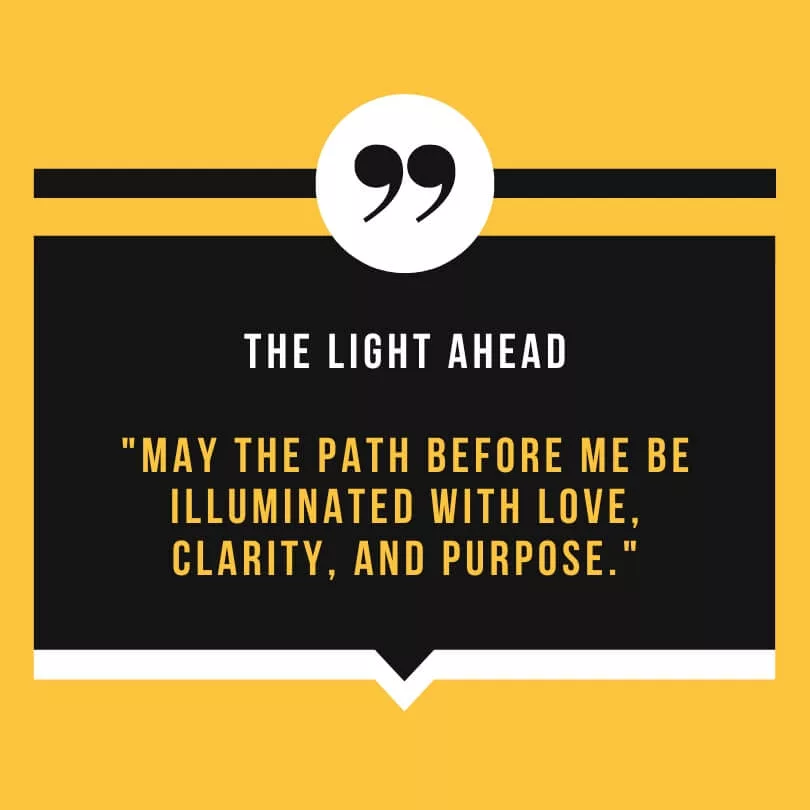 In-depth Meaning:
This prayer represents a person's plea for guidance and clarity in their life journey. The 'light' metaphorically refers to understanding, hope, and direction. By asking for the path to be illuminated, the individual is seeking to understand the way forward and to navigate challenges with wisdom and love.
2. Whispers of Peace
"Grant me tranquility amidst life's storms and a heart that echoes with peace."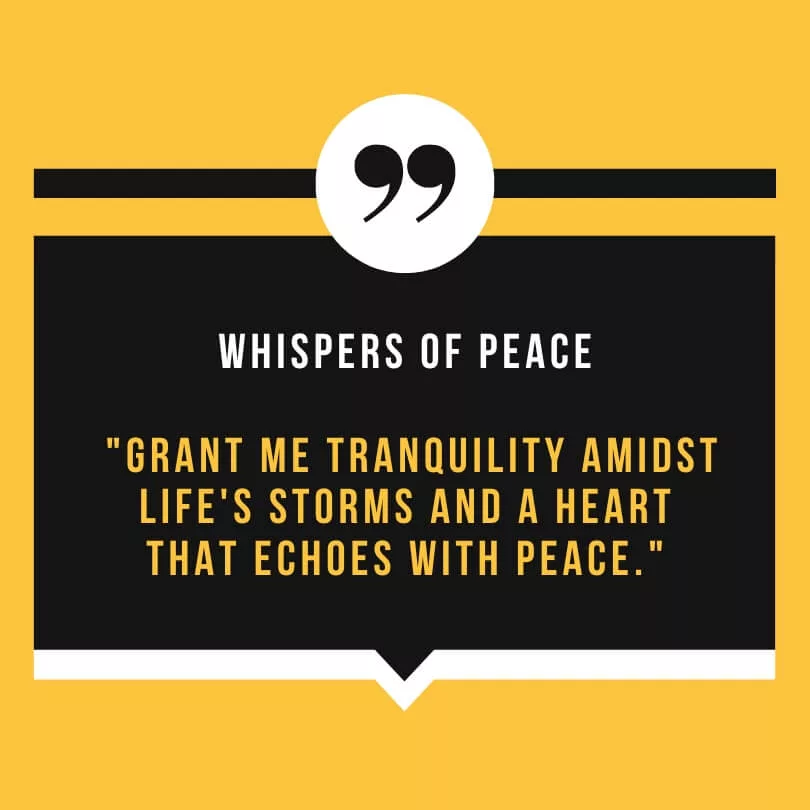 In-depth Meaning:
Life is often compared to unpredictable weather, filled with moments of calm and sudden tempests. Through this prayer, one is asking for inner peace and composure even when faced with difficulties. It emphasizes the desire for a serene heart that remains undisturbed, regardless of external chaos.
3. Guided Steps
"Lead my steps in the dance of life, that every move is in harmony with your will."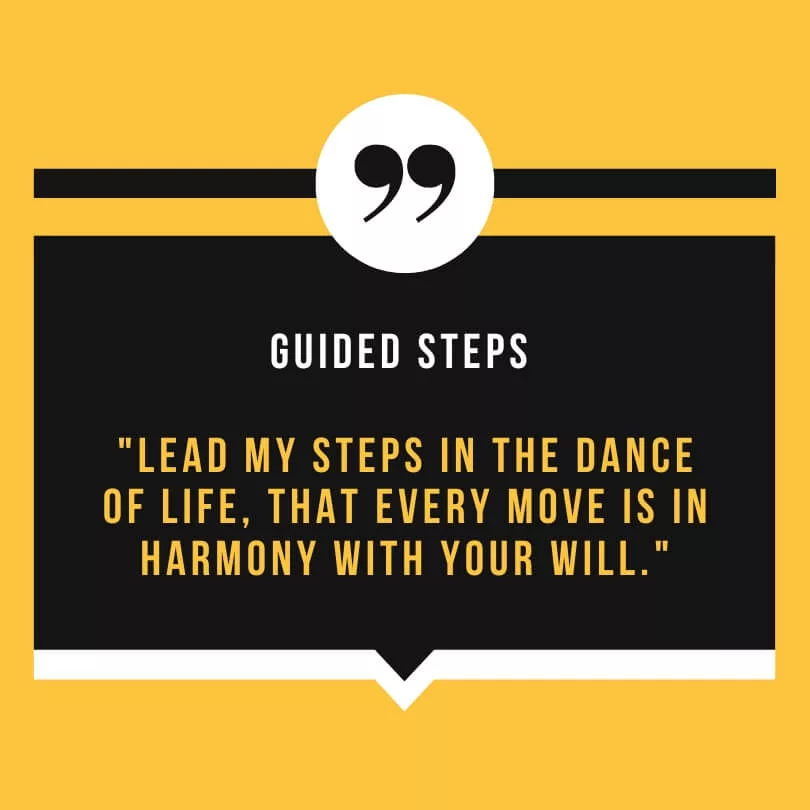 In-depth Meaning:
Life is likened to a dance, which is a series of steps, choices, and movements. The prayer seeks alignment with a higher purpose or divine intent. It's about wanting every decision, every action, to resonate with what is spiritually or morally right, ensuring a harmonious journey.
4. Strength Renewed
"In moments of weakness, replenish my strength and revive my spirit."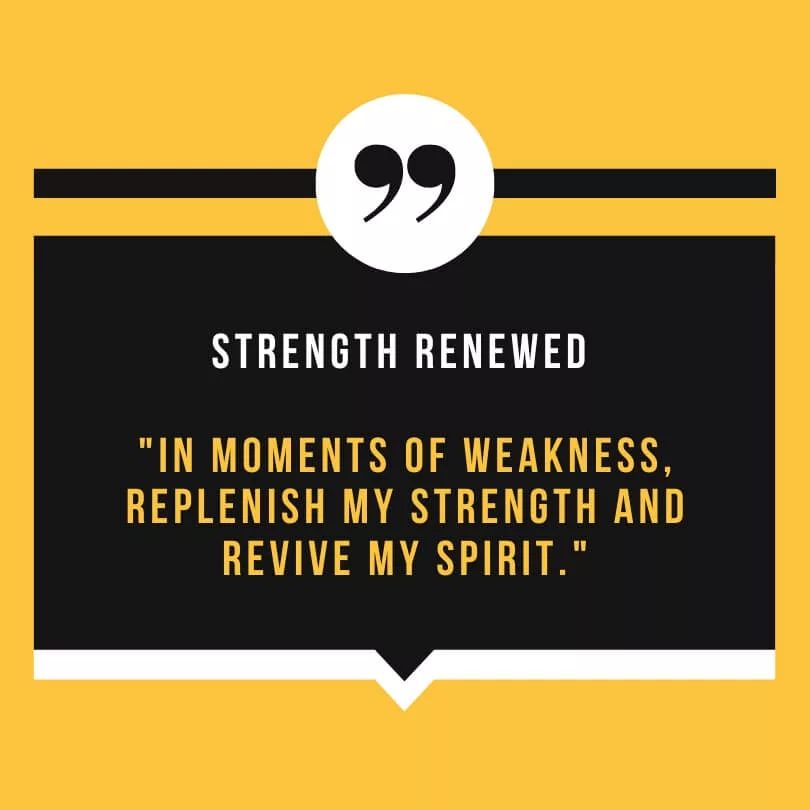 In-depth Meaning:
This speaks to the inevitable moments of fatigue, despair, or discouragement that everyone faces. The prayer is an invocation for rejuvenation, both mentally and spiritually. It's about asking for the energy and vigor to continue, even when one feels they've reached their limit.
5. Heart's Refuge
"May my heart always find refuge in your embrace, finding solace and healing."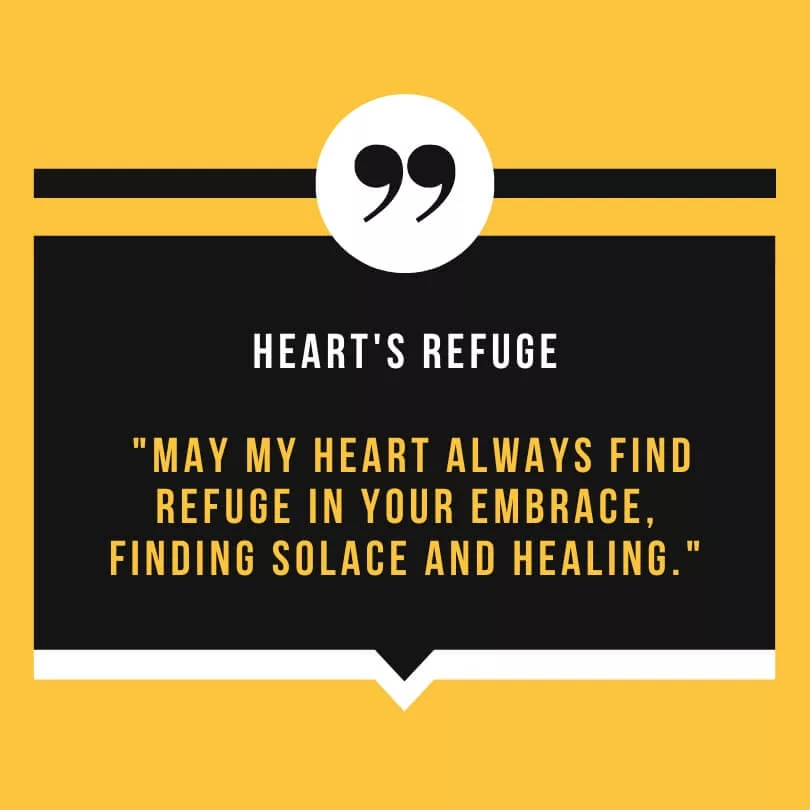 In-depth Meaning:
The heart, as the center of emotions and feelings, often bears the weight of pain, grief, and love. This prayer asks for a safe haven or shelter, symbolically in the embrace of a higher power or divine entity, where one can heal and find comfort from life's wounds. There is always a way when life gets tough.
Prayers on Blessings and Faith
6. Wisdom's Request
"Impart to me your wisdom, that I may navigate life's complexities with insight."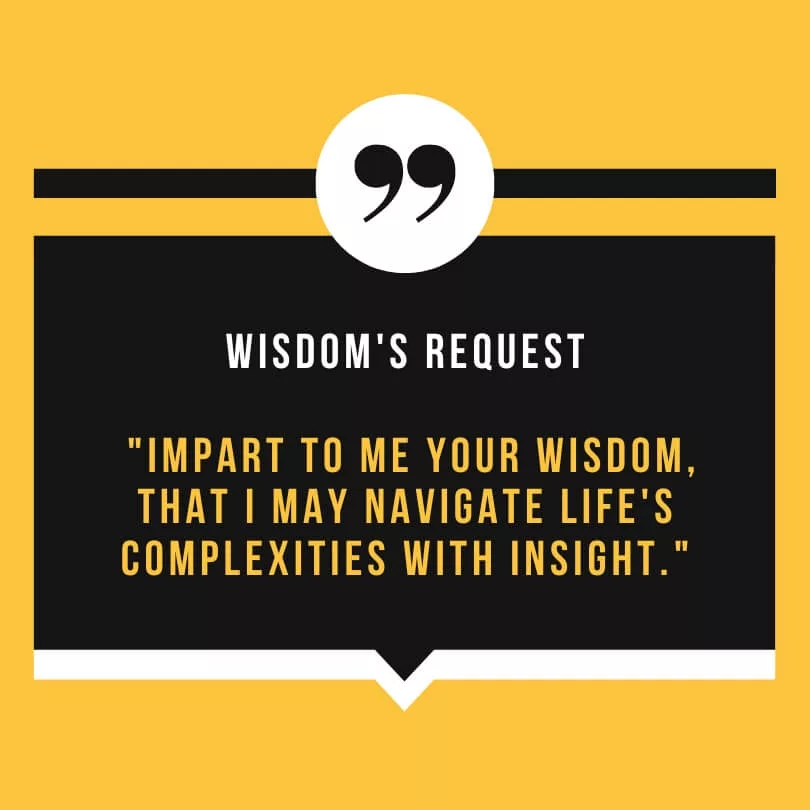 In-depth Meaning:
Life is intricate and multi-faceted, often requiring nuanced understanding and judgment. Through this prayer, one is asking for the gift of wisdom— the ability to discern, to make choices that are enlightened, and to understand situations beyond their surface appearances.
7. Hope's Anchor
"Anchor my soul in hope, ensuring I'm steadfast even when tides turn."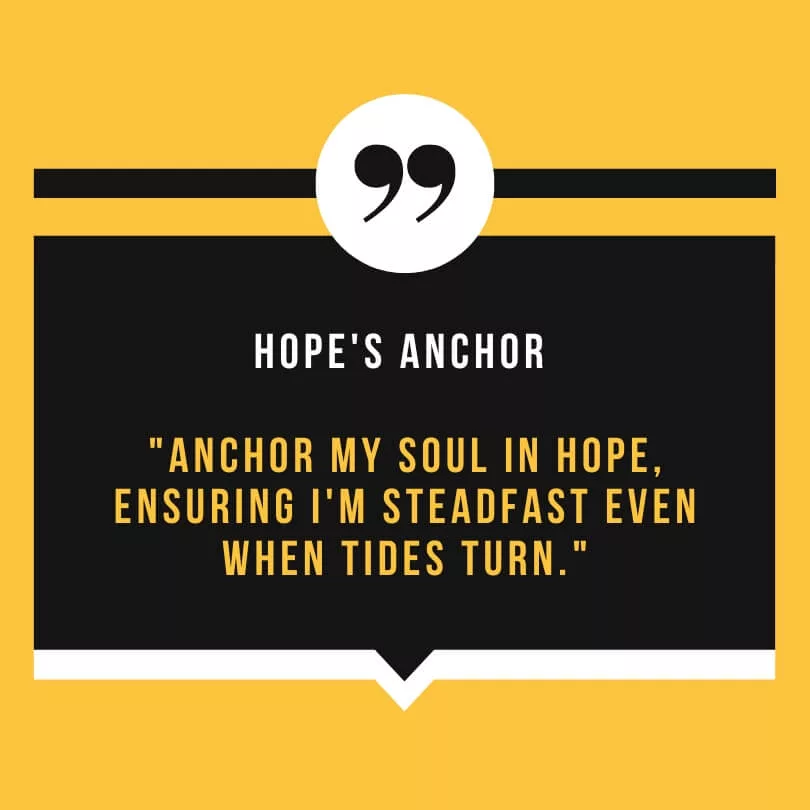 In-depth Meaning:
Hope is seen as an anchor here, something that holds one steady during turbulent times. Much like an anchor keeps a ship from drifting in the sea, hope can keep a person grounded during uncertainty. The prayer is about desiring unwavering optimism, irrespective of life's changes.
8. Nature's Blessing
"Through nature's wonders, let me feel connected to all creation and the beauty of existence."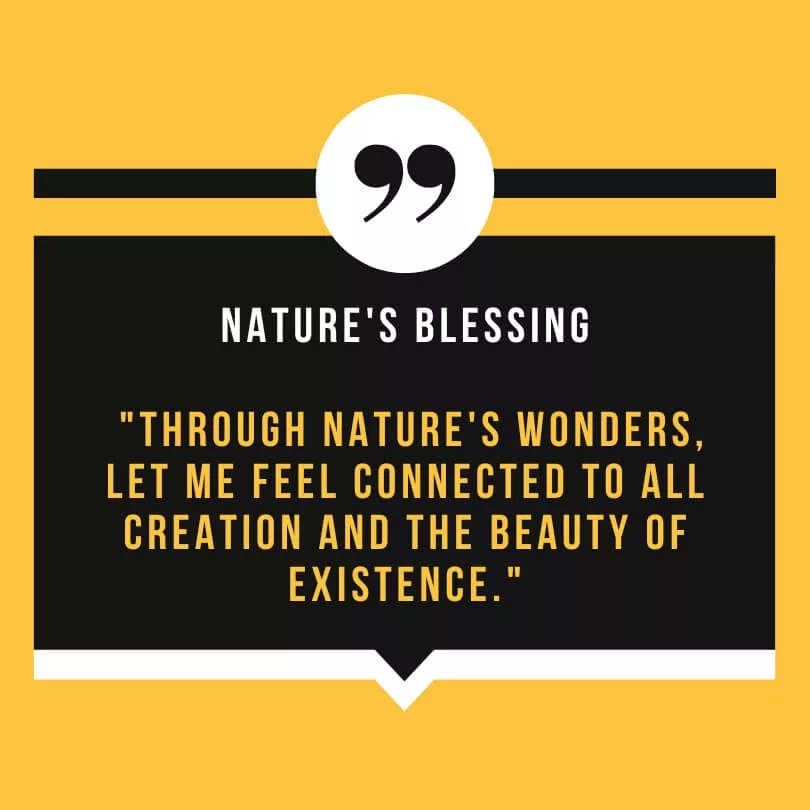 In-depth Meaning:
Nature, with its vast landscapes and intricate details, often mirrors life's complexities and beauties. This prayer showcases a yearning to feel connected to the larger universe, to appreciate the intricacies of existence, and to recognize one's place within the grand tapestry of life.
9. Unyielding Faith
"Even when shadows loom, let my faith remain unshaken and ever bright."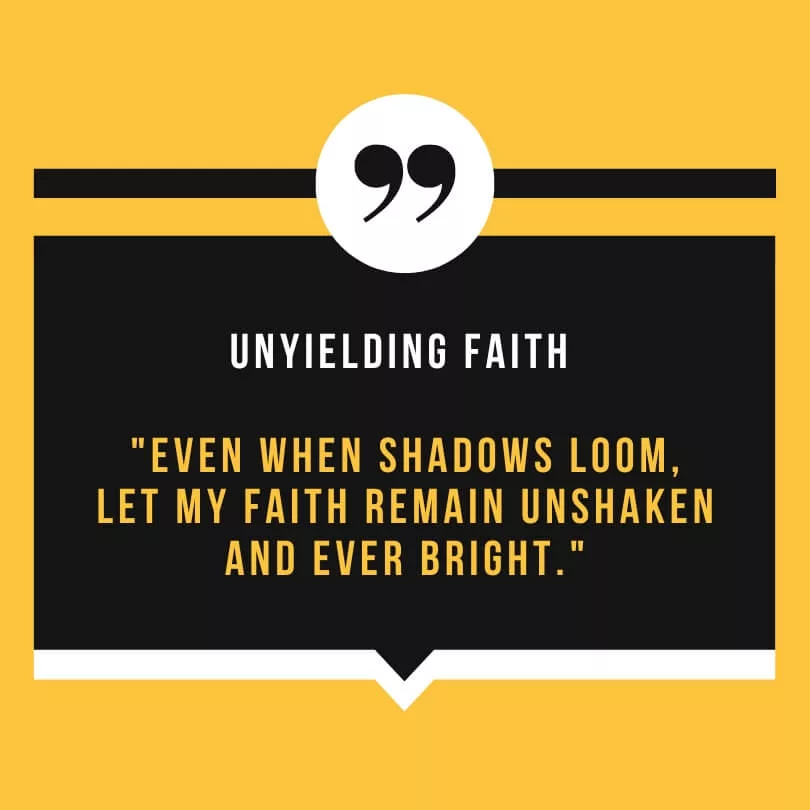 In-depth Meaning:
Life is not without its dark times, challenges that can cloud one's vision and spirit. Through this invocation, the individual is asking for a faith that doesn't waver, even in the face of adversity. It underscores the desire for an internal light or belief that remains strong and guides one through the darkest hours to reclaim his good life.
10. Grace in Waiting
"In times of uncertainty, grace me with patience to wait for your perfect timing."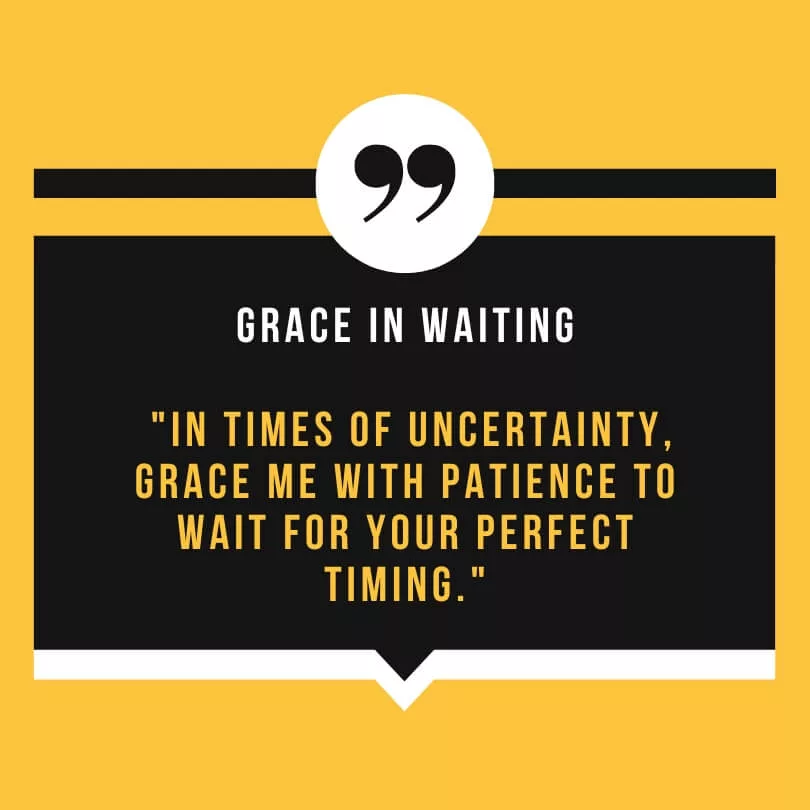 In-depth Meaning:
Uncertainty can be a source of anxiety and restlessness. This prayer is a request for the virtue of patience, to trust in a divine or greater timing, and to understand that everything unfolds as it should. It underscores the need to gracefully accept moments of waiting and to trust that there's a purpose behind every delay.
Prayers on Gratitude and Kindness
11. Eyes of Gratitude
"Help me see the world with grateful eyes, recognizing blessings in every moment."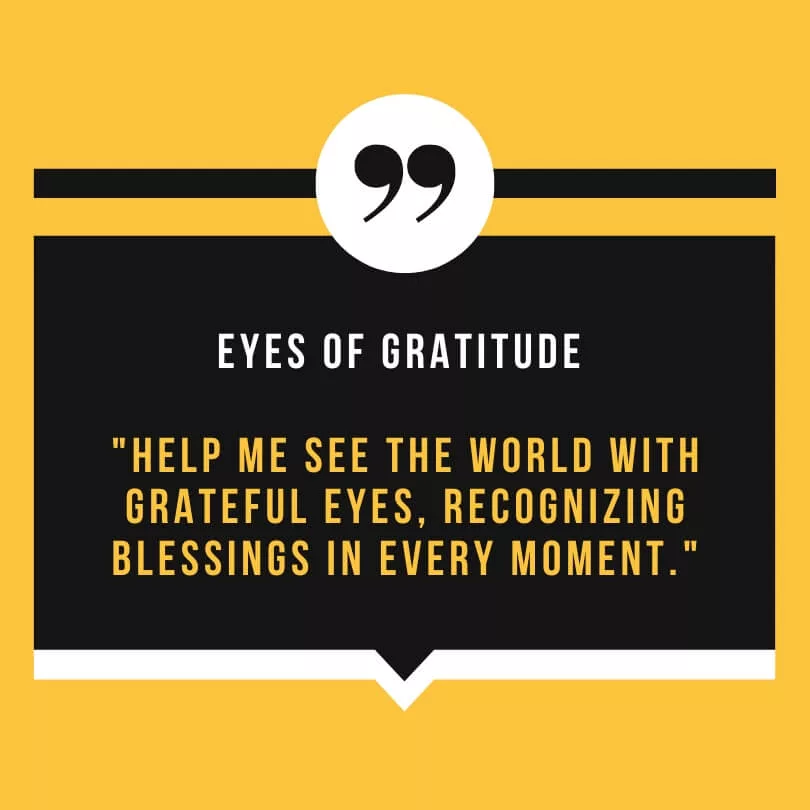 In-depth Meaning:
Gratitude has the power to transform perspectives. This prayer is a plea to always recognize and appreciate the blessings, both big and small, that life presents. It's about wanting to cultivate an attitude of thankfulness, seeing the silver linings and gifts in every situation, even those that may seem challenging.
12. Harvest of Kindness
"Plant seeds of kindness in my heart, that I might reap love and share it abundantly."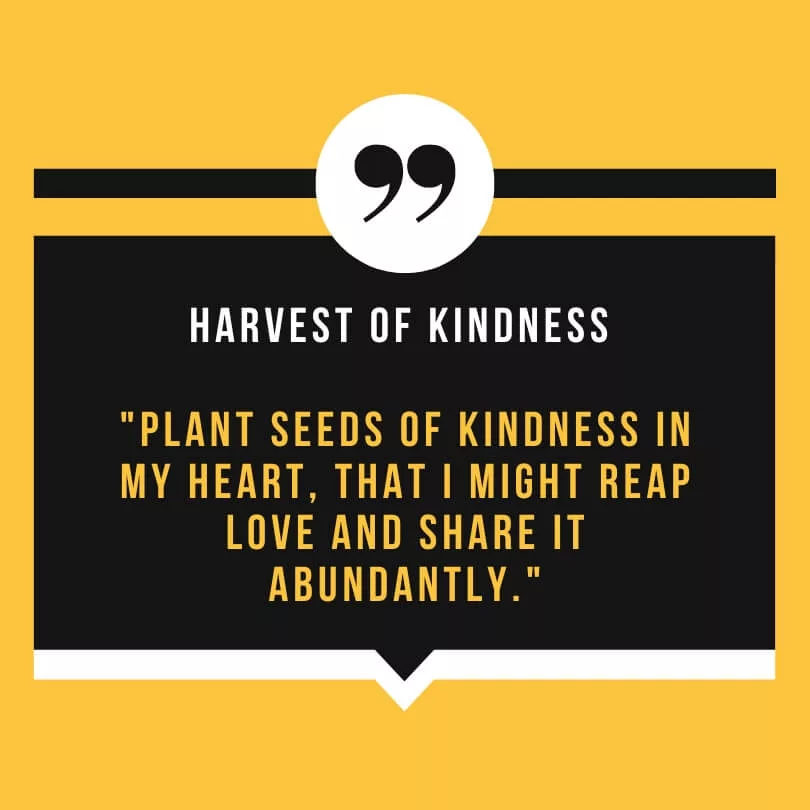 In-depth Meaning:
Kindness is likened to seeds that, when planted and nurtured, grow into acts of love and compassion. This prayer emphasizes the desire to be a source of kindness, to not only experience love but also to generously spread it to others. It's a call for personal growth and positive impact.
13. Forgiveness' Embrace
"Teach me to forgive, releasing burdens and embracing freedom."
In-depth Meaning:
Forgiveness can be a path to liberation. Holding onto grudges or past hurts can be a heavy burden. This prayer seeks the strength and wisdom to let go of these emotional weights, to forgive both oneself and others, and to find the freedom that comes with such release.
14. Bridge of Understanding
"Bridge gaps with understanding, allowing me to connect deeply with others."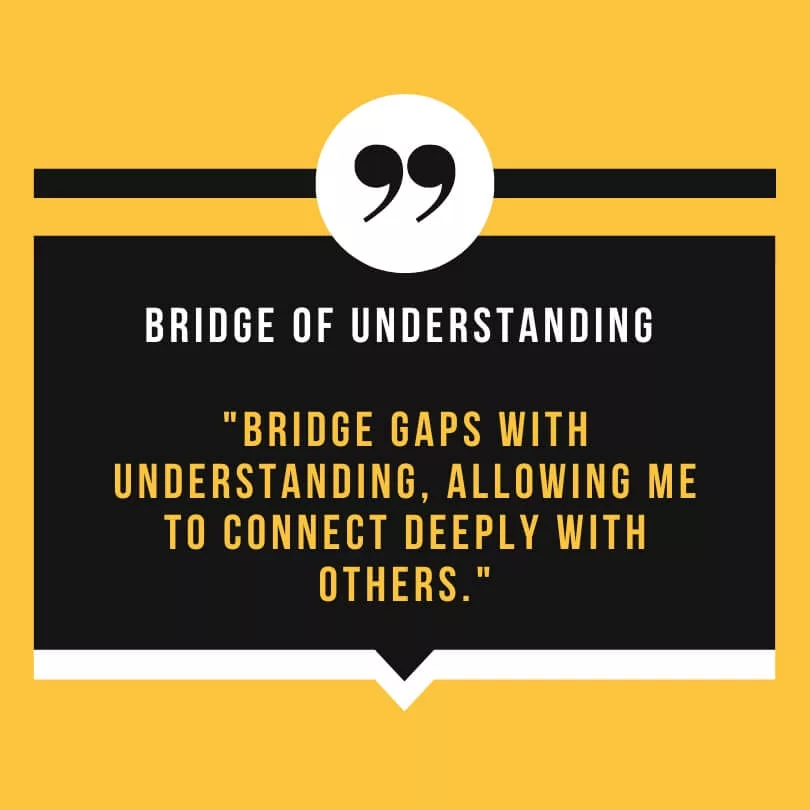 In-depth Meaning:
In a world filled with differences, misunderstandings can lead to divisions. This prayer is a request to foster understanding, to build bridges over chasms of miscommunication or prejudice. It underscores the desire to deeply connect with others, to empathize, and to find common ground.
Prayers on Love, Joy and Freedom
15. Tapestry of Love
"Weave my life with threads of love, joy, and purpose."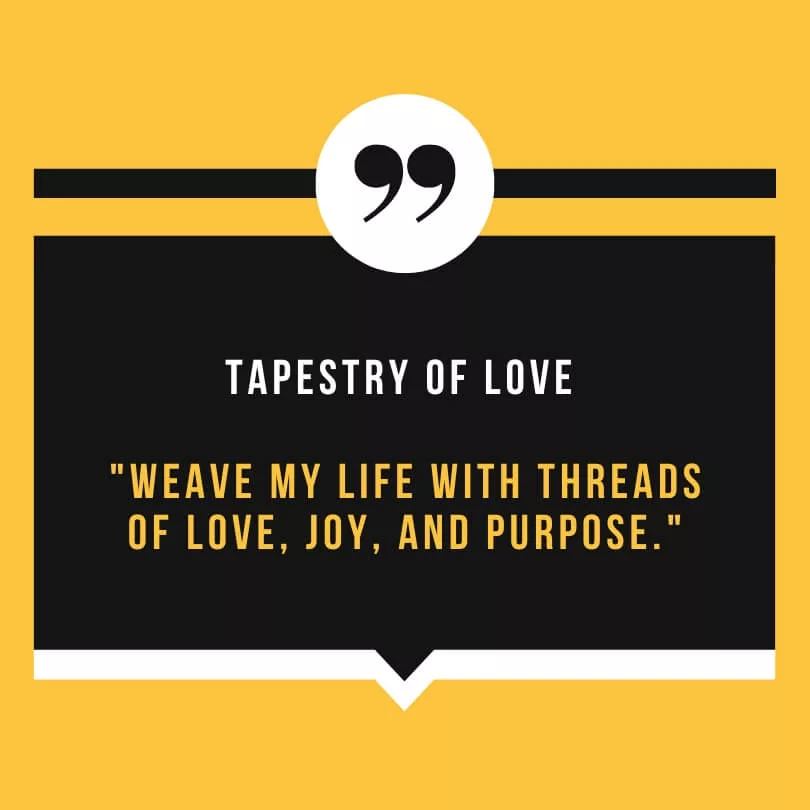 In-depth Meaning:
Every life is a complex tapestry woven from countless experiences, choices, and emotions. This prayer expresses a wish for that tapestry to be dominated by threads of love, happiness, and meaningful experiences. It's a call to live a life where love isn't just an emotion but a guiding principle, leading to joy and a clear sense of purpose.
16. Symphony of Joy
"Turn my sorrows into a symphony of joy, echoing the melodies of hope."
In-depth Meaning: Life often presents a blend of highs and lows. This prayer seeks the transformation of challenges and sorrows into experiences that culminate in joy. Just as a symphony combines a range of musical notes to produce a harmonious sound, this prayer hopes for life's varied experiences to come together in a joyful harmony.
17. Wings of Freedom
"Grant me wings to rise above challenges, flying freely with grace."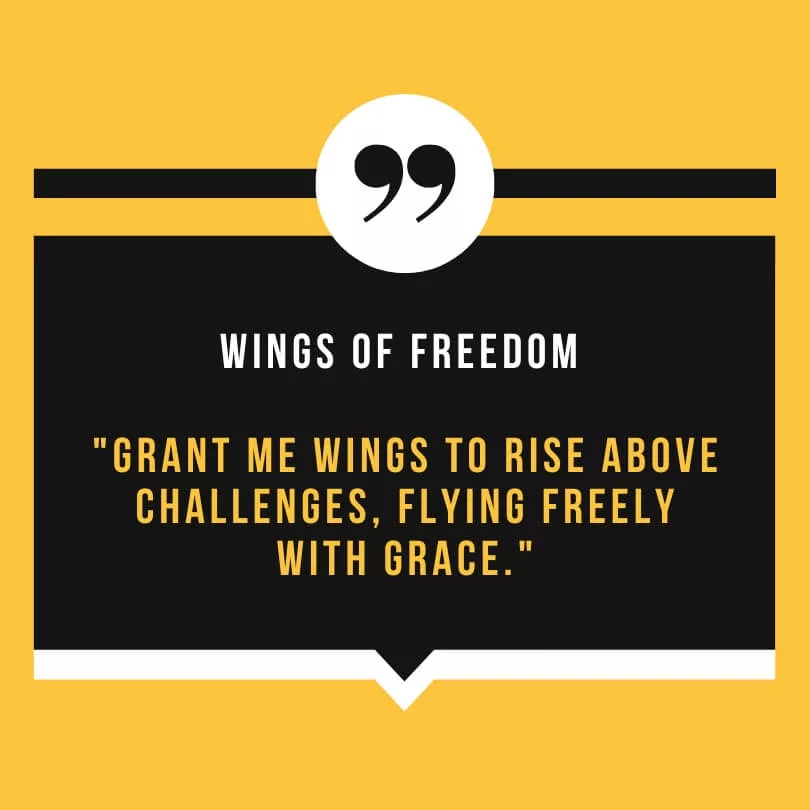 In-depth Meaning:
Wings symbolize freedom, aspiration, and elevation. Through this prayer, there's a desire to not be weighed down by life's challenges but instead to rise above them. It signifies a wish to approach difficulties with grace and to move through life's journey with a sense of liberation and poise.
18. Eternal Compass
"Be my eternal compass, directing me towards righteousness and truth."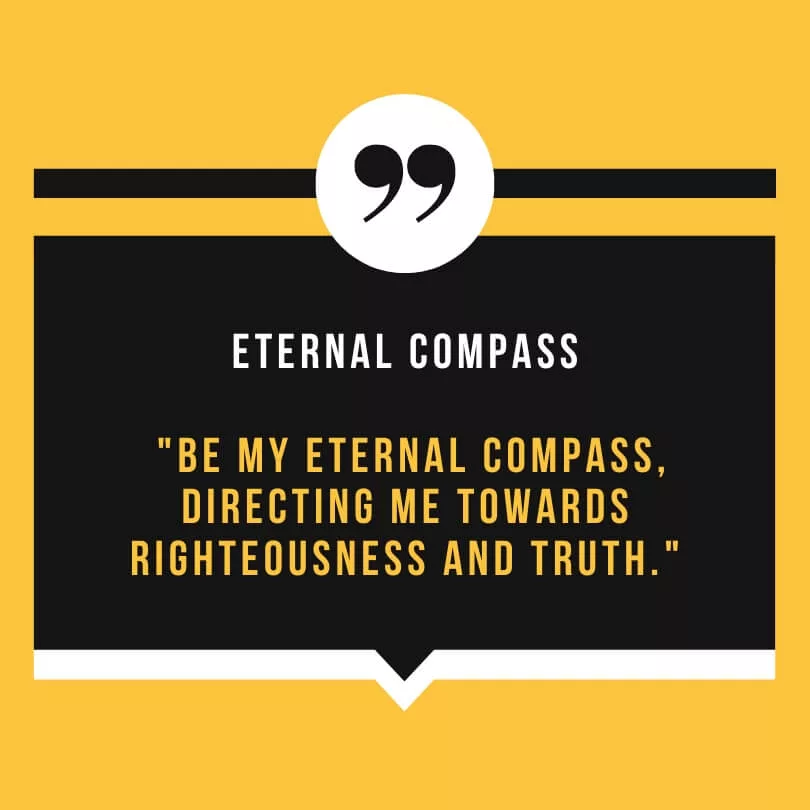 In-depth Meaning:
In the vast and often confusing journey of life, a compass provides direction. Here, the compass symbolizes moral and ethical guidance. This prayer is about seeking a consistent and true north, ensuring that actions and decisions are always aligned with righteousness, honesty, and integrity.
19. Gift of Presence
"Help me to be present, cherishing every moment and every breath."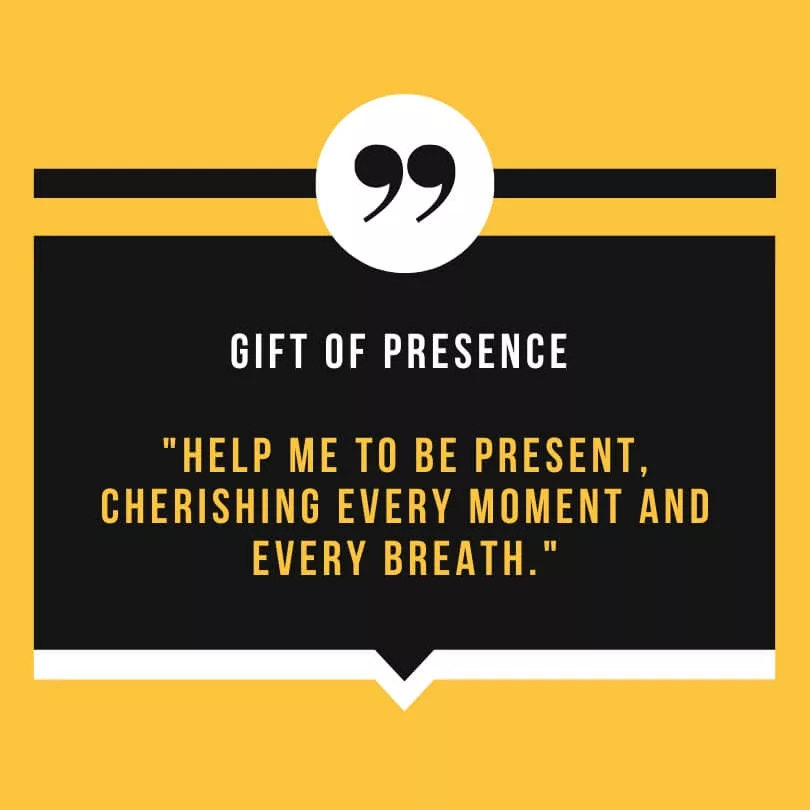 In-depth Meaning:
In today's fast-paced world, being truly present can be challenging. This prayer is a reminder and a request to fully experience each moment, to not let life's treasures slip away unnoticed. It emphasizes the significance of mindfulness and the beauty of living in the 'now.'
20. Healing Waters
"Let healing waters flow through me, cleansing wounds and renewing spirit."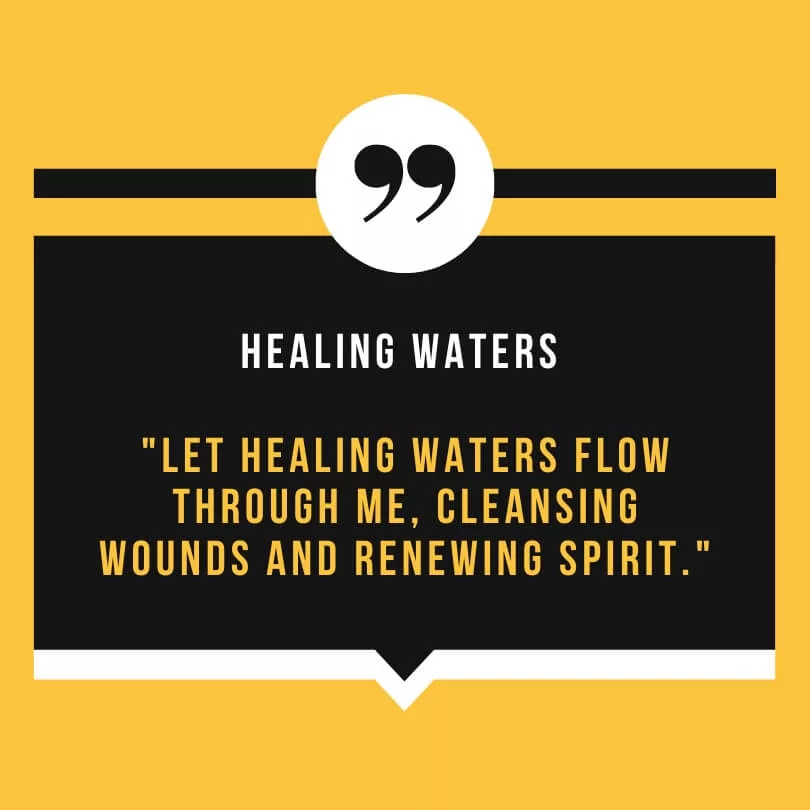 In-depth Meaning:
Water is often associated with purification and healing. This prayer seeks therapeutic energy, akin to the refreshing and cleansing nature of water, to wash away pain, mend emotional wounds, and rejuvenate the spirit. It's about restoration and a fresh start after facing adversity.
21. Mirror of Self-Love
"Reflect back to me self-love, that I might see my worth and cherish it."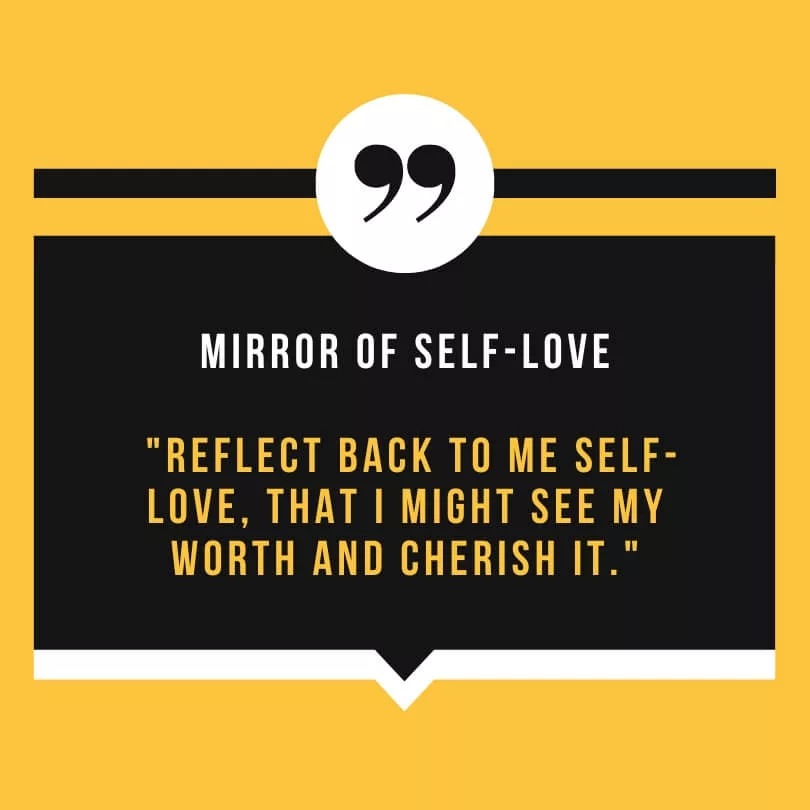 In-depth Meaning:
The relationship with oneself sets the tone for all other relationships. This prayer is a request to recognize and celebrate one's own worth. It's about fostering self-love, seeing oneself with kindness and appreciation, and understanding that self-worth isn't determined by external validations.
22. Mountains of Resilience
"Build in me mountains of resilience, standing tall against life's winds."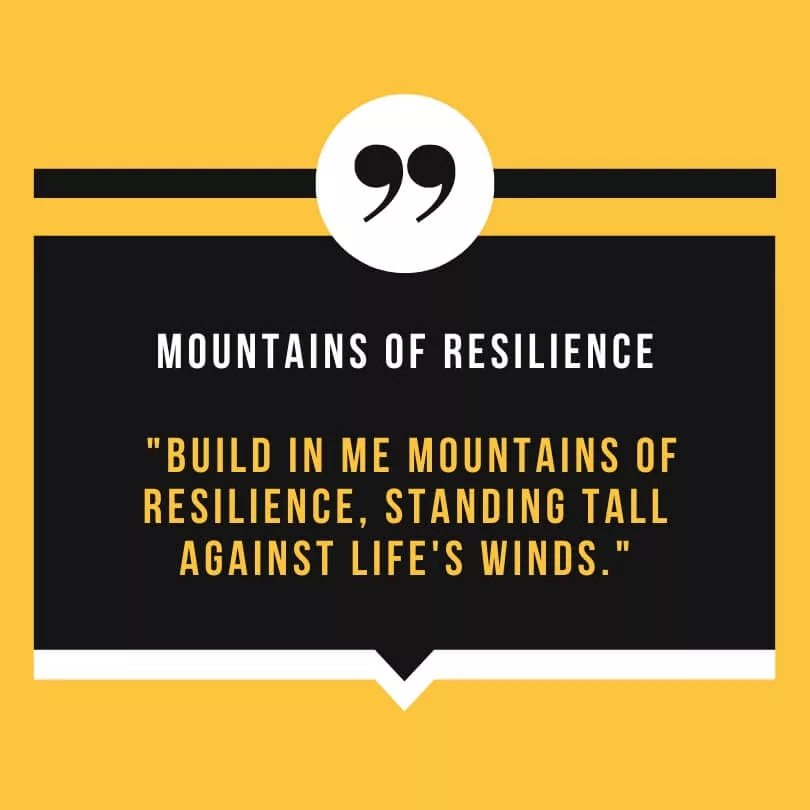 In-depth Meaning:
Mountains symbolize strength, stability, and resilience. In the face of life's challenges, this prayer seeks the fortitude to remain unshaken. It's about developing an inner strength that allows one to face adversities with confidence, much like a mountain stands tall and unyielding against strong winds.
These prayers touch on various facets of human experience and emotion. Each provides solace, understanding, and hope, offering a spiritual guidepost for those navigating the complexities of life.
Wrapping Things Up
As we conclude this journey through various prayers and their profound meanings, it becomes evident that prayers are more than mere words. They are the soul's language, a means of communicating our deepest sentiments, desires, and aspirations like life quotes.
These prayers remind us that, amid the vastness of the universe and the unpredictable nature of life. There's a constant – our ability to hope, seek, and believe.
But hey, it's all part and parcel of this journey called life! By embracing these Prayers for Healing and Strength, you're not just seeking divine intervention; you're opening your heart to the vast expanse of love, grace, and strength out there.
Each prayer is a beacon, illuminating the path for those seeking light. In the ever-evolving tapestry of life, may these prayers serve as threads of love, joy, and purpose, guiding us towards a harmonious existence.