From negotiating deals to drafting agreements, a skilled attorney can provide invaluable guidance and protection for your business. This article delves into the reasons why seeking legal counsel is essential, explores famous cases that highlight the consequences of overlooking legal expertise, and answers frequently asked questions to help you make informed decisions for your business. Here we have given you an insight into the benefits of hiring a business attorney in detail.
Navigating the intricate web of business transactions and contracts requires more than just a firm handshake and a verbal agreement. As a business owner, you must protect your interests, manage risks, and establish your success.
Attorneys can help here. By hiring a lawyer, you may gain a competitive edge and prevent costly blunders that could risk your firm.
The Role of an Attorney in Business Transactions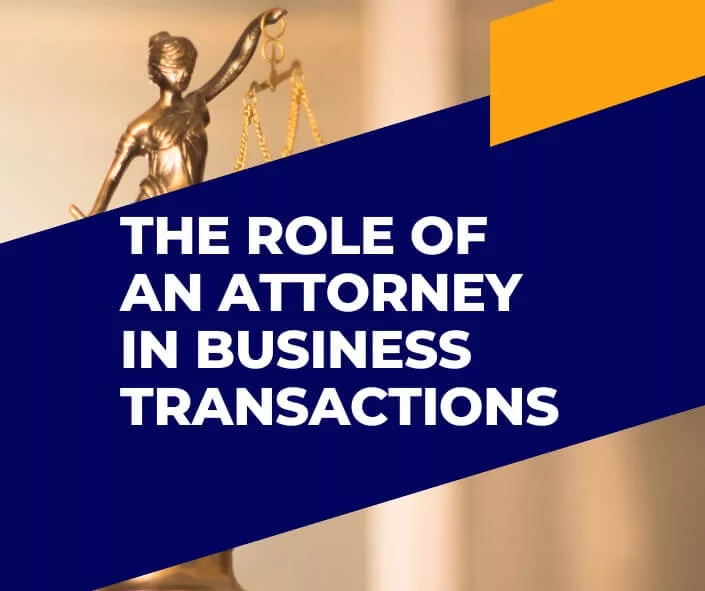 A business attorney protects your interests and achieves your goals. Let's explore some key areas where their expertise can make all the difference:
1. Contract Drafting and Review
Contracts are the most important part of business relationships because they spell out everyone's rights and responsibilities. Hiring a lawyer who is knowledgeable about contract law can help you:
Draft comprehensive and legally binding contracts tailored to your specific needs.
Review existing contracts to identify potential pitfalls and ambiguous clauses.
Negotiate terms and conditions in your favour, ensuring favourable outcomes.
2. Due Diligence
Before entering into any business transaction, thorough due diligence is vital. Business Attorneys possess the expertise to conduct extensive research and investigations, enabling them to identify any red flags or hidden risks associated with potential transactions. This can help you make informed decisions and avoid entering into unfavourable agreements.
3. Compliance with Legal and Regulatory Frameworks
Businesses operate within a complex network of legal and regulatory frameworks. If you break these restrictions, you might be sued, fined, or damaged. An attorney may help your business comply with laws like name registration, and copyrights, and avoid legal issues.
Famous Cases: The High Cost of Ignoring Legal Expertise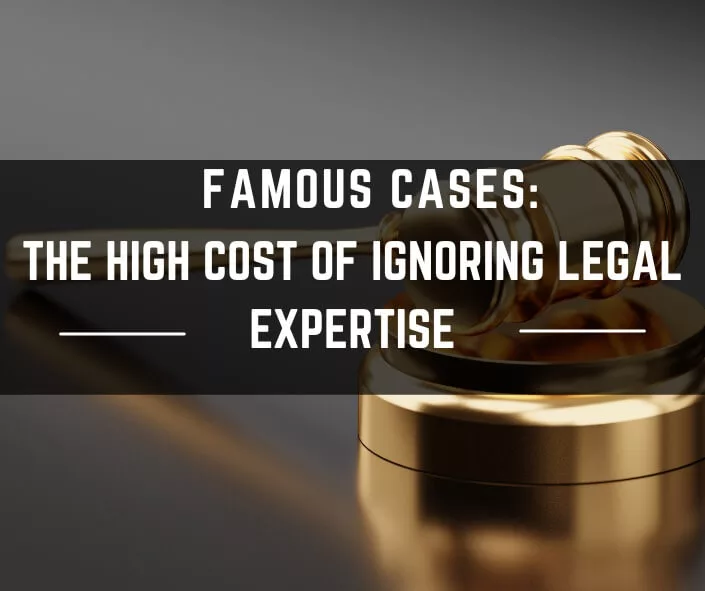 Throughout history, several high-profile cases have demonstrated the dire consequences of neglecting legal counsel in business transactions and contracts. Let's examine a few notable examples:
1. Enron Corporation
The collapse of Enron Corporation stands as a stark reminder of the importance of legal oversight. The U.S.'s greatest business bankruptcy was caused by this energy company's unethical practices and deceptive accounting history. Had the executives sought legal advice and adhere to proper accounting principles, this catastrophic downfall might have been avoided.
2. Lehman Brothers
Lehman Brothers' bankruptcy shook the global financial sector. Lack of legal oversight and risk management practises contributed to their downfall during the 2008 financial crisis.
A failure to engage attorneys who could have provided crucial guidance on risk assessment and compliance led to significant financial losses and ultimately bankruptcy.
3. Volkswagen's Emissions Scandal
The Volkswagen emissions scandal that came to light in 2015 serves as a prominent example of the consequences of overlooking legal expertise. Volkswagen, a renowned automobile manufacturer, was found to have installed software in its diesel vehicles that manipulated emission tests to meet regulatory standards. The affair caused hefty penalties, brand harm, and ongoing legal fights.
By neglecting legal oversight and compliance, Volkswagen faced severe financial and reputational repercussions that could have been avoided with proper legal guidance.
4. Theranos Fraud Case
Theranos, a once-celebrated biotech startup, made headlines for its ambitious claims of revolutionizing blood testing. However, the company's downfall was swift and devastating. It was revealed that Theranos misled investors, doctors, and patients about the accuracy and capabilities of its technology.
Legal issues quickly followed, including a criminal investigation and multiple lawsuits. Investors lost money and the company's image owing to a lack of legal monitoring and due diligence.
These cases highlight the far-reaching consequences of neglecting legal expertise. By learning from their mistakes, businesses can avoid similar pitfalls and protect their own interests by prioritising the hiring of an attorney for their business transactions and contracts.
FAQ about Hiring an Attorney for Business Transactions and Contracts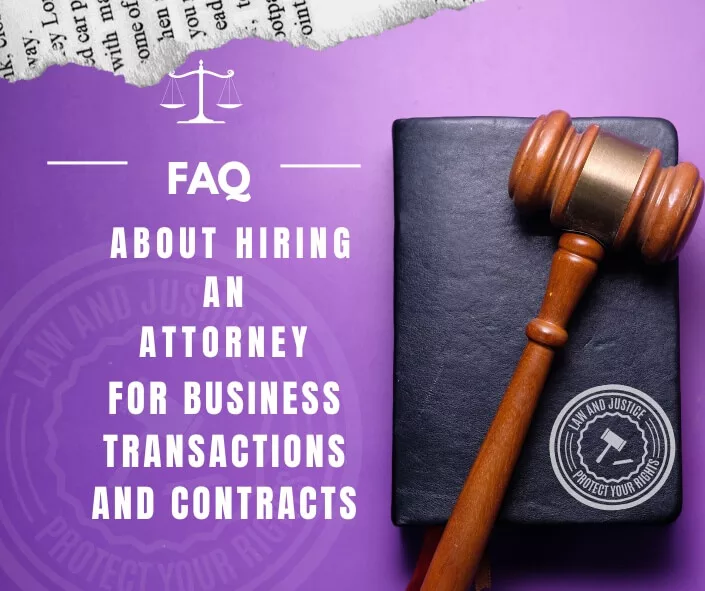 Start by seeking recommendations from trusted sources, such as other business owners or industry professionals. Conduct thorough research to evaluate an attorney's experience, expertise, and track record. Schedule consultations to discuss your specific needs and gauge their compatibility with your business.
Q: Can't I handle business transactions and contracts on my own to save costs?
A: While it may be tempting to cut costs by handling legal matters independently, the risks involved far outweigh any potential savings. Attorneys bring specialised knowledge and experience to the table, ensuring that your interests are protected, potential risks are mitigated, and agreements are legally sound. The property litigation lawyers and divorce lawyers also matter that seems to be solved by mutual agreements but they are not to be taken lightly at any cost.
Q: What if I already have a contract template from the internet? Can't I just use that?
While templates found online can be helpful as a starting point, they often lack the necessary customization and legal nuances specific to your business and industry. Attorneys can change contracts to fit your needs, deal with possible problems, and make sure you follow all laws and rules.
Q: When should I involve an attorney in my business transactions?
A: It is advisable to involve an attorney from the outset of any significant business transaction or contract. By engaging legal counsel early in the process, you can benefit from their guidance in negotiations, risk assessment, and contract drafting, setting a solid foundation for a successful transaction. The attorneys also become important in personal injury, auto accidents and property disputes.
The Benefits of Hiring an Attorney for Business Transactions and Contracts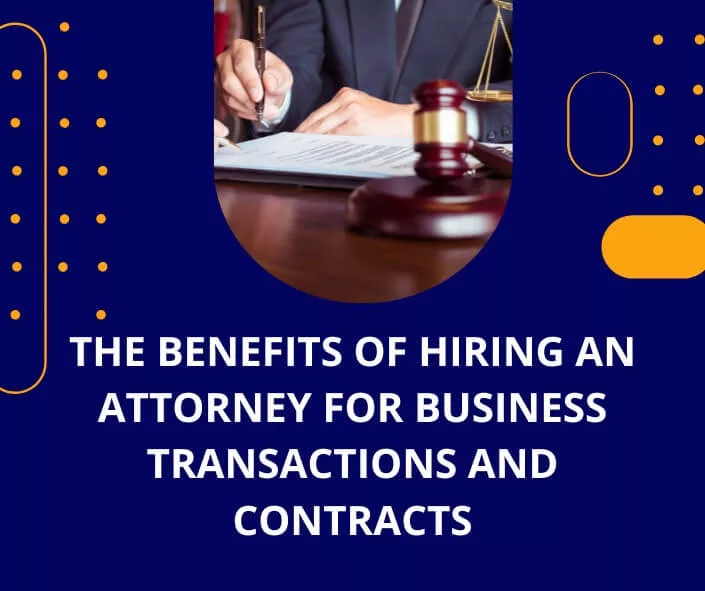 Attorneys possess a keen eye for potential risks and can identify and mitigate them before they become significant issues. Their knowledge helps keep your business from getting into legal trouble, losing money, or getting a bad name.
1. Risk Mitigation
One of the primary benefits of hiring an attorney for your business transactions and contracts is their ability to mitigate risks. Attorneys possess a keen eye for potential pitfalls and can identify and address them before they escalate into significant issues.
Attorneys can help protect your business from expensive legal disputes, financial losses, and damage to its image by reviewing contracts carefully, doing their due research, and figuring out what the legal effects of transactions might be.
They assess the risks of mergers and acquisitions, partnership partnerships, intellectual property rights, and other crucial business decisions.
2. Expert Negotiation
Negotiating deals and contracts requires finesse and a deep understanding of legal intricacies. Attorneys bring their skills in negotiating and knowledge of the law to the table, making sure that your interests are well-represented during the process of negotiating.
They can identify areas where you can gain favourable terms and conditions, protect your rights, and advocate for your business's best interests.
With their legal knowledge and persuasive abilities, attorneys can navigate complex negotiations, handle counteroffers, and reach agreements that align with your business goals and objectives.
3. Legal Compliance
Businesses need to make sure they are following the constantly changing laws and rules. Attorneys keep up with legal developments to help your business stay legal. They can help you understand and navigate complex legal requirements, industry-specific regulations, and government compliance standards.
By working closely with an attorney, you can proactively address compliance issues, implement effective policies and procedures, and minimise the risk of costly penalties or legal entanglements. Attorneys can also assist in conducting internal audits to identify areas of non-compliance and recommend corrective actions.
4. Tailored Contracts
Generic or poorly drafted contracts can leave room for misinterpretation, ambiguity, and potential disputes. Attorneys have the expertise to draft customised contracts that precisely reflect your business's needs and objectives. They can assess your specific requirements, negotiate favourable terms and conditions, and create legally binding agreements that protect your rights and interests.
Attorneys ensure that contracts include essential provisions, such as dispute resolution mechanisms, confidentiality clauses, intellectual property rights, warranties, and indemnities.
By tailoring contracts to your business's unique circumstances, attorneys minimise the risk of misunderstandings, contractual disputes, and potential legal liabilities.
5. Alternative Dispute Resolution
Disputes are an unfortunate reality in business. However, engaging in lengthy and costly litigation is not always the most practical or desirable solution. Alternative conflict resolution (ADR) methods, like mediation or arbitration, can be helped by a lawyer.
These processes aim to resolve conflicts efficiently and cost-effectively while still achieving fair and satisfactory outcomes. Attorneys skilled in ADR techniques can represent your interests, facilitate negotiations, and work towards finding mutually acceptable resolutions. By exploring ADR options, you can save valuable time and resources and maintain business relationships.
6. Long-Term Protection
Building a successful business requires foresight and long-term planning. Attorneys can provide invaluable guidance in structuring your transactions and contracts to safeguard your business interests over time. They can help you anticipate future challenges and protect against potential risks.
Attorneys can draft contracts with provisions that account for growth, expansion, exit strategies, and changes in the business landscape. By taking a proactive approach to long-term protection, attorneys help secure the stability and success of your business in an ever-changing marketplace.
Conclusion
Hiring an attorney for your business transactions and contracts offers numerous benefits that go beyond just legal expertise.
Hire a qualified attorney to successfully conduct business negotiations, safeguard your rights and interests, and position your business for success in a competitive business market. Business contract attorneys are essential and you should ignore common myths about attorneys and seek advice before it is too late.
The benefits of hiring a business attorney lie in their ability to mitigate risks, negotiate favourable terms, ensure legal compliance, draft tailored contracts, offer alternative dispute resolution options and provide long-term protection. Don't underestimate the value that a skilled attorney brings to the table.
Seek their guidance and expertise to navigate the complex legal landscape and set your business on a path to success. Don't leave your business to chance—invest in legal counsel and set the stage for a prosperous future.
Remember, it's always better to be proactive and seek legal counsel before entering into any significant business transaction or signing important contracts.
The guidance and expertise of an attorney can save you from costly mistakes, legal disputes, and potential financial losses. By hiring a lawyer, you are putting money into the long-term growth and safety of your business.
Disclaimer: This article is for informational purposes only and does not constitute legal advice. Consult with a qualified attorney for advice specific to your business needs and circumstances.