Online privacy is a multifaceted concept that revolves around the protection and management of personal information on the Internet. It encompasses various aspects of how data is handled, shared, and accessed online.  Online privacy empowers individuals to choose what personal information they share and to consent to how it's used. This includes deciding whether to provide data like your name, address, email, or financial details on websites and applications.
It also involves limiting the amount of personal information that is collected to only what is necessary for a specific purpose, reducing the risk of misuse. Websites and online services are expected to be transparent about their data collection practices. This means openly communicating what data is being collected, for what purpose, and how it is stored and protected.
Understanding how data is collected, whether through forms, cookies, or other tracking methods, is part of online privacy.
Factors to Consider for Online Privacy
1. Control over Sharing
A critical element of online privacy is controlling who has access to your personal data. This includes not only what you share on social media but also what information websites share with third parties like advertisers.
2. Third-Party Access
Online privacy involves being aware of and managing the access third-party entities have to your data. This could be companies that analyze data for marketing purposes or others who might use it for different reasons.
3. Multi-Platform Considerations
With the proliferation of devices and platforms (like social media, online shopping, and cloud services), managing privacy settings across each one becomes crucial.
4. Consistent Privacy Practices
Users need to maintain consistent privacy practices across different platforms and devices to ensure comprehensive protection.
5. Encryption and Security Protocols
Part of protecting online privacy is ensuring that data is transmitted and stored securely, using encryption and other security measures.
6. Security Against Breaches
Online privacy also involves protecting personal information from data breaches and cyber threats, which requires both individual vigilance and robust security measures from online service providers.
7. Compliance with Laws
Adhering to privacy laws and regulations like GDPR or CCPA is a crucial aspect of online privacy, both for individuals and organizations.
8. Ethical Data Handling
Beyond legal compliance, ethical considerations also play a role in how personal data should be handled, respecting user privacy and avoiding exploitation.
Online privacy is not just about keeping personal information secret but about having control and understanding of how that information is used and shared in the digital realm. It requires active management and awareness from both individuals and organizations to ensure that personal data is handled responsibly and securely.
Expanding on the dimensions of online privacy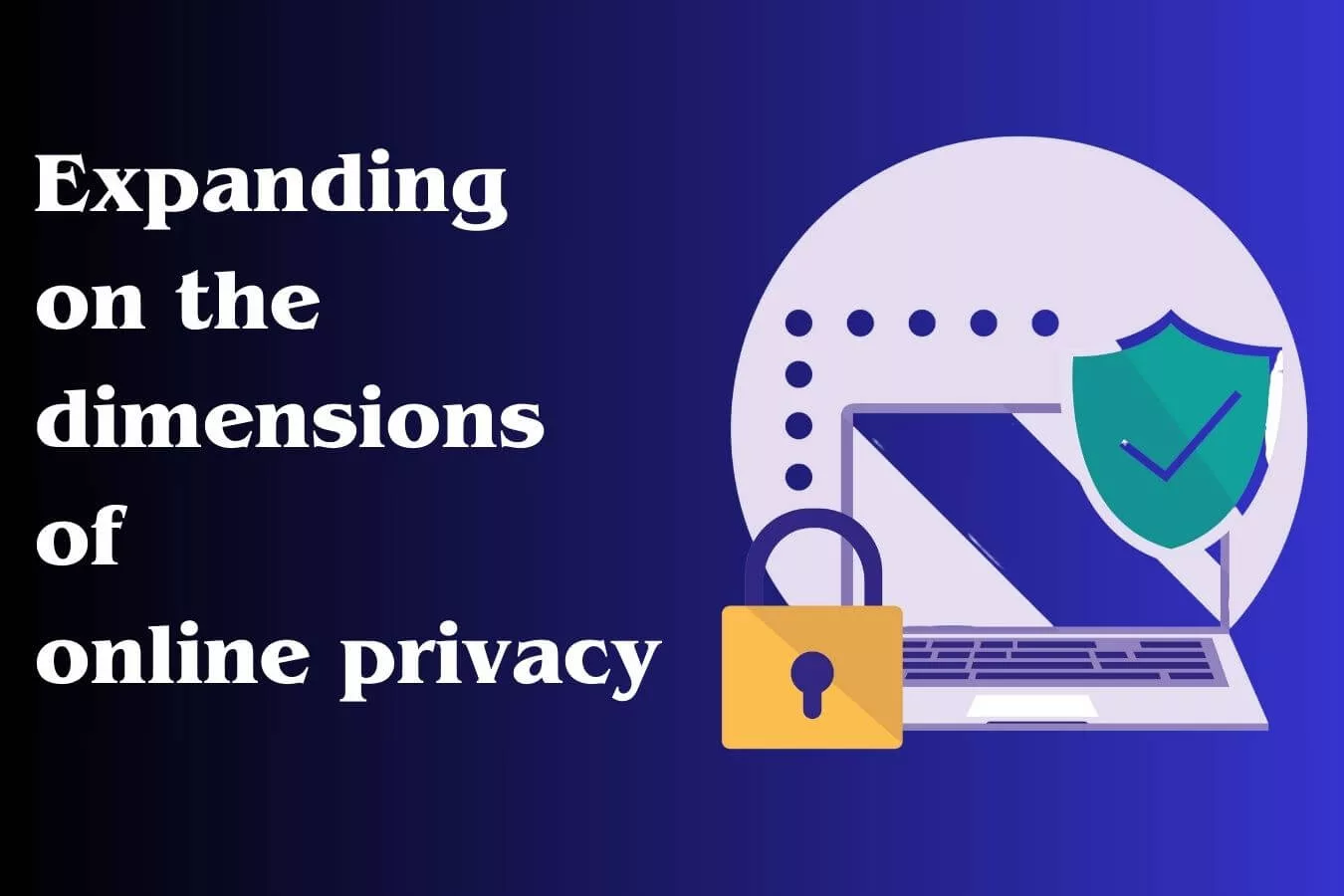 1. Social Networks
On platforms like Facebook or LinkedIn, you share your name, birthday, educational background, and work history. This information can be used for targeted advertising or, if not properly secured, might be accessed by malicious actors for identity theft. For example, the 2018 Facebook data breach exposed the personal information of millions of users.
2. Shopping Sites
When you shop online on websites like Amazon or eBay, you provide your address, phone number, and credit card information. This data, if not properly protected, can lead to financial fraud. The infamous Target data breach in 2013, where hackers accessed the credit and debit card information of millions of customers, is a notable example.
3. Service Sign-ups
Signing up for services like streaming platforms (Netflix, Hulu) requires sharing personal data. There have been instances where such data was compromised, leading to unauthorized access to accounts and services.
4. Emails
Email platforms like Gmail or Outlook store a vast amount of personal and professional communication. The 2014 Yahoo email breach, where 500 million users' accounts were compromised, highlights the risks associated with email privacy.
5. Ad Clicks
Clicking on ads generates data used by companies to understand consumer behavior. Google and Facebook, for example, use this data to build detailed user profiles for more effective advertising.
Each of these examples underscores the importance of robust privacy protections and the need for vigilance by both users and service providers in the digital landscape.
6. Online Conversations
Conversations in forums or comment sections of websites are also part of communication privacy. There have been cases where such conversations were mined without consent for data analysis or targeted advertising.
7. Website Tracking
Websites often use cookies to track your browsing habits. This was highlighted in controversies like the one involving the use of 'supercookies' by Verizon, which tracked users' internet browsing history for targeted advertising.
What are the threats to online privacy?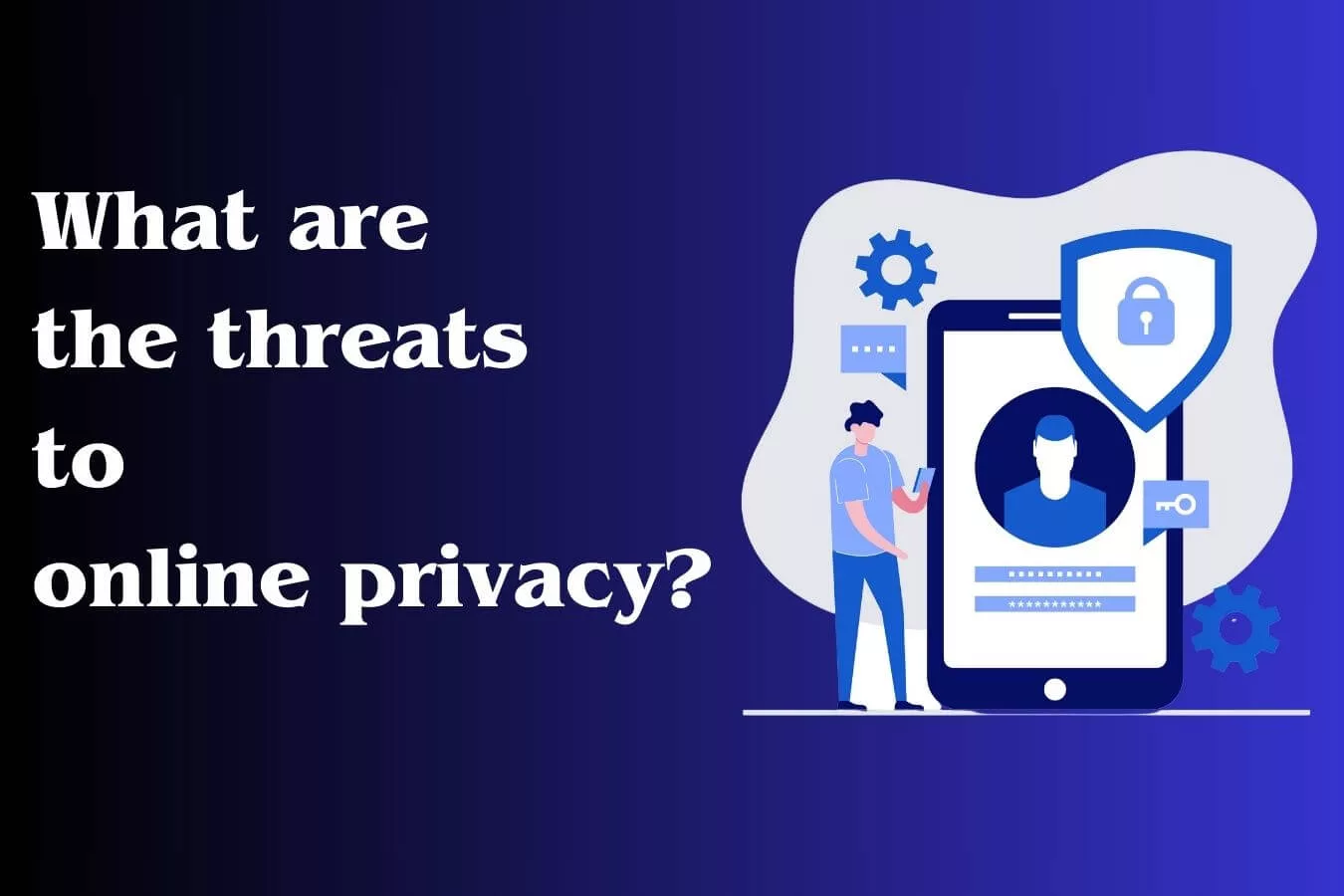 1. Hacking
The Sony Pictures hack in 2014 is a notable example, where hackers gained access to the company's network and released confidential data. That includes personal information about employees and their families, emails between employees.
The information about executive salaries at the company, copies of then-unreleased Sony films, and other information. This incident highlighted the vulnerability of personal and corporate data to hacking.
2. Phishing
One famous case is the 2016 phishing attack on the Democratic National Committee (DNC) in the United States, where attackers successfully tricked individuals into revealing their email credentials, leading to a significant breach of confidential communications.
3. Equifax Breach
As mentioned, the Equifax breach in 2017 exposed the sensitive personal information of 147 million Americans, including Social Security numbers, birth dates, addresses, and in some cases, driver's license numbers. This breach underscored the massive impact of data breaches on personal privacy.
4. Marriott International Breach
In 2018, Marriott International announced that hackers had breached its Starwood guest reservation database, potentially exposing the personal information of up to 500 million guests. The information included names, phone numbers, email addresses, passport numbers, and travel information.
5. Government Surveillance
The Edward Snowden revelations in 2013 exposed the extent of surveillance activities by the US National Security Agency (NSA) and other intelligence agencies, including the collection of phone records, emails, and internet activities of millions of individuals worldwide.
6. Corporate Monitoring
Companies like Facebook and Google have faced scrutiny for their data collection practices. For instance, Google tracks user locations and activities through its services and devices, raising privacy concerns.
7. Email Scams
The "Nigerian Prince" scam is one of the most well-known email frauds, where individuals receive emails requesting personal information or financial assistance, often leading to financial loss or identity theft.
8. CEO Fraud
A form of business email compromise, CEO fraud, involves sending emails that appear to be from a company executive, instructing employees to transfer funds or provide sensitive data. For example, in 2016, the CEO of an Austrian aerospace company was tricked into transferring about 42 million euros in a fraudulent email scam.
These examples highlight the diverse nature of threats to online privacy and the importance of being vigilant and adopting robust security measures to protect personal and organizational data.
Importance of online privacy
1. Identity Theft
A striking example is the 2015 case involving the U.S. Office of Personnel Management (OPM). Hackers accessed personal data of 21.5 million people, including social security numbers, which could be used for identity theft.
2. Financial Fraud
The 2019 Capital One data breach exposed the personal information of over 100 million individuals in the U.S., including bank account numbers and social security numbers, posing a significant risk of financial fraud.
3. Censorship and Self-Censorship
In authoritarian regimes, the lack of privacy can lead to censorship or self-censorship. For example, in countries like China. The government's surveillance of online activities has led to a climate of fear and restraint among internet users, affecting their freedom of expression.
4. Whistleblower Protection
Edward Snowden's revelations about NSA surveillance programs underscore the need for privacy to protect whistleblowers who expose governmental or corporate wrongdoing.
5. Online Stalking and Harassment
There have been numerous instances where personal information obtained online led to real-world stalking. For example, in Japan in 2019, a stalker found a pop star's home by zooming into the reflection in her eyes in a photo and matching it to a street view.
6. Domestic Abuse
Privacy breaches can also escalate into more severe situations like domestic abuse. Abusers often use personal information obtained online to track, harass, or blackmail their victims.
7. Consumer Trust and Business Reputation
After the Cambridge Analytica scandal, Facebook faced a significant decline in user trust, which had implications for its business model and revenue. This case highlights how privacy breaches can affect consumer trust and, consequently, a company's bottom line.
8. Impact on Small Businesses
Small businesses can also be severely impacted by privacy breaches. For instance, a small online retailer suffering a data breach can lose customers' trust, leading to a loss of business and potentially, closure.
These examples illustrate why online privacy is crucial. It not only guards against identity theft and financial fraud but also supports freedom of expression, personal safety, and the economic well-being of individuals and businesses.
The impact of failing to protect online privacy can be far-reaching, affecting not just individuals but also the fabric of society and the economy at large.
What are the legal and regulatory framework of online privacy?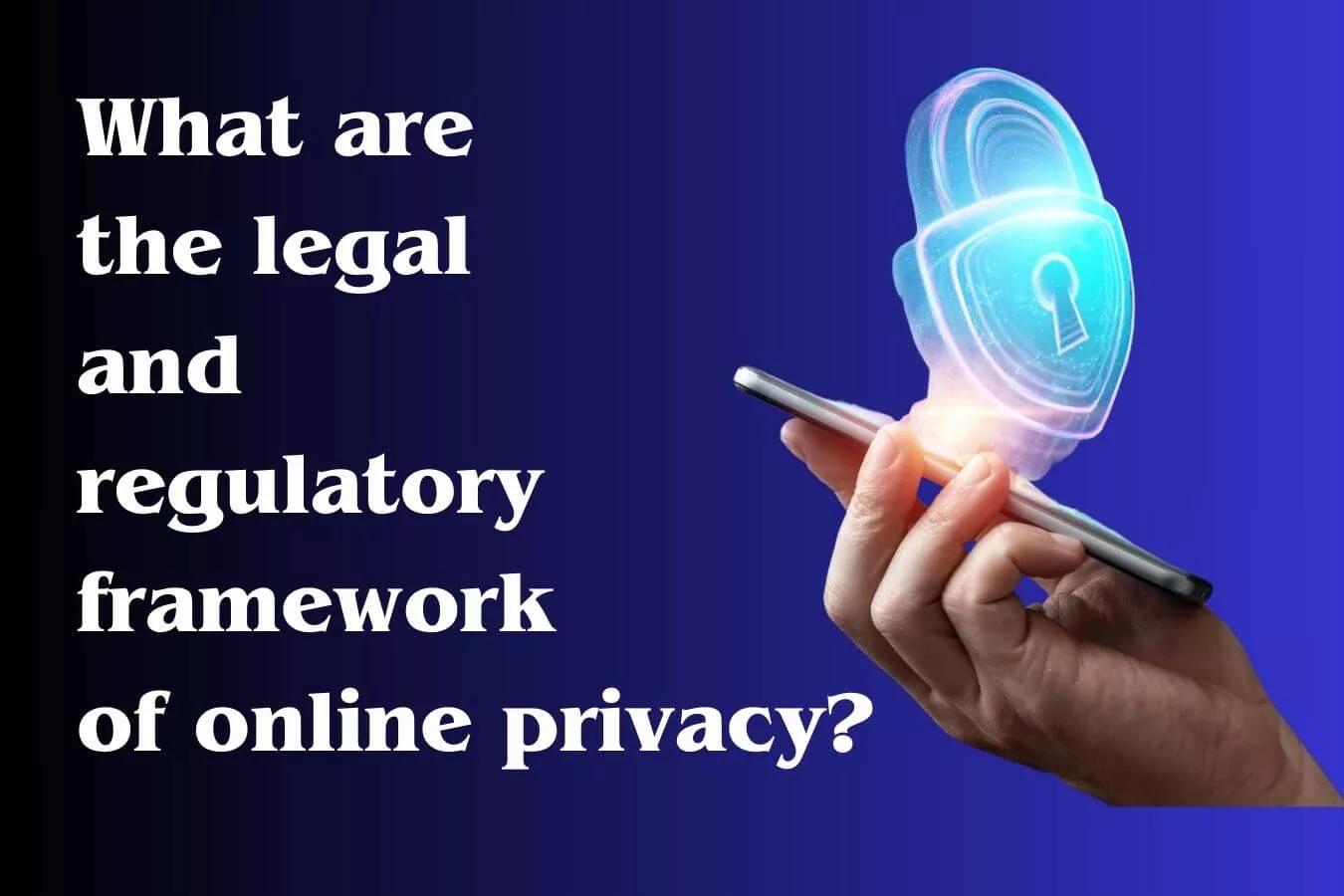 1. GDPR (General Data Protection Regulation)
Enforced in the European Union (EU) since May 2018, GDPR is one of the most comprehensive data protection laws globally. It empowers individuals with greater control over their personal data and imposes strict obligations on organizations that process this data. Non-compliance can result in hefty fines. For instance, British Airways was fined £20 million ($27 million) in 2020 for a data breach.
2. CCPA (California Consumer Privacy Act)
Implemented in California, USA, in January 2020, CCPA grants California residents certain rights over their personal data. It requires businesses to disclose data collection practices and allows consumers to opt-out of data sales. For instance, the data broker ZoomInfo faced lawsuits for allegedly violating CCPA by selling personal information without consent.
3. Stricter Regulations in the EU
The EU's GDPR sets a high standard for data protection, and EU countries often have stricter privacy regulations than other regions. This has led to global companies needing to adapt their data handling practices when dealing with EU citizens' data. For example, Google faced a €50 million fine by France's data protection authority, CNIL, for GDPR violations.
4. Variability in Asia
Asian countries have varying levels of data protection regulations. For instance, Japan has data protection laws that are recognized as adequate by the EU, while some Southeast Asian countries are still developing their privacy frameworks. This diversity poses challenges for multinational corporations in terms of compliance.
5. FTC (Federal Trade Commission)
In the United States, the FTC plays a crucial role in enforcing privacy laws. It investigates and takes action against companies that engage in unfair or deceptive practices regarding consumer data. The FTC has fined companies like Facebook and Google for privacy violations.
For instance, Facebook faced a $5 billion fine from the FTC in 2019 for its mishandling of user data in the Cambridge Analytica scandal.
6. ICO (Information Commissioner's Office)
In the UK, the ICO enforces data protection laws, including GDPR. It investigates data breaches and issues fines when necessary. For instance, British Airways and Marriott International were both fined by the ICO for data breaches.
These examples highlight the importance of compliance with privacy laws and regulations in various parts of the world. Organizations that operate internationally must navigate a complex web of laws and adapt their data handling practices.
To ensure they meet the standards set by different regulatory bodies. Failure to do so can result in significant fines and reputational damage.
What are the Best practices for protecting online privacy?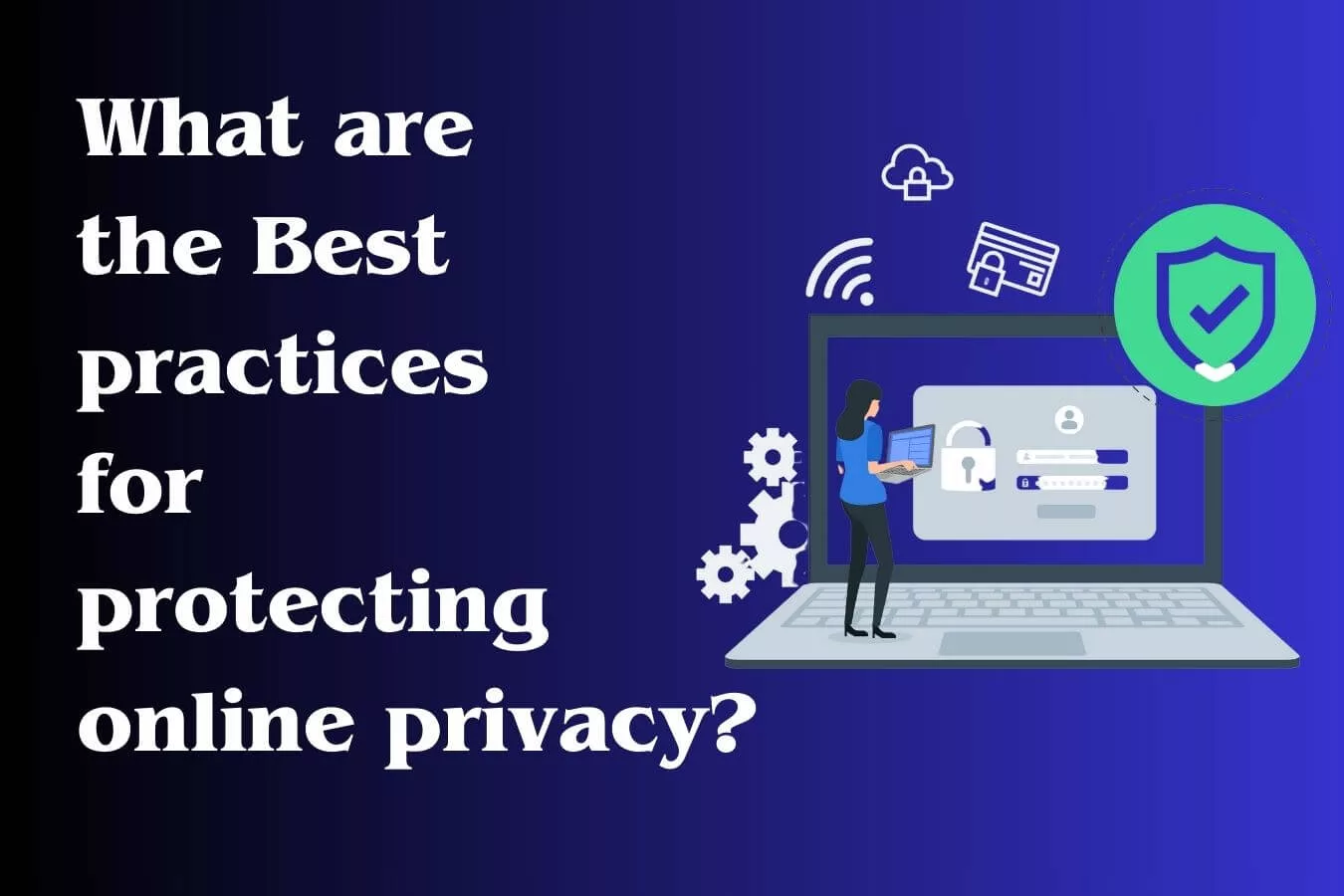 1. Strong Passwords
Using strong, unique passwords for each online account is crucial. Password managers like LastPass and 1Password can help manage complex passwords. For instance, the 2012 LinkedIn data breach exposed over 160 million passwords, highlighting the risks of weak password practices.
2. VPNs (Virtual Private Networks)
VPNs encrypt your internet connection, making it harder for third parties to intercept your data. The VPNs are especially important when using public Wi-Fi networks, which are vulnerable to attacks.
3. Privacy Settings
Being aware of and regularly reviewing privacy settings on social media and other online platforms is essential. For instance, Facebook allows users to control who can see their posts and what data is shared with advertisers.
4. Data Protection Policies
Companies should establish robust data protection policies that outline how customer and employee data is collected, processed, and stored. For example, the GDPR compliance journey of multinational companies like Google and Facebook involved revamping their data protection policies.
5. Employee Training
Employees should receive training on privacy best practices and how to handle sensitive data. Failure to do so can lead to data breaches. In 2014, a Morgan Stanley employee stole and sold confidential data of thousands of clients, demonstrating the importance of internal controls.
6. Encryption
End-to-end encryption, as used in messaging apps like Signal and WhatsApp, ensures that only the intended recipient can read messages. In 2016, Apple's refusal to unlock an iPhone for the FBI in the San Bernardino case highlighted the importance of encryption in protecting user data.
7. Anti-virus Software
Robust anti-virus and anti-malware software can detect and remove threats. The WannaCry ransomware attack in 2017 affected organizations worldwide, emphasizing the need for up-to-date security software.
8. AI and Privacy
AI can be both a threat and a solution to privacy. For example, AI-powered facial recognition can be used for surveillance, as seen in China. Conversely, AI can enhance privacy through anonymization techniques and secure data handling, as seen in healthcare AI applications.
9. Blockchain for Privacy
Blockchain's decentralized and immutable nature can enhance privacy by securely recording transactions without the need for intermediaries. For instance, blockchain-based identity management systems provide users more control over their personal data.
10. Future Challenges
As technology evolves, so do privacy challenges. The rise of the Internet of Things (IoT) and the potential for data breaches through smart devices present future privacy concerns. Staying informed and proactive is essential to adapt to these evolving threats.
11. Multi-Factor Authentication (MFA)
Implementing MFA adds an extra layer of security to your online accounts. It typically involves something you know (password) and something you have (e.g., a mobile device).
Even if someone gains access to your password, they won't be able to log in without the second factor. Major online services like Google, Microsoft, and Apple offer MFA options.
12. Regular Software Updates
Keeping your operating system, software, and apps up to date is crucial. Developers release updates to patch security vulnerabilities. Failing to update your software could leave you exposed to known exploits. The WannaCry ransomware attack mentioned earlier exploited a vulnerability in outdated Windows systems
By following these best practices and staying informed about emerging trends and challenges, individuals and organizations can better protect their online privacy and adapt to the ever-changing digital landscape.
Conclusion
धnline privacy stands as a cornerstone of safety and freedom in the digital age. It serves as a shield against a myriad of threats and ensures that individuals can exercise their rights and express themselves freely on the internet.
By embracing and implementing best practices, both individuals and organizations play a pivotal role in creating a secure and trustworthy digital environment.
It extends beyond the protection of personal data. It encompasses the preservation of fundamental rights. Such as freedom of expression, the prevention of identity theft and financial fraud, and the guarantee of personal safety in both the virtual and physical realms.
As technology continues to advance and new challenges emerge, the commitment to safeguarding online privacy remains unwavering. It calls for a collective effort, where individuals educate themselves about the best practices and the evolving threats.
Where organizations adopt robust data protection measures and cultivate a culture of privacy awareness. Ultimately, online privacy is not merely a matter of compliance with laws and regulations; it is a fundamental aspect of responsible digital citizenship.